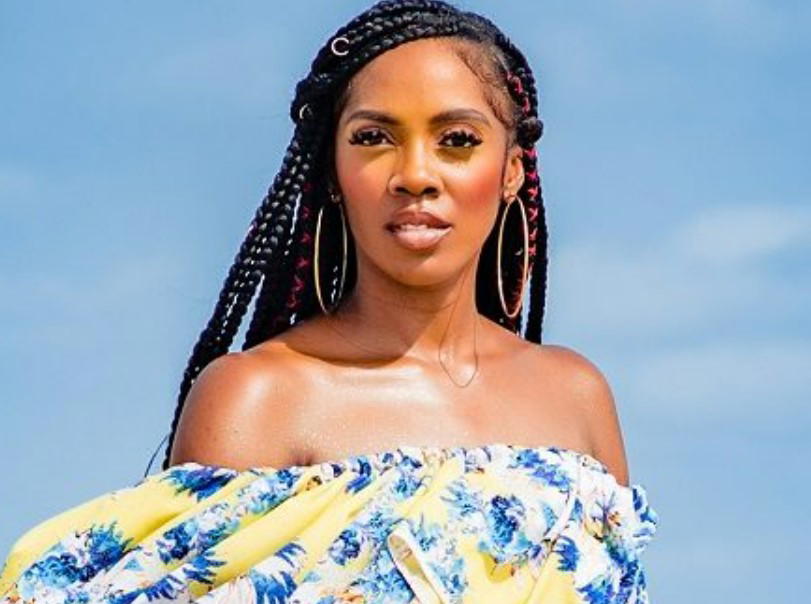 By BENJAMIN NJOKU
Afrobeats queen Tiwa Savage has always proved to everyone that she's the 'baddest gyal' in Africa, both on stage and in reality.
Oftentimes, the mother of one has set the internet agog with her raunchy outfits, while damning people's nagging. If she's not adorning a transparent white singlet or body hug that clearly revealed her nipples, or something out of a fairytale, she's whetting the appetite of her 16.9 million followers on Instagram with her sizzling and daring photos that could raise one's temperature.
Call exposing her cleavages as part of her stock in trade, and you may not be wrong. Tiwa Savage is indeed an incredible charmer, who tries to live up to her nickname, "the baddest gyal in Africa.'
Indeed, some of the iconic photos which the songstress shared on Instagram are timeless despite being slammed by many following her dress sense. One of such photos caused a buzz on social media some time ago after she was seen wearing a braless top, wowing her fans to lust and fall for her.
At another time, the diva was captured on camera sitting on a box while displaying her boob which she partly covered with her right hand. Trending for a long time on social media, the alluring photo garnered over 150,000 likes in less than one hour after sharing it.
What do say of the pop queen's breach look? In one of the outfits, Savage gave her fans all the feels and some of them are still living with the memory. Her Valentine Day photos and video, where she dressed scantily with her tits visible for all to behold, was artistic. Captioning the video, she wrote, "How my Valentine really ended." In the video, she was seen fondling her cleavages, certainly inviting prying eyes to feast on her body. That was not all. In another photo, she stepped out in Lagos, with a crazy outfit that got everyone talking again where she wore a black outfit, exposing one of her thighs and cleavages. In one of her videos she shared on IG, Savage was wondering what the men were complaining of, as she stood up to display her 'humongous assets.' But of a truth, her craziest photos ever were the ones she recently shared on Instagram. In one of the sensual photos, which she shared days back on IG while in Rio de Janeiro, the songstress is irresistible as she's truly a beauty to behold. The picture has already garnered about 628,991 likes within 48 hours, even as her fans took to the comment session to hail her.
Remarkable also, was in April, this year, when Savage equally shared another jaw-dropping picture to set the internet on fire. She was sporting a crop top and white fishnet shirt, finished off with her signature ombre, black and blonde hair. In her caption, Savage asserted that her first quarter of the year was already getting bright and envisaged how crazy the second quarter was going to be. As a great performer, Tiwa Savage always dresses to kill.
She's got the curves at the right places, and she loves to flaunt it for the world to see. Like Beyonce, Tiwa Savage is a queen not only on stage, but also, in the world of fashion.