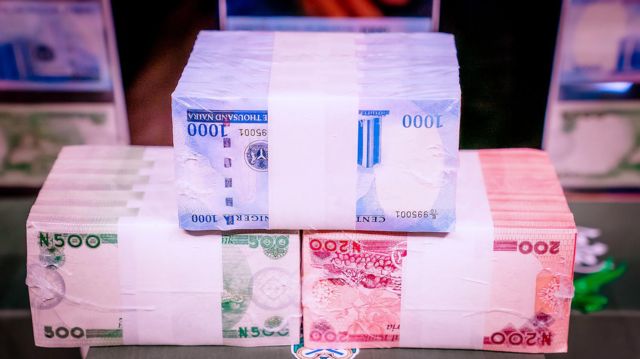 •As currency outside banks rises 43% to N2.1trn
By Elizabeth Adegbesan
There are indications that Nigerians have resumed cash hoarding following the relaxing of the currency redesign and cashless measures of the Central Bank of Nigeria (CBN).
Vanguard's findings show that with the policy reversal currency outside banks, (COB) has skyrocketed to N2.08 trillion.
The monetary measures embarked upon by the CBN late last year had tended to mop up such currency and by the time the Federal Government halted the measures in March, COB had gone down to N1.45 trillion from N2.56 trillion at end of December 2022.
The April figure contained in the CBN's latest Money and Credit Statistics showed that the figure has sharply risen by 43 percent month-on-month to N2.08 trillion from N1.45 trillion.
The data also showed that currency-in-circulation (CIC) rose month-on-month by 42 percent to N2.37 trillion in April from N1.68 trillion in March.
Recall that in December last year, the CBN released the redesigned N200, N500, N1,000 slating January 31st as the deadline for the old notes to cease being legal tender.
The CBN Governor, Godwin Emefiele, said the policy was to, among other things, mop up currency outside banks which stood at N2.83 trillion as at October when the bank made the announcement to redesign the old notes.
The sum of N1.14 trillion was mopped up within five months (October 2022 to February 2023) as currency outside banks fell by 135 percent to N843.3 billion in February.
Currency-in-circulation also fell by 235 percent to N982 billion in February 2023 from N3.29 trillion in October 2022.
In March 2023, the Supreme Court ordered that the N200, N500, N1,000 notes remained legal tender alongside the new notes till December 31st 2023.
This saw a 71.9 percent rise in currency outside the banks to N1.45 trillion in March and N2.08 trillion in April.
Similarly, CIC rose by 71 percent to N1.68 trillion in March and N2.37 trillion in April.
Economy: Security experts task incoming govt on industrialisation
By Providence Ayanfeoluwa
Experts in the security
industry have tasked the incoming government of President-elect, Bola Tinubu to be focused on industrializing the country as well as deliberate about security
architecture.
The experts: Country Security Manager for West Africa, IBM, Olufemi Kayode; Executive Vice Chairman, PR 24, Peter Okolo and Intelligence & Risk Consultant, Kikelomo Sodeko; who spoke in a panel session at the just concluded Securex West Africa Expo for the security, fire, safety and facilities management industry, said that most industries in the country have closed shops to become event centres, churches among others.
According to them, the incoming government should look into industrialisation, adding, "we have a lot of our industries as warehouses, event centres, churches, let us revive our industrial sector and create jobs". They also said it is about increasing the welfare of the frontline officers, adding that the administration must be focused, deliberate and sincere about the security architecture of the country.
They said it should not just be about the youths, "even the old, lets synergise, lets industrialise this country, once they are able to reduce insecurity to the minimum they would be able to provide public service for the citizens and also be able to improve the economy of the country".
Earlier in his welcome remark, Regional Director, Afrocet Montgomery, Mr. George Pearson, said that it is necessary to build a safety and security ecosystem that supports common vision and aspirations for sustainable peace and prosperity.
He said that the expo is an avenue for suppliers and service providers in the security sector to display their cutting-edge product and service offerings, and showcase the latest technology in safety and security management, adding that feedback from participants also indicate that securex is a prime avenue for industry participants to deepen their knowledge about global trends and new advancements in safety and security management.
Pearson said: "We must work together to develop holistic, collaborative responses and deploy the right technology, resources and skilled manpower to achieve the desired results".