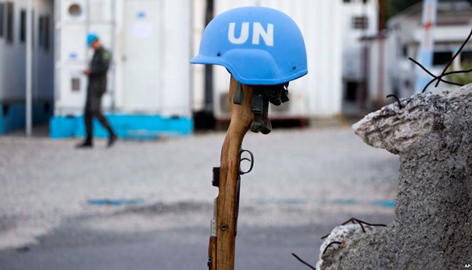 IN today's turbulent world, it's more important than ever to have people willing to put their lives on the line to keep others safe. Monday, May 29, 2023 marked this year's International Day of United Nation's Peace Keepers, set aside to celebrate these heroes and heroines, especially those of them who have paid the supreme price for humanity.
But who are these peacekeepers? What do they do? And how can we honour them for their service?
From a global standpoint, peacekeepers are individuals who work with international organisations under the United Nations and its affiliates to help maintain peace and security in conflict zones around the world. They are usually recruited from member countries and trained in conflict resolution, humanitarian aid and other skills needed to work in dangerous environments.
The work of peacekeepers is varied and encompasses tasks such as monitoring ceasefires, protecting civilians, and providing assistance with elections and reconstruction. They often work in areas where violence is common and face significant risks, including physical harm, kidnapping and sexual violence. Despite these risks, peacekeepers continue to serve because they believe in the importance of their work and the difference it makes in the lives of those affected by conflict.
Unfortunately, peacekeepers also face significant dangers while on duty. According to the United Nations, over 3,800 peacekeepers have been killed in the line of duty since 1948, with many more injured.
Most of these casualties occur in Africa, where peacekeeping operations are particularly dangerous due to ongoing conflicts and challenging environments. Nonetheless, peacekeepers continue their work in these areas, often with limited resources and support.
To minimise risks faced by peacekeepers, it's important to invest in their training and provide adequate resources such as protective equipment and medical support.
Additionally, recruitment of peacekeepers should be prioritised to ensure adequate staffing levels and global representation.
While peacekeepers perform a vital role in the world, there are currently shortages in the number of personnel willing to undertake this work. To address this, nations should encourage their citizens to serve as peacekeepers by providing financial and other incentives.
Additionally, recognition and support for peacekeepers can go a long way in encouraging people to take on this challenging role.
Honouring peacekeepers requires more than just acknowledging their service. It's important to recognise the sacrifice they make and celebrate their achievements.
This can be done in many ways, including through public ceremonies, awards and commendations, and the establishment of memorials.
Peacekeeping is a critical component of global stability and security, and those who undertake this work deserve our utmost respect and recognition. By investing in their safety and success, as well as encouraging more people to join their ranks, we can help ensure a more peaceful and just world for all.