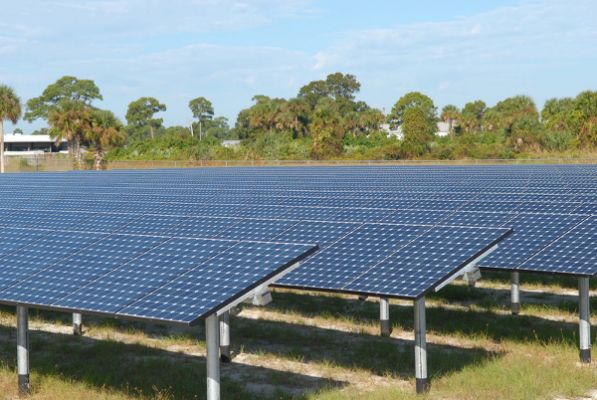 Stock image of solar panels
By Prince Osuagwu
Perennial power outages and shortages have continued to seriously affect the work and lives of most people in many African countries.
Almost in every sector, in countries like Nigeria, people can barely do anything once it gets dark. So energy storage products and solar home systems, come handy, where they are available.
That is apparently why there is joy, particularly among some Small and Medium Enterprises, SMEs when BLUETTI, global energy storage services provider, BLUETTI announced recently that it would start its mission of lighting up Africa with a Nigerian online store which would go live this month. The development means that the future of solar power systems in Africa seems fairly bright.
Announcing the new development, the marketing director of BLUETTI, James Ray, said he once paid a visit to Nigeria, where he found most students have to use their parents' phone or flashlight to read when the night falls, and by the time they are done, the battery has run out. He confessed to be shocked that in a 21st century society many Nigerians usually try their best to get everything done in the daytime because they have to live in the dark after sunset.
James said: "Entering the Nigeria market marks a significant milestone for BLUETTI. Our mission is to provide clean and independent energy for all human beings. We'll continue to work on more reliable power solutions through technological innovations to empower every family in this country" he added
BLUETTI is dedicated to providing sustainable and reliable power solutions for households, businesses, and off-grid communities worldwide. It specializes in the production, R&F, and sales of energy storage solutions, and has over a decade of experience and innovation in energy storage.
BLUETTI has established a global presence with branches in over 70 countries and over a million customers. The company said most of its power stations adopt Lithium Iron Phosphate, LiFePO4 battery cells to ensure a safe operation and a longer lifespan of 7-15 years compared to traditional Lithium-ion batteries. Besides AC outlets, BLUETTI power stations can be charged via solar panels, providing a clean and renewable source of energy that reduces carbon footprints on the planet.
The company said that in order to cater to a wide range of energy needs in Nigeria, it has lined up an extensive product ranges, including portable power stations for outdoor scenarios and large-scale energy storage batteries for home backup.
Featured with a capacity of 537Wh and a maximum output of 700W, it can recharge a smartphone up to 50 times or a laptop up to 10 times with only a single charge. It is compact and lightweight, making it easy to carry for outdoor activities or emergencies. EB55 is nicely designed with 11 output ports for versatile charging, including smartphones, tablets, TVs, cookers, mini-fridges, LED lights, etc.
Being one of the most popular power stations throughout the BLUETTI store, AC200MAX is an ideal option for those seeking a budget-saving solution to access energy storage batteries. It has a maximum output of 2200W and 2048Wh capacity, which can even grow to 5120Wh while pairing with a B300 expansion battery (3072Wh per pack), enough to run a fridge for up to 10 hours, a TV for up to 30 hours, and an air conditioner for up to 5 hours.