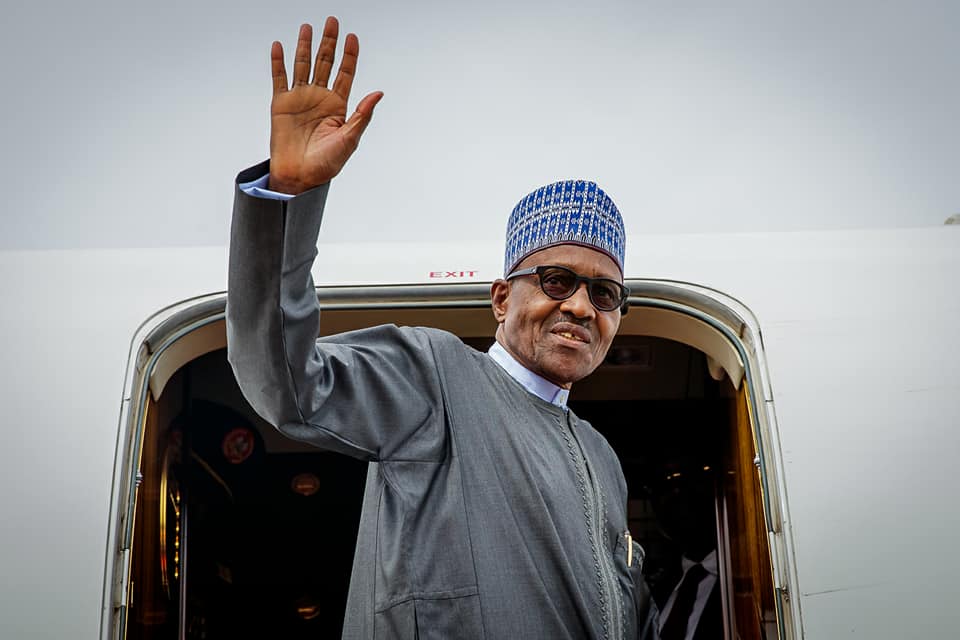 Kinsmen reject Niger relocation move
•Inside old house he is moving into
By Ibrahim Ogalah, Daura
On May 29, history will be made as President Muhammadu Buhari hands over the baton of Nigeria's leadership to Asiwaju Ahmed Tinubu and retires to his place of birth, Daura, Katsina State, after serving the country for eight years.
Sunday Vanguard took a trip to the President's home town to see first-hand the level of preparations and how his kinsmen plan to receive him.
Unlike the late Alhaji Umaru Musa Yar'Adua, also from Katsina State, who died in office during his first tenure as President, Buhari would have successfully served Nigeria for eight years despite coming on board with health challenges that, at a point, led many to believe he had died and buried.
Despite all odds and what many Nigerians felt of his administration, Katsina is agog with preparations to welcome Buhari back home.
Daura particularly is in a carnival mood as groups and associations were seen mapping out strategies to give him a befitting welcome to his place of birth.
The President was raised by his mother after his father died while he was barely four years old on December 17, 1942.
He joined the military in 1961 and became Head of State in 1983 but was toppled in August 1985.
In a twist of fate, 32 years later, the former military ruler-turned-democrat, after three failed presidential bids, was elected President in March 2015 on the platform of the All Progressives Congress, APC, after he had defeated incumbent President Goodluck Jonathan.
The people of Katsina State, especially those from Daura, have much more to be thankful for since Buhari's emergence as President, considering the change in infrastructural transformation they have come to enjoy in the town.
No doubt, Daura people are going to miss these privileges accorded their son as Nigeria's number one citizen and commander-in-chief of the armed forces of which they are the chief beneficiaries.
Buhari had said he will be retiring to the only house he has in Daura.
Except for the recent painting of the Daura residence that gives it a new look, the house, built way back while he was still in the military, is still its old self with no sign of any facelift carried out when Sunday Vanguard visited on Friday.
Some of the staffers at the President's residence confirmed that no other significant facelift was performed on the residence.
Many Daura residents, who spoke to Sunday Vanguard on the President's homecoming, said they were proud of his achievements for the country in the last eight years despite the economic hardship and acts of terrorism bedeviling Nigeria.
Alhaji Yau Musa, who spoke to us at the Daura City Centre, Kofar Sarki Abduhrahaman, said: "We Daura people have every cause to give thanks to God Almighty for giving our son eight years to lead the country and for helping him to finish successfully.
"Buhari has served the country diligently and achieved so much for the country without shortchanging anyone.
"His footprints are everywhere, from North to South. More of his achievements will be seen and felt later after he has left the office."
Durbar
So, in show of appreciation to their illustrious son's return, both Katsina and Daura Emirate Councils have concluded plans to stage a Durbar carnival for Buhari.
The Sarkin Sudan of Daura, Alhaji Nalado Yusuf, who is the Grand Patron of Daura Consortium of Associations and Chairman Joint Committees for Buhari's homecoming reception, shed light on the plans.
Yusuf said both the Emirs of Katsina and Daura, Alhaji Abdulmumin Kabir and Alhaji Umar Faruk Umar respectively, had given their approval also for a mega rally to welcome the Presiden back home.
Sunday Vanguard also learnt that several groups and associations designed a series of programmes and made souvenirs such as caps, t-shirts, banners and stickers among others in their bid to celebrate Buhari and ensure a memorable 'welcome back home' experience for him.
Megaprojects
The Chairman, Nasarwa Community Development Association and a member of Daura Emirate Coalition Association (DECA), Ibrahim Lawal, also speaking to Sunday Vanguard during the visit to Daura, described Buhari as a man of good intentions who worked assiduously to see that the country was lifted out of the doldrums.
Lawal said, "Since Daura came into existence many years ago and till date, the ancient city has never witnessed the kind of change and transformation it is currently experiencing under Buhari's reign as President. If you take each of the sectors in Daura LGA, you will see that something new has been achieved under his watch.
"We from Daura will miss a lot of things as he leaves the Presidency because we benefited so much while he was in charge. If we have any issue, we always cry to him and he will wipe away our tears.
"We are really going to miss our son not being President of the country primarily because of his respect for law and order.
"We will also miss the attention Daura enjoys whenever he visits in his capacity as Nigeria's President. As you aware whenever he is in Daura, Ministers, governors and other dignitaries either visit Daura or turn their attention here. All this fanfare and glitterati will no longer be there.
"Notwithstanding, we are happy because all that he needed to do for Daura people he has done it. So, our prayer to God for him is to have a happy ending in life.
"Among what I appreciate the most that he did for Daura people is the establishment of Transport University and Federal Polytechnic in Daura. These are just a few of the things he did for Daura.
"The achievement in education for Daura people is not a small feat at all. Before the establishment of the Transport University and Federal Polytechnic, our children would travel to other states or towns to study for diploma or degree programmes but because of President Buhari's effort, they can now acquire that right at their doorsteps without travelling anywhere.
"The presence of the institutions also made it possible for our children who are engaged in either "Achaba" or recharge card business to combine their studies with business as this enables them to be able to pay their tuition".
Other projects attracted to Daura during President Buhari's eight years reign at the helms of Nigeria's affairs as pointed out by his kinsmen include:
Nigerian Air Force Reference Hospital, Daura, Women and Children Hospital, Daura, ongoing Kano-Maradi rail line passing through Daura, School for People with Special Needs, Daura, and the Nigerian Air Force Response Air Wing, Daura.
Also on the list are the Nigerian Army 171 Battalion Base, Daura, the Forwarding Operating Base of the Nigerian Army along Kongolam Road, Daura, the upgrade and expansion of Daura Mini Stadium, the Sustainable Development Goals Skills Acquisition Centre, Zango Road, Daura, completion of the Sabke Dam, Daura which supplies one million litres of water to Daura and neighbouring communities and the 73km 132KVA line from Katsina to Daura and two 30 and 40 MVA transformers to boost power supply.
Niger relocation
Concerning Buhari's threat to relocate to Niger Republic if Daura is made unbearable for him after May 29, Muhammed Saleh of the Concerned Peoples Forum, Daura Emirate said the former military ruler was not referring to Daura people but all Nigerians.
He said: "You know Buhari is someone that respects law and order and would not want to meddle in issues unnecessarily.
"So, I think he was referring to those that may be coming to seek or ask him to interfere in the affairs of the incoming government unnecessarily. That is one thing I know he wouldn't want or do. So, I think it's that category of people that he was referring to that if they bother him, he will leave for Niger".