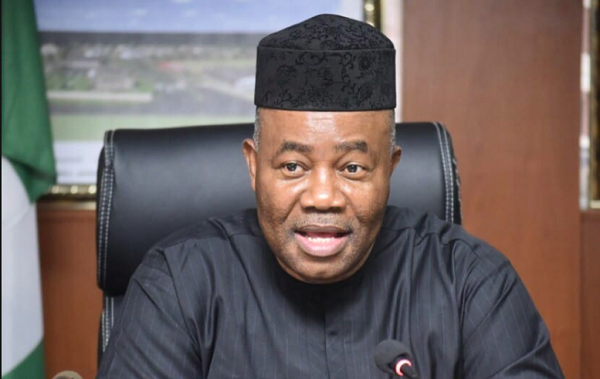 Akpabio
*Backs Akpabio's Senate presidency
By Chioma Onuegbu Uyo
AHEAD of inauguration of the 10th National Assembly a foremost socio-political and cultural organisation in Annang Land, Akwa Ibom State, has called on Nigerians to give support to the administration of President Asiwaju Ahmed Tinubu to enable it to succeed.
The organization also threw its weight behind the aspiration of their kinsman, Senator Godswill Akpabio to become the nexr Senate President of the Federal Republic of Nigeria.
In a communique signed by its President, Comrade Nsikak Afia; his Vice, Uduak Isobara and the Secretary, Afaha Emmanuel Etuk, reads, the Annang Union, appreciated the 16th President of the country for supporting the aspiration of Akpabio to become senate president.
The Communique made available to newsmen yesterday in Uyo read in parts: "Annang Union congratulate President, Asiwaju Ahmed Tinubu on his electoral victory and swearing in as the 16th president of the Federal Republic of Nigeria, and appreciate him for his foresightness, vision, ruggedness, and resilience in supporting our son, Godswill Akpabio as Senate president.
.
"We also appreciate the Vice President, Alhaji Kashim Shettima, the National Working Committee( NWC) of the ruling All Progressive Congress (APC) and majority of the Senators-elect, for standing firm for Senator Godswill Akpabio to become the next President of the Red Chamber.
"We call on all Nigerians from all walks of life, those living in the country and in the Diaspora to shun ethnic, religious and or any parochial sentiments and support the present administration of Tinubu, with Akpabio as Senate president"
"Our support for Senator Godswill Akpabio as the next Senate President is based on his pedigree, antecedents and record-breaking achievements in law practice, leadership, governance, pragmatism and philanthropy"
Adding, the Annang Union which pledged its loyalty to Tinubu's administration , however, prayed God, " to continue to direct, strengthen, guide and protect it to steer the ship of leadership and give our country the right of place in the comity of nations."