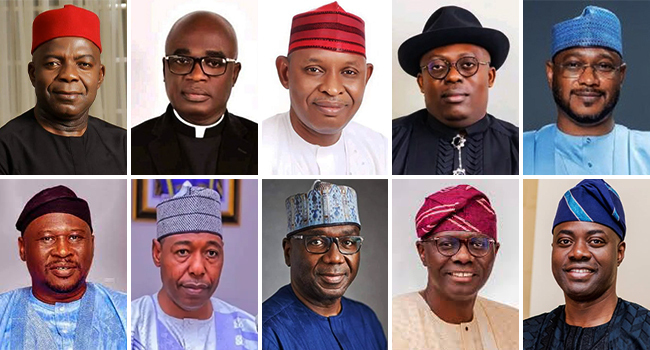 By Our Reporters
NO fewer than 28 governors made up of 18 fresh hands and 10 returning chief executives, yesterday, took over in states across the country with a promise to turn the fortunes of the states around.
At colourful oath-taking and hand-over ceremonies that lit up the polity, the governors, some of who hit the ground running, outlined how they would ensure rapid development of their states in the next four years.
I'll run an open, responsive govt in Delta — Oborevwori
In Delta, Governor Sheriff Oborevwori was sworn in with his Deputy, Sir Monday Onyeme, by the State Chief Judge, Justice Theresa Diai, amid cheers from Deltans and others who thronged the Stephen Keshi Stadium venue at exactly 11: 54 am. He pledged to run an open and responsive government that will meet the needs and aspirations of the people.
He said: "I accept with humility the responsibility which the good people of Delta State have bestowed upon me to serve as their governor for the next four years. I accept it with a resolve to do more to advance the state to new heights in leadership and socio-economic development.
" I stand before you today filled with hope and confidence about our future. As the longest-serving speaker of the House of Assembly, I have learnt the importance of setting the priorities of the government, communicating the goals and outcomes of policies and programmes, and partnering with the executive for their successful implementation. I am therefore well positioned to deliver good governance to our people."
He noted that "today marks the beginning not only of a new administration but of an era that will advance Delta State to greater heights in people-centred policies, human capital development, and infrastructure renewal.
"With what has been achieved by the immediate past administration, the new government is poised to advance the state through the MORE agenda, which stands for."
He also promised that "Warri, the commercial nerve centre of the State, will be given special attention under this administration," adding that his administration will ensure the completion of all ongoing projects across the state. In his remarks, immediate past Governor of the State, Senator Ifeanyi Okowa expressed gratitude to God for the privilege of handing over to a worthy successor, who will consolidate on his achievements.
He said: "It has been eight years of trials and triumphs, tests and testimonies and of fighting and courage. However, a day like this is not the day for me to recount our achievements. I leave that for posterity to judge. Rather, it is a day for me to appreciate all those who joined hands with us to build a stronger Delta."
I'll be governor for all, Eno assures Akwa Ibomites
In Akwa Ibom, Pastor Umo Eno and Senator Akon Eyakenyi were sworn in as the 5th democratically elected governor and first elected female deputy governor of the state respectively.
The Chief Judge of the state, Justice Ekaette Obot administered the oath of office and allegiance to the duo at the Godswill Akpabio International Stadium, Uyo at about 1:00 pm.
In his inaugural address, Pastor Umo Eno assured the people that he would be governor for all Akwa Ibom people irrespective of party affiliations through his ARISE agenda.
He called on all political stakeholders to shelve their grievances and join hands with him to move the state forward, appealing that politics must not sever the ties of their common heritage or brotherhood.
His words: "We have been too polarized by politics. This should not be. As I said in my victory speech, we will set up a bi-partisan reconciliation committee soon, so we can jaw-jaw instead of war-war on critical issues of our development, unity and brotherhood."
Eno stressed that he could not achieve or actualize his visions for the state alone adding, "this is a collective responsibility, and I am very sure all of you patriotic citizens of Akwa Ibom State, will join hands with me to further push the developmental strides as handed down by my worthy predecessor."
"We will prioritize the welfare of our civil servants and encourage a spirit of entrepreneurship in line with our dakkada spirit. My dear Akwa Ibomites, it may interest you to know that the first letter in our ARISE Agenda is Agriculture.
"We will invest heavily in this critical sector, and cause a revolution to occur. Agriculture is the new black gold and we will get our people involved. We will deploy our comparative advantage in the blue economy, and ensure that our fishermen get proper financial value for their work."
I won't tolerate any form of corruption — Otti
In Abia, Governor Alex Otti after taking the oath of office as the 5th democratically elected Governor of the state said he would not tolerate any form of corruption and stealing of public property. Declaring that had come to wipe the tears of Abians, Otti pledged to lead by example by running a transparent administration and ensuring judicious management of public resources.
Otti, in his speech titled: 'Time to Rebuild', warned that gratification and kickbacks are totally forbidden in his administration while awards, honours and recognitions are not welcome until he leaves office.
Otti also pledged to review some of the appointments made by the immediate past administration in the civil service and assured that workers' salaries would be paid on 28th of every month.
He said: "The time for the rebuilding process has begun. I have been given the task of being the driver of this train and it is leaving the station. I welcome all of you on board and I am very certain that it will be a rewarding journey for all diligent commuters. By God's grace, we shall safely and promptly arrive at our destination. As Governor, I will regularly interface with you through different media channels and in town hall settings. You shall always know the truth and what the government is doing at all times to make things better for you, your family and your business.
"I must be frank to inform you that we have a very difficult and challenging road ahead of us. We have a treasury that has been criminally ravaged to the extent that we have an alleged N50 billion in unpaid salaries, gratuities, and pensions. Our local and foreign debt overhang is reported to be in the region of N200 billion, in addition to other debts to contractors. We have a poorly motivated workforce, extreme youth unemployment, collapsed physical infrastructure, a terribly frail primary, secondary and tertiary healthcare delivery system. These are in addition to a broken educational system, urban waste disposal crisis and a large army of citizens, especially teachers, health workers, including medical doctors and nurses, lecturers in tertiary institutions, Local Government Authority workers and most painfully, our senior citizens, who feel blatantly betrayed by successive administrations that willfully and unconscionably abandoned them to live in wretched sub-human conditions. From June 2023, all salary and pension obligations of the state would be settled by the 28th of every month."
Benue: Alia promises end to insecurity in Benue
In Benue, Rev. Fr. Hyacinth Alia, promised to collaborate with the Federal Government to end the nagging security challenges in the state. In his maiden address shortly after being sworn into office by the Chief Judge of Benue State, Justice Maurice Ikpambese, before a mammoth crowd in Makurdi, Fr. Alia also promised to undertake a review of the state's Open Grazing Prohibition and Ranches Establishment Law with a view to accommodate current realities.
The Governor who recalled that his campaign had been hinged on seven pillars on which his government would revolve stressed that the state needs a reset which would be accomplished by his administration.
His words: "Our state has been tested by crises that have steeled our resolve and proved our resilience. We therefore promise to prioritize the security of lives and property of our people by ending insecurity occasioned by farmer/herder crisis, returning our Internally Displaced Persons, IDPs, to their ancestral homes and providing them a means of livelihood in a new economy.
I'll build on foundation laid four years ago — Abiodun
Re-elected Ogun State Governor, Prince Dapo Abiodun, promised to build on the foundation that his government laid in the past four years to ensure continued socio-economic development of the state.
Abiodun, in his speech after being sworn-in for another term of four years, said that "his government will develop new policies and reinvent the creative will to succeed."
His words: "We do not promise to do everything. We do not even pretend to have all the solutions to all the problems of the state. But we are irrevocably committed to making a difference and fulfilling all our promises while being inclusive, participatory, responsive and consultative.
"Over the next four years, this administration will move on speedily to deliver the dividends of democracy to our people. In the last four years, we laid the foundation for our shared prosperity. We have covered a lot of grounds but there is more work to be done. Time is of the essence, and our people must see our commitment and sincerity regarding their security, peace, their wellness, and wellbeing. Our goal is to create a prosperous, sustainable, and inclusive future for all residents."
The governor, during the swearing-in, announced the immediate release of 49 convicts who are currently imprisoned in different correctional facilities across the state.
"I have also signed a warrant ordering that the death sentences imposed on 3 death row convicts be immediately converted to prison sentences," he added.
Mbah promises to restore, rescue Enugu youths
The Governor of Enugu State, Peter Mbah, who took oath of office as 5th executive governor of the state promised to make the state investment friendly to attract influx of investors and investments. Addressing a mammoth crowd that witnessed his inauguration, Mbah said to make Enugu an investment Haven he had carefully and critically studied different financial models to deploy.
"We will open Enugu State up for an influx of investment and investors. Our ambition is to have our state as a corridor where the private sector migrates and plays," he said.
The new governor also said that he would strengthen internally generated revenue expanding the tax net, plugging loopholes of leakages, and operating a lean and agile government. "Within our first 100 days in office, we shall convene a Diaspora and Investors Forum where we will market all the productivity sectors in the state through showcasing our huge potentials. Our government will also organize what is called Diaspora Bond where we will secure remittances from abroad. In this regard, remittances will no longer be for consumption alone but for production," he added.
I'll always put your interest first, Makinde re-assures Oyo residents
Re-elected Governor of Oyo State, Seyi Makinde reassured of his commitment to always put the interest of the people first as against his personal interest.
Makinde made the pledge shortly after he was sworn-in by the Chief Judge of the state, Justice Iyabo Yerima for a second tenure of office amid heavy downpour at the Obafemi Awolowo Stadium, Oke-Ado Ibadan.
The governor in his inaugural address also directed the creation of the Oyo State Mobilisation Agency for Socio-Economic Development, OMASED, an agency which he said, will be mandated to establish a public orientation and sensitisation framework into which all agencies and departments of government must key into.
He said: "Four years ago, I took an oath before God and you, the good people of Oyo State. I pledged to put aside my self-interest to serve you to the best of my ability. Today, I stand before you to renew that pledge and reaffirm these solemn words – I will always put your interests first." "And as we usher in Omituntun 2.0 on this day, I see another opportunity to reflect on our first term in office, recall our promises made and promises kept, and renew those promises you have given us another opportunity to keep," he said.
"We have shared our plans with you in our Oyo State Roadmap for Sustainable Development 2023 – 2027. And we look forward to four years of sustainable development refocused on four pillars: the Economy, Education, Healthcare and Security," he said.
Expect more from us, Sanwo-Olu assures Lagosians
Amid heavy downpour, Governor Babajide Sanwo-Olu, and his deputy, Dr. Obafemi Hamzat, took oath of office and as the democratically elected 16th governor, promising residents to expect a lot more from his administration in several areas.
Speaking at the colourful ceremony held at the Tafawa Balewa Square, Lagos Island, Sanwo-Olu said: "Four years ago on this day, I stood before you for the first time as Governor, to ask you to join me on the journey to Greater Lagos. "Four very eventful years have since passed, and here I am again, privileged beyond measure, to take a second and final oath of office as your governor.
"Four years ago, we promised a better future for ourselves and our children. We did not think it would be easy, or effortless. In fact, we knew it would require a lot of hard work, sacrifice, and innovative thinking.
"There were also many things we did not expect or anticipate. Nobody could have foreseen that just ahead of us lay the most disruptive and devastating global health challenge of our lifetime.
"Nobody anticipated how the ENDSARS protests, which started peacefully, would descend into the most destructive wave of violence Lagos has seen in almost 30 years. We lost tens of billions of Naira worth of public and private property.
"As we continue to write the story of Lagos, let us embrace this spirit of inclusiveness and harmonious Co-existence, for it is this spirit that makes us truly 'Eko'.
"I can boldly say that we have had four fulfilling years. We have learnt a lot, we have made some mistakes, and we have also implemented many transformational policies and programmes. We assure you that the progress we have made will not be reversed. We will remain steadfast in our mission to make Lagos State a model of good governance, a beacon of hope and opportunity for all. Our path is clear, and our resolve is unshakeable.
"As we venture into this second term, I want to assure you that the spirit of our endeavours remains unfaltering. We will continue to tackle our challenges head-on and celebrate our successes. We will harness the potential of our greatest resource – our people."
Kaduna: I'm prepared, determined with clear vision — Uba Sani
In Kaduna, Governor Uba Sani, said that his administration would prioritize security and welfare of the citizens, adding that he came prepared and determined with clear vision to govern the state.
He spoke during his swearing in ceremony at the Murtala Square Kaduna, insisting that as governor, he would deploy modern governance tools and technology to tackle poverty and insecurity in the state.
His words: "I am well aware that leadership is not just a job but a calling; and I am very conscious of the fact that as your governor, the safety, security and welfare of the people of Kaduna State shall be the main focus of this administration in collaboration with the incoming members of the Kaduna State House of Assembly.
My administration shall undertake programmes and policies that will enhance productivity, encourage creativity and harness the rich diversity and cosmopolitan nature of this State. Our programmes and policies shall be people-oriented. I shall run an all-inclusive government that shall leave no one or any part of Kaduna State behind."
Disclosing that the former Governor, Nasir el-Rufai said his government was leaving a net cash balance of N5 billion after deductions for the payment of salaries, pensions and dues to the Local Government Councils, and US $2.05 million," he said the state will also receive reimbursements of infrastructure and security spending from the Federal Government worth N41 billion and accumulated stamp duties receipts worth over N100 billion before end of the year.
Abdulrazaq lists priorities for second term in Kwara
In Kwara, Governor AbdulRahman AbdulRazaq, who is now chairman of the Nigeria Governors' Forum, NGF, while listing fresh priorities for his second term in office vowed to remain a responsible and responsive leader for Kwarans. The governor said the second tenure would see him building on the gains of the last four years.
His words: "The next four years will consolidate the gains of our first tenure and lay new foundations for sustained socio-economic development and institutional growth. We are going to deepen the reforms and investments in the critical sectors like education, healthcare delivery, civil service welfare, social safety programmes, general infrastructural upgrade and renewals, focused expansion of our economic base, and promotion of a political culture that advances self-reliance and growth.
"Our spending priorities will be to complete all the ongoing infrastructure projects and iron out the business models to deliver maximum benefits to the people. Adequate attention will be focused on completing projects like the Ilorin International Conference Centre, the Revenue House, Innovation Hub, Visual Arts Centre, Sugar Film Factory, Osi and Ilesha Baruba campuses of the Kwara State University, industrial park, Shea Butter factory in Kaiama, among others. The General Tunde Idiagbon Flyover and the garment factory will be flagged off soon with huge economic benefits. The Ilorin Capital City Master Plan will be followed by a grander Kwara State Master Plan that will cover Kwara South and Kwara North for sustainable living.
"Affordable housing programme will be another priority of this dispensation. This will help civil servants and other citizens to own their own homes. It will also curb unplanned construction and support decent living conditions. In this way, we will form partnerships with private and federal government agencies to develop new satellite towns already mapped out in the Ilorin City Master Plan as well as in GRA lands in parts of Kwara South and Kwara North."
Sim takes over from mentor, relishing spotlight to govern Rivers
In Rivers, Governor Siminialayi Fubara, who took over from his mentor and predecessor, Chief Nyesom Wike, in his inaugural speech following his swearing-in by Chief Judge of the State, Justice Simeon Amadi at the Elekahia Stadium Port Harcourt, told the people he was overwhelmed by the spotlight as "Governor for all Rivers people."
Sim said aside from consolidating on the legacy of the infrastructures revolution by his predecessor, he would address corruption and inefficiency in Rivers health sector, promptly pay salaries, pensions and gratuities to Rivers workers having been one of them, work harmoniously with other arms of government, encourage investments and small and medium scale businesses with firm political will to crush insecurity in the state.
"We will provide strong, determined, focused, purposeful and responsible leadership. Though enormous, we are equal to the task of the responsibility ahead, he said.
Finitiri extends Olive branch in Adamawa
Governor Ahmadu Finitiri, who was sworn in as governor of Adamawa state for the second time with pomp and pageantry, extend hand of fellowship to his opponents at the poll in order to develop the state.
Promising to serve the people in absolute humility and devotion to their needs and expectations, he said: "As I said in my acceptance speech when I was declared the winner, I still extend my hands of fellowship and bond of friendship to my brothers and sisters on the other side of the political divide. I call on them to join me in building a state that we all, irrespective of political affiliations, will be proud to call our home."
Finitiri further reiterated that his administration's 11- Point Agenda. of Security of Lives and Property, Education and Human Capital Development, Transparency and Accountability, Improved Internally Generated Revenue, Rural Infrastructure/Urban Renewal and Water Supply, Agricultural Development and Food Security, Healthcare and Human Services, Youth and Women Development, Commerce and Industry, Civil Service Reforms and Environment and Climate Change remains sacrosanct.
Zulum pledges to reopen more displaced communities in Borno
Governor Babagana Zulum of Borno State pledged to reopen more displaced communities to accelerate the revival of the economy battered by over a decade Boko Haram insurgency in the state.
Recall that over one million Internally Displaced Persons, IDPs have been relocated to their various ancestral communities in the last four years by the administration.
Taking the second-term oath of office, Zulum also announced plans to recruit 5,000 teachers, 1,500 health workers and establish a microfinance bank in each of the 27 local government areas of the state.
"We intend to consolidate our Reconstruction, Rehabilitation and Resettlement (RRR) efforts by resettling Abadam, Malumfatori, Gudumbali, Kareto, Ashigashiya, Wala, Yamteke, Modube, Bita, Dalwa, Sandiya, Kumshe, Gulumba, Gajibo, Logumane, Kala, Wumbi, Karnowa, Mile-forty, Kekeno, Kumowon, Mbuta, Koshebe, Maiwa, Kirenuwa, Marte, Ala, Kaje, Gashigar, Asaa amongst others.
"We also plan to close a greater percentage of IDP camps in all the 27 LGAs and resettle them in a dignified manner in collaboration with our development partners and international communities," the governor said.
Kefas promises to lead by example in Taraba
The newly sworn-in governor of Taraba State, Kefas Agbu, said his government would create an enabling environment for all inhabitants of the state to succeed.
Agbu who spoke at the Jolly Nyame Stadium, Jalingo the state capital, also promised to lead by example, noting that the task before him as governor of the state is enormous but expressed confidence that his experience before now had prepared him for the job.
I'm hitting the ground running in C/River — Otu
After taking oath of office as 18th governor of Cross River State, Bassey Otu disclosed that his administration would partner with credible international development institutions in formulating a medium-term sustainable development plan in line with the state's 30 years development strategy.
He said his administration will restructure its debt while ensuring that it moves forward as a state with a realistic budget.
His words:" This is the Government of Cross Riverians by Cross Riverians for all Cross Riverians and non-Cross Riverians in our land. "This government will bear no insignia of discrimination in belief, origin or gender. Women and men, young and old, educated and non-educated will be carried along and treated as equal before the law."
"We hope to engage with the Labour Union dispassionately on the feasible and sustainable paths for dealing with our depleting civil service, given that over 75% of our manpower will be retiring before December, 2024. The same worrisome narrative applies to the backlog of staff promotion with corresponding severance burden in excess of 54 billion," he added.
Dikko sworn in as Katsina Governor
The APC candidate and winner of the March 18, 2023 governorship election in Katsina State, Dr Dikko Umar Radda was sworn in as Katsina Governor at the Muhammadu Dikko Township Stadium, Katsina, yesterday.
Dikko and his deputy, Faruk Lawal Jobe, took the oath of office administered by the State's Chief Judge, Danladi Abubakar between 10:40am – 10:45am, before the outgoing governor, Aminu Bello Masari, his deputy, Muntari Lawal, among other dignitaries.
Nwifuru urges opponents to withdraw petition against him in Ebonyi
Governor Francis Nwifuru of Ebonyi State has called on his political opponents to withdraw their petitions against him at the Ebonyi State Elections Petition Tribunal sitting in Abuja. Nwifuru stated this during the inauguration of the 4th democratically elected governor of Ebonyi State at the Pa Ngele Oruta Township Stadium, Abakaliki.
The Governor of the State added that the withdrawal will enable him to concentrate on the development of the state. "I want to call on my political opponents to withdraw their petitions against me as this will enable me to discharge my responsibility," he said.
Mutfwang seeks end to violence in Plateau
In Plateau, Governor Caleb Mutfwang appealed to citizens to support him to break the cycle of hate and attacks in the state so that tangible development can be achieved in the state.
Mutfwang noted that the genocidal attacks of the last couple of years on many communities across the state had left deep wounds and trauma on several widows, orphans, relations and friends and "this has in turn bred hate, mutual suspicion misplaced anger on innocent passersby and so-called reprisal attacks."
His words: "It is an undeniable fact that much blood has been shed on the Plateau for close to two decades now which has affected the pace at which has retarded the pace of our development."
Speaking shortly after taking the oath of office at about 1.06 pm, at the Rwang Pam Stadium in Jos, he commiserated with the families who have lost their loved ones over these years and especially the families in Riyom, Bokkos, Barkin Ladi, Bassa and more recently Mangu where "over 100 innocent souls were brutally murdered in their sleep by the most recent premeditated attacks."
He assured the people that he will lead from the front based on the principles of godliness, dependable character and love for the state and that he will insist on due process, accountability, transparency, equity, and the rule of law while emphasizing merit in the selection of quality team members that will help in transforming the state.
Let's join hands to develop Gombe, Yahaya pleads
In Gombe, re-elected Governor Inuwa Yahaya called on all politicians and stakeholders across partisan divides to join hands with him and move the state forward in order to consolidate on the gains of the first tenure.
Speaking at the swearing-in celebration for his second tenure at Patami stadium, the Governor promised that his administration would be just and fair to all irrespective of political, ethnic, religious and sectional affiliations.
Danmodi promises full autonomy for Judiciary, Assembly, LG
In Jigawa, Governor Umar Namadi Danmodi promised as part of his 12-point agenda to give full autonomy to the Judiciary to ensure justice and fairness to all and to also allow the State Assembly to do its duty as provided by the Constitution.
He also promised to ensure the autonomy of the Local Governments to allow the dividend of democracy to reach the grassroots for effective development. "We will govern with transparency, accountability, inclusion, prudence and responsiveness and above all the fear of God Almighty," he assured.
Bago makes security top priority in Niger
In Niger, Governor Umaru Bago said he would tackle Insecurity "with all urgency as enshrined in the Constitution of the country in order to make progress in other spheres of life."
He called on the people of the state to join hands with him for a new dawn in the state just as he assured the youths in the state of a new life by carrying them along in his administration.
"We should expect a new Niger State and we will not act irresponsibly. We promise to do something differently and that is why we will be transparent and also make accountability our watchword to achieve our aims and objectives," he declared.