By Sylvester Kwentua
The outgoing month was seen by many as a month of elections; a month that witnessed Nigerians choosing a new set of leaders. However, beyond the electioneering, the previous month witnessed lots of scandals in the Nigerian entertainment space. Potpourri in this piece, reviews three of such controversies that made headlines last month.
AY versus Basketmouth
Ayodeji Richard Makun, a veteran comedian popularly known as AY , last month, disclosed what led to his 17 years feud with fellow comedian, Bright Okpocha, better known as Basketmouth. He revealed that the beef started over a sum of N30,000 not paid to him by Basketmouth.
Speaking on the cause of the 17-year feud in an interview with popular media personality, Chude Jideonwo, AY said it was a particular event he attended which the organisers had expected Basketmouth to be present but wasn't. He said he stood in for Basketmouth at the said event, and after the show, he didn't get paid.
AY said after Basketmouth told him that the organisers hadn't paid, he contacted the organisers and was shocked to find out that payment had been made even before the event. It was then he started pestering Basketmouth for his money, to no avail.
He said Basketmouth afterwards blacklisted him and didn't invite him to his wedding while he invited his wife.
Basketmouth hasn't reacted to AY's accusations so far, but his fans however made sure AY didn't have the last say, as they dug out an old video where Basketmouth, in an interview with Ebuka Obi-Uchendu, accused AY of disloyalty.
Whitemoney vs female celebrities
Whitemoney, real name Hazel Oyeze Onou, the winner of Big Brother Naija 'Shine Ya Eye' Season 6 got a load of vitriols hurled at him when a video where he painted women as merchandises who can easily be bought with money surfaced on social media.
In the video, Whitemoney said "No woman is out of your league, bro, just make money and create your own game, they're gonna play,".
This video generated a lot of attacks on him, especially from female celebrities and fans. A standout reaction to the video was from Nollywood actress, Victoria Iyama, who didn't spare words for him, in giving him her piece of mind.
Not done with his video, Whitemoney was also quoted to have revealed how BBNaija female contestants came to meet him to hook them up with his rich friends.
In an interview with Nedu (who himself has had issues with BBNAIJA female housemates in the past), Whitemoney, fired hot, accusing his BBnaija female colleagues of using fame gotten on the show, to scout for rich men.
Whitemoney however went personal, after he referred to a fellow housemate, Doyin, as a small girl, accusing her of being ungrateful for what he did for her.
His accusations didn't go unnoticed, as Doyin wasted no time in firing back.
Reacting via Instastory, Doyin narrated how she met Whitemoney who offered to connect her with his manager.
She said, "Guys. This bleached man met me at Intercontinental. I said hi to him and he said…Oh! His manager liked me alot in the house and she would like to manage me. I told him to let me think about it and I will call him in a few days. I called him back a few days to ask for her number. Is that what you did for me? You asked if I'm mad…I'm not the one screaming at a microphone like a lunatic talking down on a woman just because she gave you the training you refused to get at home. You just proved your sanity to the entire internet. I'm not the mad one here boo."
Doyin added, "Calling me 'little' or 'small' doesn't make you big. You're on the ground! You are nothing in the grand scheme of things."
Whitemoney however has tendered an apology to whoever felt hurt by his video and interview. He claimed he was misinterpreted.
Portable vs Nigerian Police
Habeeb Okikiola, musically known as Portable made headlines after he was captured in a viral video bad-mouthing some police officers who stormed his bar in the Sanga Ota area of Ogun State to arrest him.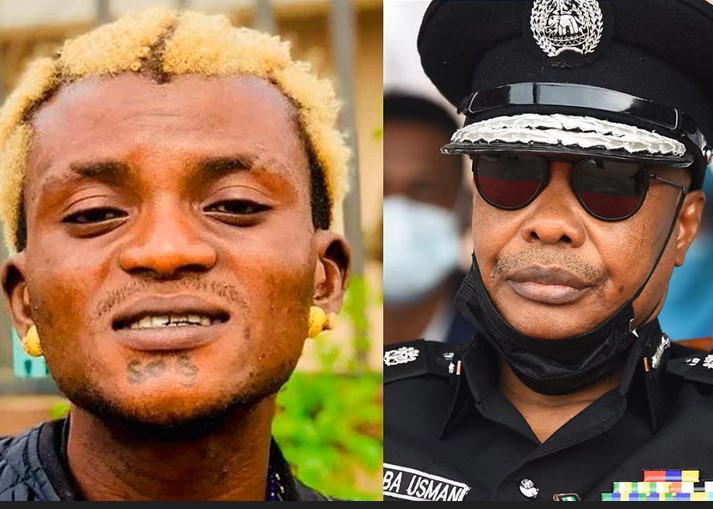 The singer, allegedly resisted arrest, insisting that he was a superstar and worked for the ruling party, and therefore should be invited for questioning, rather than arrest
Consequently, the Ogun State Police Command on Wednesday gave him a 72-hour ultimatum to report himself to the nearest police station before Friday or prepare for arrest, an ultimatum Portable was advised to honour, or face serious issues with the police.
Portable in the viral video, claimed that the officers were fake officers, and further claimed that the police were acting on a petition from his former apprentice, who he claimed was an internet fraudster, and who he disciplined for the same reasons.
Speaking in a mix of Pidgin English and Yoruba, the singer in yet another video after the arrest incident, said, "That boy wey I beat, he's my boy. I'm a boss to him. Oga go beat apprentice na? That one no mean say make police come say make dem come arrest you. This boy is my boy. He's into Yahoo [Internet fraud]. I advised him to quit but he still dey do the scam dey go. Then I pursued him. I beat him. I flogged him. Now you want to arrest me because I flogged him? He come to write a petition about me, about a celebrity superstar. He's a Yahoo boy. Yahoo boy came to lay a complaint. He write petitions about superstar celebrity. My work is legit. I do music for a living. I no fear anybody, na only God I fear,"