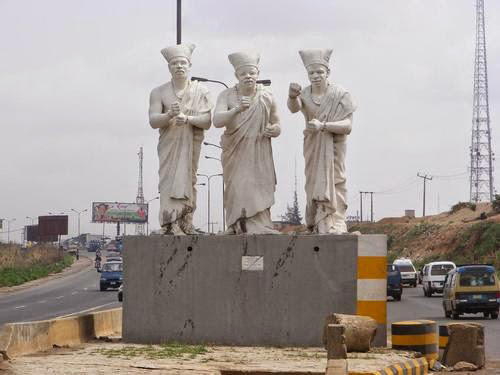 By Obi Nwakanma
Yesterday's governorship election was shaping up to be a battle royale between the incumbent All Progressives Congress (APC) and Labour Party (LP). If the result of the presidential election of February 25 in Lagos was to be the key indicator, Governor Babajide Olusola Sanwo-Olu was in trouble, and Gbadebo Patrick Chinedu Rhodes-Vivour of the Labour Party seemed all set to coast home to victory, and end a 24-year-grip over Lagos that has turned it into the Suzerainty of Bola Ahmed Tinubu. Gbadebo Rhodes-Vivour, MIT-trained architect, and son of a distinguished Lagos family, was up against a most powerful force, of incumbency that had been built on, not so much rock-solid achievements, but much more on well oiled, well-distributed political patronage.
The scenario had been pretty much set in this election in Lagos by the thuggery; the violence; the threats against opposition voters. There are still footages from the presidential election, of street gangs controlled by the governing APC going street to street and harassing voters; shooting; overturning or snatching voting materials; and preventing voting from taking place wherever they perceived that the Labour Party had electoral strength.
One chilling video of an APC strong arm threatening Igbo voters, and daring them to vote in that particular polling unit at the risk of their limbs continues to circulate in the web. Penultimate week, yet to be identified arsonists burnt down an Igbo market in Lagos, in what people see as a sustained terror campaign to intimidate Igbo voters in Lagos. And so, the election in Lagos had taken once more a most preposterous turn, and Yoruba irredentists, largely supporting the APC tried to turn the election into an ethnic war – one more battle between the Igbo and the Yoruba. To these people, the Igbo are "strangers" in Lagos who are intent on taking over Lagos politically, having apparently "captured" it economically.
There are too many problems with that narrative, but the point, first of all, is, that its aggression has been transferred to the person of G.P.C Rhodes-Vivour. A campaign of calumny and denigration has been waged against him, on account that he is no longer a Lagosian because, well, his mother, Nkechi, is Igbo, and, secondly, his wife, Ifeyinwa, is also Igbo. 
The point being that the Igbo are trying to take over Lagos surreptitiously through their grandson, for yes indeed, there is no point denying it: Gbadebo Rhodes-Vivour is half-Igbo. His Igbo linkages are also wider, for in fact, his aunt, Tejumade Nwogu, is also married to an Igbo man. In my book it is a plus. He embodies two great, and very powerful cultures. It makes him complex and cosmopolitan; able to see the world very broadly and without the narrow, nativist baggage that could sometimes be the lot of bounded heritage.
It is in fact a greater plus, because he has as his moral and emotional foundation, these two brilliant Igbo women, which is far more luck than most men can hope for. To the Igbo, a child belongs to two people: in his father's place, he is a citizen with the responsibility of citizenship, and in his "umunne" – his mother's homeland – he is akin to a "divine child" and is held in sacred regard. He is a protected child.
That is what GPC Rhodes-Vivour means to the Igbo: they will protect him with their lives, and nothing he does will warrant any ill against him. But does that mean that there is some Igbo plot to take over Lagos through him? That is a most preposterous mindset and claim, and really, in this time and age, whoever thinks in those terms requires urgent treatment and a good length of term in residence at the Yaba Psych Ward.
But let me put some context on this whole idea of an Igbo political takeover of Lagos. The Igbo can never take over Lagos, because Lagos is far too worldly and cosmopolitan for any single group to take it over. In any case, Igbo already have considerable interests going way back, to at least, the 19th century in Lagos.
Many of those Saro who returned from Freetown and other parts of the Sierra-Leone, and Liberia, and some who settled in Abeokuta and Badagry were Igbo. Many of them were the first African colonial clerks in the Colonial Civil Service, moving back and forth from Calabar, through Zungeru, Enugu, Onitsha, Lokoja and Lagos. From the 17th century, the Aro, the Igbere, and many other Igbo groups were already settled in Lagos, in a place still called "Oyingbo," just as the Nupe, trading with the Portuguese and other entities in the era of the slave trade.
Among the soldiers that settled Eko for the Oba of Benin were the mercenary Abam warriors. I still contend that if the descendants of Eletu Odibo test their DNA, they will be shocked where it might lead them towards. By the 19th century, while the Igbo were already doing business in the Lagos port, Ijebu and other inland Yoruba traders were paying tolls and customs duties to do business in Lagos. By the 19th century, Lagos was already what MJC Echeruo, in his seminal book, Victorian Lagos, called a "Negro city" – a convergent point on the Black Atlantic for the returning Diaspora.
Those are the true Lagosians, because they established the foundations of Modern Lagos. It is in that sense that Lagos is a no-man's land, because it is a convergent point.
And so when an ignorant guy like Femi Fani-Kayode, who has the credibility and morals of a two-penny habitue of Ayilara street, writes his inciteful and hateful canard about Lagos being "Yorubaland," he fails to take a measure, even of his own history. Fani-Kayode is a child of the Nupe, the Yoruba (of Ife) and the Saro.
That does not make him any more or less a Lagosian. He could certainly never be more Lagosian than a man like Phillip Asiodu, for instance. Most Nigerians often forget that until January 1914, Lagos was not part of Nigeria. It was the Colony of Lagos. Places like Ibadan were part of the Southern Nigerian Protectorate, for instance. Indeed, the Capital of Southern Nigeria was Enugu, after the brief period in Calabar. Up till 1946, a place like Ibadan was governed administratively from Enugu. Lagos – this new "Negro city"- was the capital of Nigeria.
It was not Yoruba land. True, parts of Western Nigeria made up a good part of the urban conurbation of Lagos, in the same way as part of Igbo land made up Western Nigeria. Most Nigerians often think of Western Nigeria as essentially Yoruba. Not true. It was largely Yoruba. But the Igbo were also part of the Western Region as were the Ijaw, the Itshekeiri, the Edo, the Urhobo, the Isoko, etc. Most Nigerians forget today, that the Western region included vast portions of Igbo land.
The Western Igbo, stretching up till the end of the River Niger, marked the boundaries of the Western from the Eastern region. The Igbo therefore had a stake in the political and economic life of the Western region, much more the capital territory of Nigeria, which abutted it.
The Igbo have also governed Lagos. Dr. Nnamdi Azikiwe thrived in Lagos; built businesses, and a life in Lagos, and represented Lagos in the Western House. Before then, he was elected to the Nigerian Legislative Council from Lagos. Mr. Mbonu Ojike was elected Deputy Mayor of Lagos; the City Council of Lagos had Igbo, like F.M. Moronu; Mercy Eneli, etc; in the military era, two Igbo – Ndubuisi Kanu and Ebitu Ukiwe – had been governors of Lagos. And so, this talk about Igbo taking over Lagos is dog whistle aimed at shoring up the failing campaign of Mr. Sanwo-Olu and his APC party. The loss of Lagos will certainly cause significant rupture in the Lagos firmament. It will realign the forces, and it will create a new political, and possibly economic trajectory in Lagos.
It will save Lagos from Tinubu and his acolytes who have held it on the jugular for the last 24 years. Yes, the Igbo in Lagos have significant political leverage in this election. But as it became clear to the APC folks in Lagos, it was not just the votes of the Igbo in Lagos that are causing the current political earthquake, the most resounding of which we might feel this Saturday, it is the vote of an alliance for change, which includes a vast number of young, politically liberated and savvy Yoruba youth seeking for meaningful change.
The issue in this election therefore is about change – it is about jobs, human security; respect for the dignity of people, and the promise of a cleaner, more prosperous, more accommodating, and better, and more transparently managed Lagos. The fight for Lagos is not between the Yoruba and the Igbo, it is the fight to retire a very dangerous oligopoly which has cornered the commonwealth of Lagosians since 1999 with only the white elephant to show for it. The real Lagosians, from wherever they may have come – Igbo, Yoruba, Ijaw, Nupe, Edo, Igala, Hausa, Fulani, Efik, Ibibio, Tiv, etc, – those who walk the streets of Lagos daily, seeking to press water from its stone, should have risen up, and make their votes count.