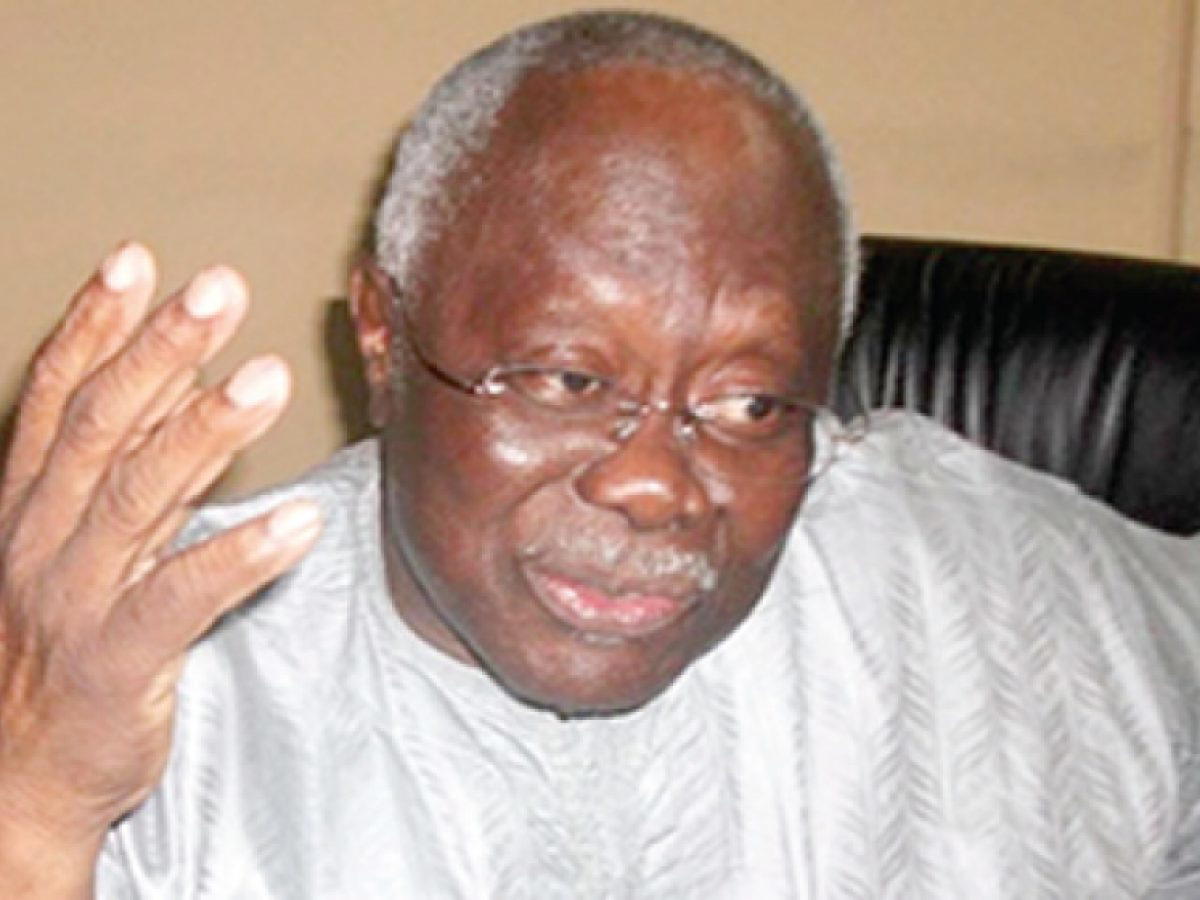 .
•Says promoters of ethnic violence should be reported to ICC
By Dapo Akinrefon, Deputy Politics Editor
A former Deputy National Chairman of the Peoples Democratic Party, PDP, Chief Bode George, in this interview, examines the conduct of the 2023 general elections, especially in Lagos State.
Elections have come but not gone. In Lagos State, it was like war…
It was the most shameful election in my lifetime. I am almost 80. It was disgraceful. It was as if the devil landed in this state. People were chased with cutlasses while ballot papers were being hijacked.
It was disheartening. It was shambolic and disgraceful.
The rule of law was abandoned. We had the rule of the mob. People were violently prevented from going to cast their votes. Democracy is about the people. It is the government of the people. If they knew that was what they wanted to do, there was no need to ask people to come and vote. Is that democracy? It is autocratic. It is what you find in the jungle. Lagos is the most metropolitan city in this country. Various tribes live here. Look at the various groups of people who have been living here from time immemorial. There are certain places in Lagos where different tribes are in the majority.
That is the culture of Lagos and the beauty of Lagos. We don't drive people away. We welcome people and allow them to trade freely, make money and pay their taxes.
The Igbo people in Lagos were accused of interfering with the politics of the state. How true is this?
It was the most disgusting and senseless statement I have ever heard. In primary school, we had Igbo classmates in the early 50s. In those days, there were elders in every community and they were called Baba Adugbo. They took care of the Area Boys called Omo Adugbo. We had Hausa friends and Igbo friends. Look at Mosalasi Jimoh on Nnamdi Azikiwe Street where you have the central mosque. That is where the majority of Hausa stay in Lagos.
If you have anything to do with northern people, you go there. In Agege, Idi Araba and Obalende, Igbo and Hausa have been living there long before I was born. The Hausa and Igbo reside and trade there without being molested. What is this madness for? What played out was not the culture of Lagosians.
As a Lagosian, I looked at one of those who made the statement and asked if he is from Lagos State. That fellow should be arrested and taken to the International Criminal Court in Hague. He should be tried for inciting people. He should be arrested because the statement confirmed that the attacks last Saturday were organised. He should be arrested and tried for inciting one tribe against another.
Labour Party, LP, candidate, Gbadebo Rhodes-Vivour, was profiled as having anti-Lagos agenda. What could have been responsible for that?
It is idiocy. It is what I call existential imbecility. It is absolute insanity. Yes, his father is a Lagosian, a Yoruba man. His mother is an Igbo woman. Is that the first time we are having that in Lagos? I have children, who are half Yoruba, half Igbo. Am I going to throw them away? What name do they bear? Don't they bear my name? If their mother gives them an Igbo name, what is wrong with it? They speak Yoruba and bear my name. Those promoting this bigotry will now say they are not Yoruba. It is so cheap. The most annoying thing is that their leader is saying he wants to go to the centre to rule Nigeria. He shouldn't take these people along with him.
Would they denounce all the APC members in the South-East? Is that the culture of APC as a party? That is senseless talk. These are not the kind of characters this country needs at this particular time. It is dangerous. I am surprised one of them has not been fired. A sensible person would have fired that fellow for making the statement because he is heading to Abuja. How many tribes, how many languages, and how many dialects do we speak here? Nigeria is a multi-religious and multi-ethnic country. One of those who made the statement in his capacity as the spokesperson for their leader is from Ijebu. What is he doing here? I don't know the school he went to.
I am a Lagosian. I was privileged to have attended Ijebu-Ode Grammar School, the premier grammar school in Ijebuland. He should be thrown out too because he doesn't belong here. Ojo is Hausa and Igbo-dominated. FESTAC is populated by Delta and Igbo. Ajeromi is for the Igbo. It used to be called Ilu Isobo, meaning the city of the Urhobo. But now, it is dominated by the Igbo. Hausa are the majority in Agege.
Mosalasi Jimoh in the centre of Lagos Island is dominated by the Hausa. Their children grew up, mixed with the locals and speak Yoruba like you and me. We should do everything possible to take that fellow to the International Criminal Court. It is an insult.
Is it right to say the Igbo were caught in the middle of two feuding camps?
I agree. It was their strategy to hide the truth. The younger generation including my children who came home to vote said "Daddy, we are tired of your PDP, we are tired of your APC, we are Obidients." Those were the people that made a difference in the North and South. They said their future is being mortgaged for a pittance.
If you tell us the Igbo did this, then something is wrong with your ability to reason. Why did you start moving polling units to dangerous areas and threatening them with Oro, traditional festival? What has traditional festival got to do with the will of people to exercise their wishes? Where are we going? This is 21st century. While I was growing up, any cultural activity wasn't done in broad daylight. It is so fetish, it is so local and it is so low in the 21st century when people are moving to mars.
They promised to do electronic transmission. What happened? How do you add it up? Everybody is heading towards modern technology, they are making fetish sacrifices.
What are your fears going forward?
It is dangerous. We must nip it in the bud with every available authority. Did you see some people that were attacked with machete? All the killings, the beatings, and the way the elections were handled in some areas should be taken to the International Criminal Court. We should discourage this. The APC, as a party, must denounce that statement, otherwise, how will they convince us that they want to govern fairly?
But the president-elect wants to embark on a healing process…
The healing should start with his spokesperson. He should apologise. Words are like arrows, once they are fired, they cannot be withdrawn. If the boy has no apologies and his boss wants to go and sit at that table, may God bless Nigeria. If there is no trust from the people, how can there be good governance?
Thuggery has assumed an alarming dimension in Lagos. How can it be addressed?
They are the ones driving these young people around the whole place. It is disgraceful and disgusting. I know Sanwo-Olu's family, yes, they are from Ijebu-Mushin. I grew up with his uncle and I know the kind of family he is from. They are decent and good people.
If we had been hostile, would they have been able to settle down there? Their family is in Omidundun Street on Lagos Island where you find Ijebu-Mushin settlement. Thugs existed in those days, but they are growing in unimaginable proportions because there is no arrangement to train them. They are now becoming older and marrying without a future, food or income. What kind of society are we building? During former President Goodluck Jonathan's era, he set up a skill acquisition programme at Oshodi. People came from all parts of the country for the programme.
After graduation, he gave them interest-free loans to start a business. When I woke up last Monday, my blood pressure was high because I was angry at this system. Look at how small countries like Kenya, Senegal, Ghana and Rwanda conducted their elections using technology. What was done here, was it an electronic process?
What is the future of PDP after its defeat at the presidential poll?
There must be a postmortem. PDP is like an Iroko tree. Any tree that is still fresh has roots. Seasonally, the leaves can change but the taproot must not be touched because the moment the taproot is touched, that is the end. The fundamentals on which the party was established were manipulated by the managers of the party in Abuja. Let us wait for the court process to be completed.
There will be a serious postmortem analysis to get the party back. We suffered an uppercut and found ourselves almost completely knocked out.