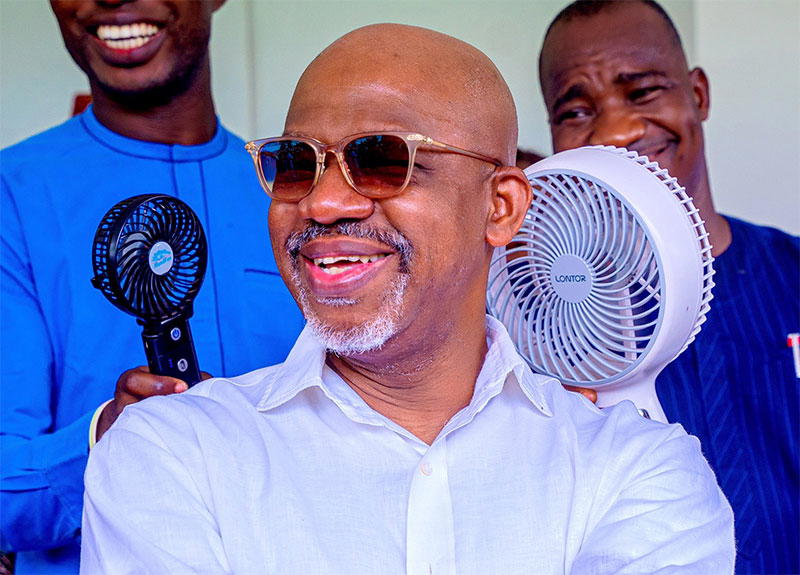 Governor Dapo Abiodun Source: @dabiodunMFR
The All Progressives Congress  (APC)  in Ogun State  under the leadership of Governor Dapo Abiodun who is seeking a second term in office, has invested heavily in all areas to impact positively on the lives and livelihood of the people of Ogun State.
Prince Dapo Abiodun has also set records and antecedents which none of his closest opponents can match.
A top raking member of APC in the state and adviser on the Public Communication Committee of Dapo Abiodun Campaign  Council, Kayode Oladele, disclosed these in a statement issued in Abeokuta, Ogun State, capital on Wednesday.
According to Oladele,  apart from Prince Dapo Abiodun's strength of character which  is far and above that of his opponents, the governor's uncommon passion for educational development is underscored by improved infrastructure, increased access to quality and affordable education, rehabilitation of schools, provision of free textbooks, the implementation of e-learning tools and innovative policies that support teaching and learning.
"Governor Abiodun's  progressive policies are contained in the Ogun State Education Revitalization Agenda (OGSERA) that repositions the state's education sector as a model for other states in Nigeria.
"Prince Dapo Abiodun has laid a solid foundation for the economic development of the state by embarking on massive road rehabilitation and construction across the state.
"Many rural communities in the state have been opened up by road networks to improve mass transit of people and agricultural produce.
"Housing estates have been built across the senatorial districts to provide affordable housing for the low-income earners.
"State hospitals across the state have been rehabilitated and provided with qualified personnel for effective healthcare for the people.
"Governor Dapo Abiodun just recently commissioned the Ogun State Cargo Airport in Shagamu to aid transportation of goods and services in and out of the state," Oladele said.
The statement  concluded by saying that "Governor Abiodun, having been elected in 2019 under the banner of the ruling All Progressives Congress, APC, has not disappointed in his sterling performances in providing the dividends of democracy to the good people of Ogun State.
"We have just elected the  President-elect, Asiwaju Bola Ahmed Tinubu, cleared all the three senatorial and House of Representatives seats in the state, which is a phenomenal achievement and the first in the history of Ogun State all on the platform of the APC.
"I, therefore, have no doubt in my mind that the same feat will be repeated in next Saturday's governorship and House of Assembly elections.
"Suffice it to say that shock and awe await Governor Dapo Abiodun's opponents even as the APC has become a brand name in Ogun State."