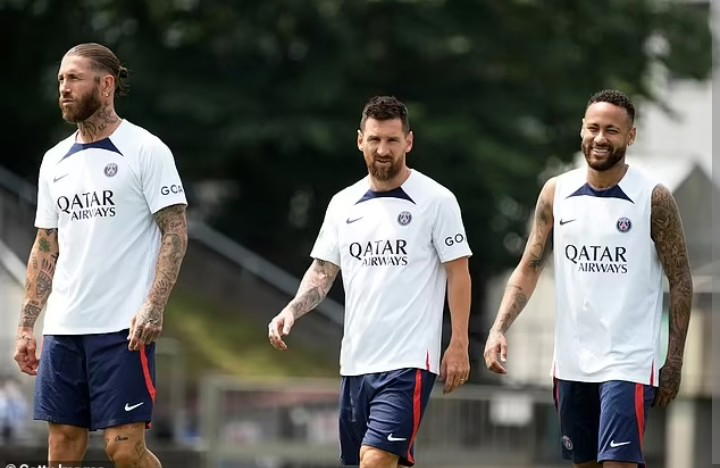 Paris Saint-Germain's trio – Lionel Messi, Neymar and Sergio Ramos may relocate to Saudi Arabia to ply their trades.
According to Marca, there are emerging reports that the French club is encouraging its senior players to move to Saudi Arabia where Cristiano Ronaldo currently plays for Al Nassr in the Saudi Pro League.
PSG is reportedly willing to let Messi and Ramos, who are both out of contract at the end of the season, move on.
The report further revealed that the club is open to receiving offers for Neymar, who has been a key player for the team in recent years.
Marca reported that PSG is eager to convince some of its players to follow Ronaldo's lead and join a Saudi Arabian team in the transfer window.
The report states that the Ligue 1 champions are looking to part ways with the high-profile trio with Ramos already believed to be in negotiations for a potential move to Al Nassr.
It has also been reported that Al Nassr's rivals, Al Hilal, are interested in signing Messi. If they fail to lure the Argentine to Saudi Arabia, they may make a move for Neymar, who, while not keen on leaving PSG, is reportedly open to considering offers.
The potential moves come as PSG looks to shake up its squad following another disappointing Champions League campaign.
The team was knocked out in the last 16 by Bayern Munich, and while they currently sit atop the Ligue 1 standings, it has been another disappointing season.
By encouraging several players to move on, PSG is signaling its willingness to rebuild and start fresh.
While losing players of the caliber of Messi and Neymar would be a blow to any team, PSG has shown in the past that it has the financial resources to make big moves in the transfer market.
The potential moves also highlight the growing interest in Saudi Arabian football, which has been attracting top talent in recent years.
The country has invested heavily in football infrastructure and has been hosting high-profile tournaments, such as the Super Cup and the Club World Cup.
It also has aspirations to host the 2030 World Cup and Ronaldo and Messi acting as ambassadors would certainly help their cause.