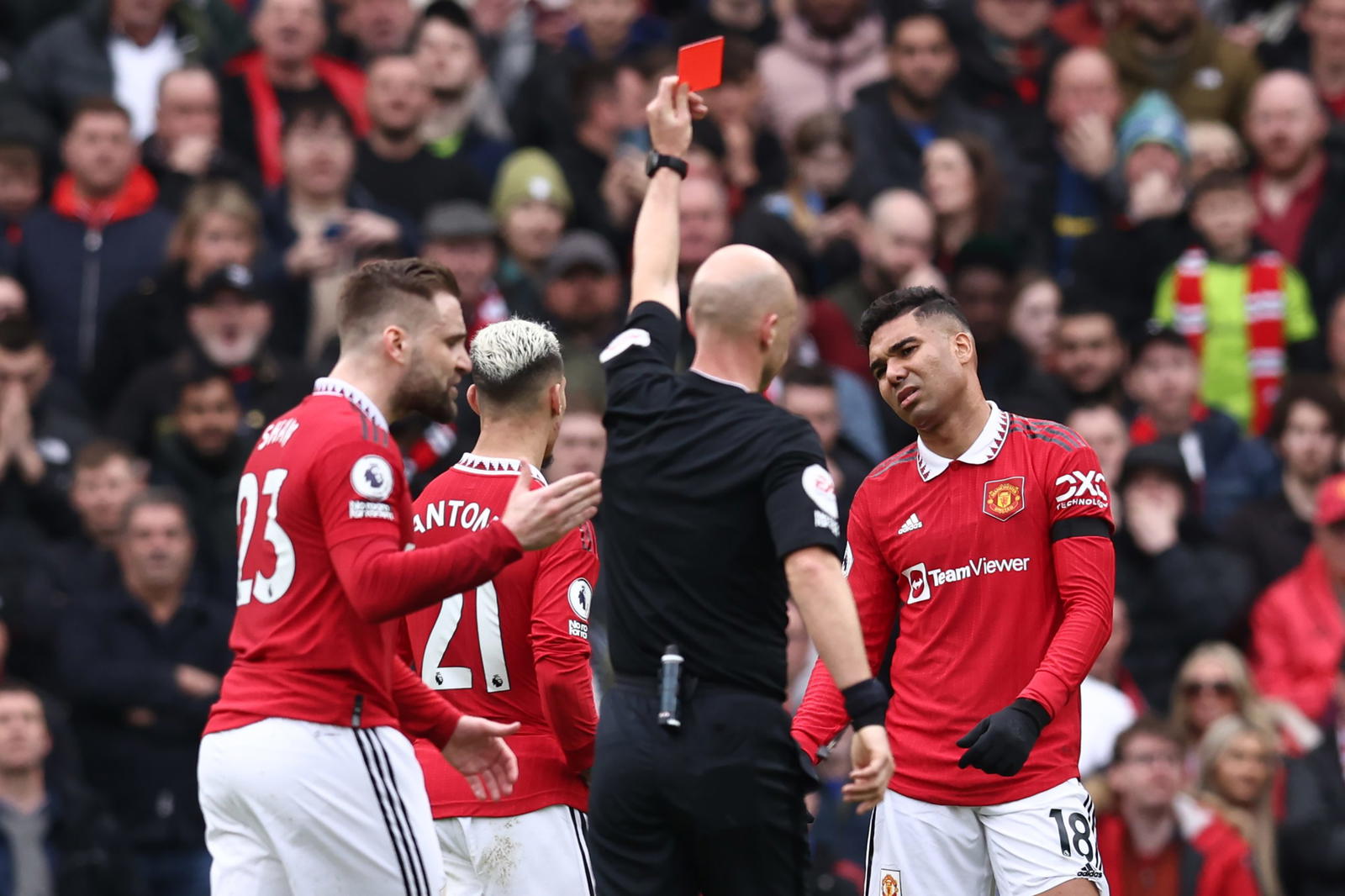 Manchester United's Brazilian midfielder Casemiro (R) reacts after being shown a red card by English referee Anthony Taylor during the English Premier League football match between Manchester United and Southampton at Old Trafford in Manchester, north-west England, on March 12, 2023. (Photo by Darren Staples / AFP)
By Adegboyega Adeleye
Manchester United will not appeal the red card issued to Brazilian midfielder Casemiro in Sunday's goalless draw with Southampton.
The club believed there was a little chance of the decision being overturned and has decided not to push for an appeal.
Casemiro was dismissed after 34 minutes for a tackle on Southampton forward Carlos Alcaraz.
Referee Anthony Taylor overturned his initial decision after yielding to the advice of the video assistant referee as he went to the television monitor to review his initial decision to show a yellow card for a tackle that hit the top of the ball first before going into Alcaraz's leg.
Casemiro will now serve an immediate four-match domestic suspension with the additional game being issued because it was the midfielder's second dismissal of the season, following a red card against Crystal Palace in February– when VAR was used in the wake of a multi-player fracas.
This means Casemiro will miss the FA Cup quarter-final against Fulham and Premier League games against Newcastle United, Brentford, and Everton.
United manager Erik ten Hag defended Casemiro after the match against Southampton and Defender Raphael Varane added: "He's a player who's very important for us.
Coach Ten Hag said, "Casemiro is across European leagues, in over 500 games he never had a red card and now he has twice,"
"He plays tough but he plays fair, also in this he is playing fair. Same as against Palace, so it is very debatable.
"When you freeze it looks bad, but everyone who knows something about football, who is acting on top football, they know what is bad and what isn't bad, what is fair.
"I tell you, Casemiro is a really fair player. Tough but fair and it shows over 500 games in big leagues, never sent off." he concluded.
Casemiro is set to miss a couple of domestic games but he will be available for Thursday's Europa League round-of-16 second leg tie away to Real Betis.
Casemiro joined Manchester United from Real Madrid last summer. He has been impressive for the Red Devils and has become one of the important figures in Erik Ten Hag's squad.