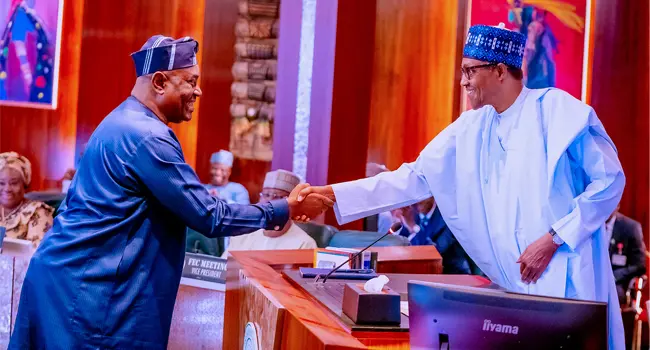 —Says there won't be friction between him, IGP
—Promises to make police welfare a priority
By Johnbosco Agbakwuru, Abuja
Chairman of the Police Service Commission, PSC, and former Inspector-General of Police, IGP, Dr Solomon Arase, Wednesday said that he will sharpen the skills of police officers so that they will give in their best.
Dr, Arase, who stated this in an interview with State House correspondents, shortly after being sworn in by President Muhammadu Buhari at the Council Chamber, Presidential Villa, Abuja, also said there will not be any friction between him and the current IGP.
He said he will lay more emphasis on the welfare of police officers so that they will put in their best.
The former Police boss said members of the commission will ensure that they continue to put their local and international expertise at their disposal.
"We will be strong in training in various areas especially alternative dispute resolution," he said.
He said the issue of discipline will be taken seriously, adding, "I will not want a situation where civil situations arise. So any officer who steps out of the line, there will be consequences.
"But at the same time, they are my colleagues and children. So I'm going to make sure that I sharpen their skills."
He further said, "I'll ensure that they start having confidence in themselves. With more training, the trust gap between members of the public and the police will be bridged. That is what I want to do. That members of the public will collaborate with the police force; see them as part of the larger society.
"Every policeman was a civilian and will return to civilian life after retirement as I have since I retired some seven years ago.
"The benefits that are derivable from good conduct as a police officer, they will continue to reap it when they retire. So that is what I will emphasise."
Asked what specific steps he will take to improve the relationship between the commission and the police, he said:
"If you look at the calibre of people you have in the commission, then you also look at the professional skills of the police management team, there is no way that there won't be occasional issues.
"What I think we should do is that each of the parties should not learn to take everything. There must be negotiation, empathy and respect for each of our roles.
"I will expect that the commission allows the IGP to exercise his operational control over the police. And that the IG himself will respect the constitutional powers of the Police Service Commission. So, there must be mutual respect between both parties. I don't foresee any crisis at all."
Fielding questions on how he would address corruption, he said that the issue of corruption has to be tackled from the source.
Dr. Arase said, "Well, as an Inspector-General of police, the way I looked at the issue of corruption was to.identify it from the source.
"When you tackle issues that are likely to increase the tendencies to be corrupt, you deal with it. How are you taking care of their welfare?
"How are you ensuring that when they retire, they have a decent house to go to? How are you taking care of their children? Can we organise scholarship schemes for them?
"Can we ensure that when we deploy them, they have the necessary work equipment? When you respect people who work for you…even your dog's, when they see you, they will wag thier tails.
"So we must take the interest of the Nigerian police officers into consideration.
"And we'll douse the issue of corruption. Also, members of the public should not corrupt them."