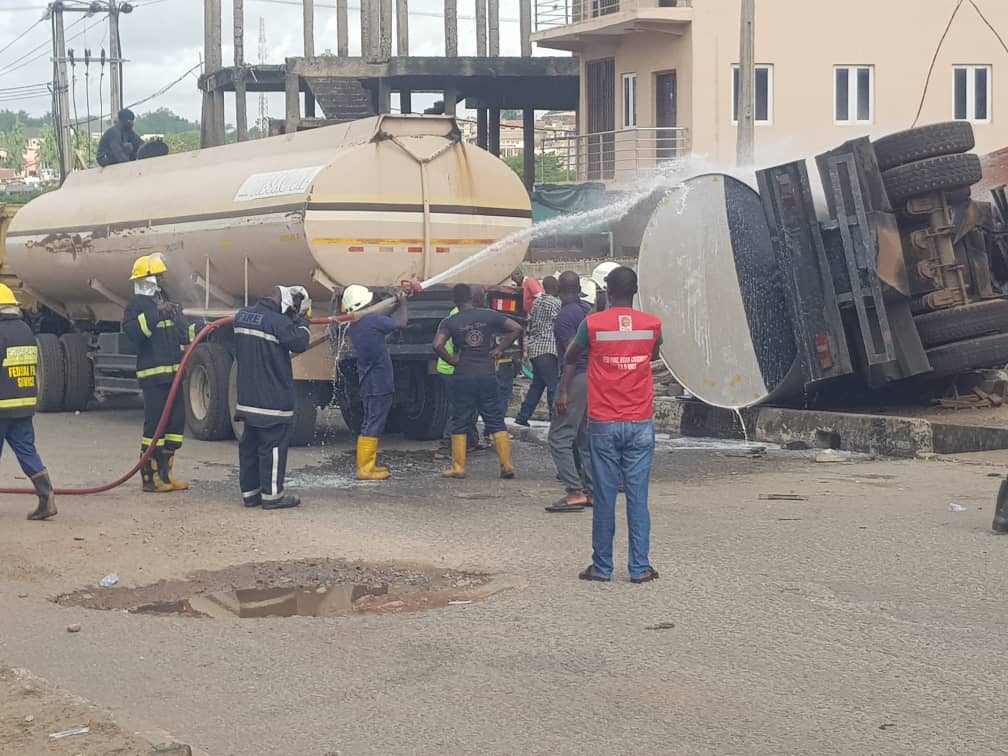 …..Ogun Deputy Governor visits scene, gives assurances of govt intervention
By James Ogunnaike, Abeokuta
Four persons have been confirmed dead in an accident that happened at Lafenwa in Abeokuta North local government area of Ogun State.
It was gathered that a diesel-laden tanker rammed into a shop and vehicles parked by the roadside.
According to the Federal Road Safety Corps (FRSC), the accident occurred on Friday night.
Florence Okpe, the FRSC spokesperson, told newsmen that many were trapped in the crash as the tanker caught fire immediately.
Okpe said two other vehicles were involved in the crash that occurred at Lafenwa roundabout.
She said the total number of persons involved in the accident could not yet be confirmed.
However, she said four male adults have been confirmed dead by responders.
Meanwhile, the State government has assured residents of Lafenwa of an intervention to forestall further occurrence of road crashes in the area..
The State Deputy Governor, Noimot Salako-Oyedele who gave the assurance when she visited the scene of a the ccident at Enu-gada Lafenwa, in Abeokuta, described the accident as one too many.
She said, it was highly disheartening as it comes with loss of lives and properties, emphasizing that the Dapo Abiodun administration in the state was a compassionate one, indicating that something will be done to put and end to such unnecessary accidents as soon as possible.
While commiserating with victims of the incident, Mrs. Salako-Oyedele promised that government will step in and look at ways it can help to alleviate the sufferings of those directly affected by the mishap.
She noted that all the agencies of government in the state, that are key players in crisis management, led by its Commissioners, such as the Ministry of Special Duties and Intergovernmental affairs, Ministry of Transportation, Ogun State Traffic Compliance and Enforcement Agency ,(TRACE), Ogun State Fire service as well as men of the Nigerian Police and Nigerian Security and Civil Defence Corp were on ground to guard against the break down of law and order in the area.
She pleaded for the cooperation of motorists and people in the area as the appropriate agencies work⁶ assiduously to ensure safety, as well as smooth flow of vehicular and human movement while evacuation continues in earnest.
The Ogun State Deputy Governor was accompanied to the scene of the accident by Commissioner for Information and Strategy, Waleed Odusile, Commissioner for Transportation, Gbenga Dairo, Commissioner for Special Duties and Intergovernmental Affairs, Olufemi Ilori Oduntan, TRACE Commander, Comm Olaseni Ogunyemi and other key Govt Functionaries.