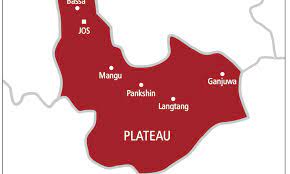 By Marie-Therese Nanlong
Jos – Political and religious leaders in Plateau State have called upon to caution their followers to desist from acts and utterances capable of disturbing the peaceful conduct of the March 18th elections.
The electorate too was cautioned not to allow themselves to be used to further any politicians' ambition that would harm society.
The advice was given by the Plateau Peace and Mediation Working Committee, a platform of the Youth Initiative Against Violence and Human Rights Abuse, which is supported by the National Endowment for Democracy, the Kimpact Development Initiative, and the International Republican Institute.
At a press conference held in Jos on Wednesday ahead of the governorship/House of Assembly elections, the Chairman of the Committee, Dr. Dinshak Dajahar appreciated citizens for the calm disposition after the declaration of the results of the previous elections and called for such resilience all through the electoral period and beyond.
He asked stakeholders to, "take responsibility for ensuring we have a violent free election so that citizens can be at liberty to exercise their civic responsibilities in choosing their leaders," because "this will give credibility to the process and we will have leaders emerging as the result of the people's free choice."
Dajahar added, "The political leaders should caution their followers more deliberately to reduce the present animosity that has been developing along political divides based on the candidature of major gubernatorial candidates…
"Media practitioners should resist the temptation of playing into the hands of politicians but stand with the people to prepare the ground for credible elections through objective reportage. People must resist buying and selling of votes… People should resist taking the laws and report any incident to law enforcement agencies during and after elections.
"If we allow violence to prevail, we will all be losers, if we allow peace to prevail, we will all be winners."