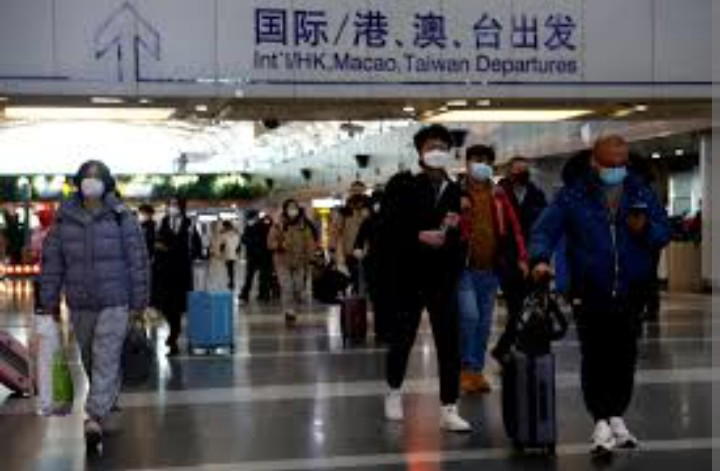 By Biodun Busari 
China is fully reopening its borders to foreign visitors and tourists following three years of pandemic restrictions.
According to Chinese-language statement posted on its website Monday, China's Embassy in the United States said the country would resume issuing all categories of visas for foreigners from Wednesday.
Travelers holding multi-year visas issued before March 28, 2020 — the date China shut its borders to most overseas visitors in the bid to conquer Covid-19 — would be allowed to use them if they have not expired, the statement said.
Chinese authorities last month declared a "major and decisive victory" in their handling of the coronavirus outbreak that had swept the country following an abrupt relaxation of Beijing's "zero-Covid" policy late last year.
Monday's announcement was hinged on Beijing seeking to revive the world's second-largest economy and its domestic tourist industry after a year of tepid growth exacerbated by pandemic measures, according to CNN.
In 2022, China registered 115 million cross-border trips, far below the 2019 pre-pandemic level of 670 million. Foreigners accounted for 97.7 million of those trips in 2019 — a figure that fell to just 4.47 million last year as Covid restrictions kept almost everyone but residents out.
According to the embassy's statement Monday, visa-free entry will resume to the southern island of Hainan and for for cruise ships visiting Shanghai.
Visa-free entry will also restart for foreigners traveling from Hong Kong and Macao to neighbouring Guangdong province and tour groups from Association of Southeast Asian Nations (ASEAN) member states visiting the provinces of Guilin and Guangxi.
China scrapped quarantine for international arrivals in January in a partial reopening met with an outpouring of joy and relief from citizens — both the hundreds of millions isolated inside the country for the past three years and those overseas separated from their loved ones.
Travelers to the country are still asked to take a Covid test 48 hours before departure and need to fill in the results in their customs health declaration forms.
In an advisory updated March 10, the US State Department urged American citizens to reconsider any travel to China, including Hong Kong and Macao, due to "arbitrary enforcement of local laws" and the risk of wrongful detention.