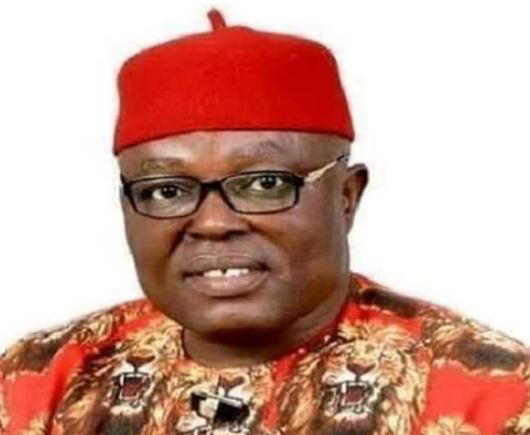 … it's a lie fabricated by enemies of APC, party reacts
By Peter Okutu
The All Progressives Congress, APC, deputy governorship candidate, Patricia Obila, for the March 18 election has reportedly stepped down for Chief Austin Umahi, the younger brother of outgoing governor of Ebonyi State, David Umahi.
The news about Patricia Obila's action went round the state, as it was put down to health challenges.
However, in a swift reaction, the party described the news as a lie fabricated by enemies of the party.
Patricia Obila, who would be the first female deputy governor of the state if APC wins the election.
The news of her stepping down was widely criticised by political and non-political actors, especially groups fighting for the inclusion of more women in politics.
A source, who pleaded anonymity, also said: "I heard about kit. It's no longer news. In Ebonyi State, there's nothing impossible under Umahi. There's nothing he cannot do."
APC reacts
Reacting to the development, Charles Chukwuma Ofoke, state APC Secretary, released a statement titled "A REFUTE OF A WORTHLESS PROPAGANDA OF ALLEGED RESIGNATION OF THE DEPUTY GOVERNORSHIP CANDIDATE OF THE ALL PROGRESSIVES CONGRESS (APC) IN THE SATURDAY, 18TH MARCH, 2023 GOVERNORSHIP ELECTION IN EBONYI STATE.
In the statement, APC "condemned the rumour", and described it as untrue, fallacious and fabricated.
The statement read in part: "It is a clear handiwork of mischievous enemies of the Party and Ebonyi State government ably led by His Excellency, Engr. David Nweze Umahi.
"That, contrary to their claim that the Deputy Governorship Candidate resigned due to health issues, we want to state emphatically that Princess Obila is fit, hale and hearty, and is ready for the job ahead.
"That, in our Party, APC, we have no such arrangement of changing any of our candidates in the gubernatorial and state assembly elections, come Saturday, 18th March, 2023.
"That, it should be known that, after losing grounds in the ongoing elections, some insignificant sets of individuals have been working tirelessly to tarnish the glaring images of our party and candidates, as means to register their misfortunes.
"Last week, it was the rumours about our gubernatorial candidate's ill-health, which he rightly refuted, and they have come up with this one this week.
"However, all their propaganda are dead on arrival, as they are too cheap and hold no waters.
"That, the general public is, therefore, advised to completely ignore this futile and baseless rumour, as it is a fruitless propaganda of those seeking cheap recognition and popularity."