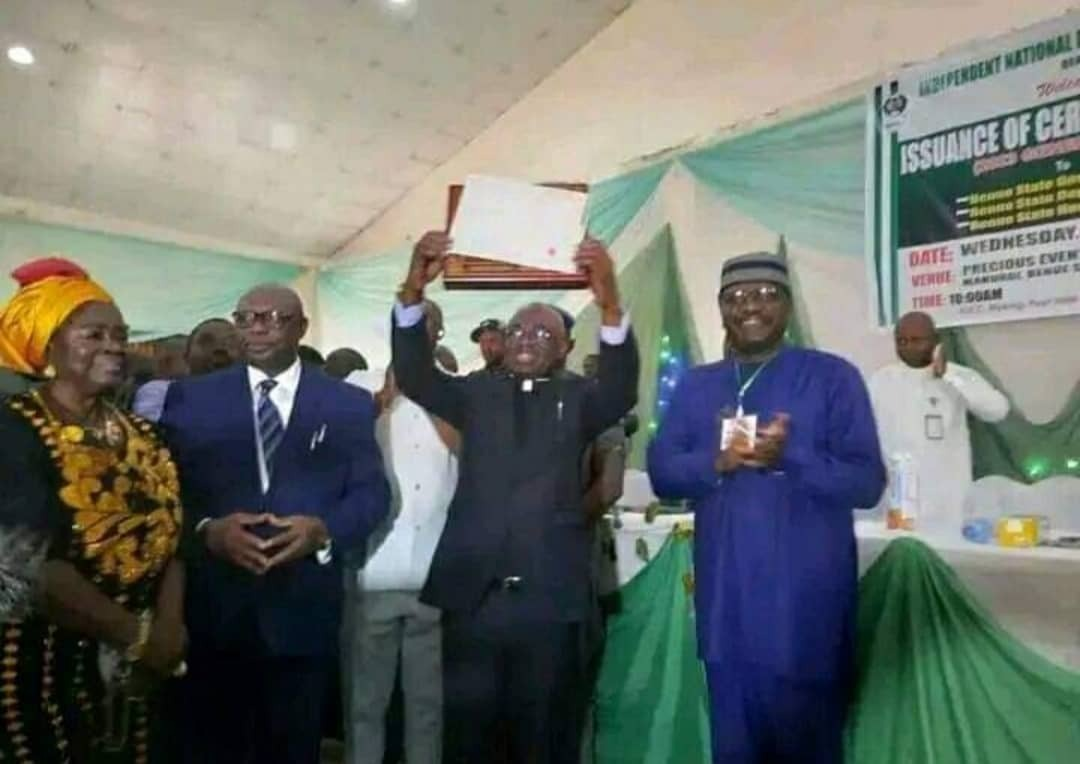 …promises to work with all parties, groups
By Peter Duru, Makurdi
Benue state Governor-elect, Rev. Fr. Hyacinth Alia, Wednesday, received his Certificate of Return from the Independent National Electoral Commission, INEC, with a promise to work with all parties and groups to reposition the state.
Others who also received their certificates in Makurdi were the Deputy Governor-elect, Sam Ode and the 32 elected Assembly members.
Speaking shortly after receiving his Certificate, the Governor-elect said the event marked the beginning of a new Benue "which I beileve is very possible.
"So I am very confident that the members elect will make a transition and work friendly enough and much beneficial for the great people of Benue. I remain hopeful in an Assembly that will produce and create avenues for peace, economic growth by making all assertions meaningful for the State. We will apply this trust maximally, optimally to the benefit of the State."
While commending the people for their faith in him, Fr. Alia said "we will not take this trust of yours for granted. We remain indebted to all who made this day possible. We will remain loyal and patriotic to the tenets of our nation. We will remain faithful and great citizens of the State and nation.
"We look forward to working with different groups and all parties in the State. We are looking forward to taking our state to heights. We must all be architects of a new face of Benue. We need to make the civil service which is the engineer room of the State functional."
Also, the Deputy Governor-elect, Mr. Ode in his response pledged to work hard and hand-in-hand with the Governor-elect to ensure the development and growth of the state.
Earlier, the INEC Resident Electoral Commissioner, REC, Prof. Sam Egwu advised politicians to set aside their differences and work together for the good of the people saying "elections are over so it is time to offer services. It is time to dedicate energy to offer good governance to the people."
The exercise was supervised by the National Commissioner and Chairman of the Information and Voter Education Committee of INEC, Mr. Festus Okoye.