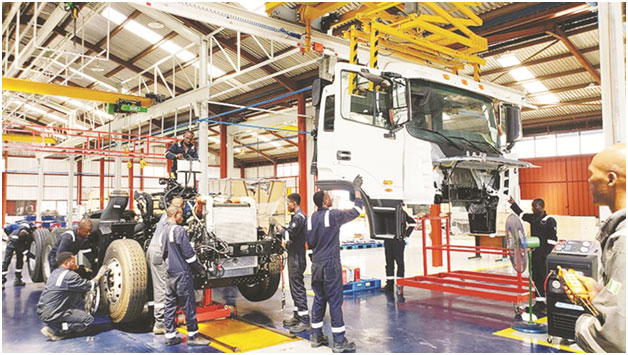 One of the assembly plants.
By Theodore Opara
OPERATORS in the Nigeria automotive industry have called for a concerted effort towards bringing the sector back on track.
At the just concluded Nigeria Auto Journalists Awards, NAJA, held at the Oriental Hotels, Victoria Island, Lagos, the two joint winners of the Outstanding Auto Personality Awards, Mr. Kunle Jaiyesimi, Deputy Managing Director of CFAO, and Mr. Seyi Onajide, Managing Director, R. T. Briscoe PLC, noted that the sector needed to be rescued from its comatose state for the benefit of the nation.
Mr. Jaiyesimi lamented that despite the huge investments made by various companies following the introduction of the National Automotive Policy, the sector had remained comatose over the years.
It should be recalled that over N500 billion in investments had been made in the sector in terms of setting up plants and equipping them, but the unfortunate thing is that most of the plants are operating at below five per cent installed capacity, while others have been turned into warehouses and mechanic workshops.
Also in an interview in the Nigeria Auto Journalists Journal, Mr. Onajide of R. T. Briscoe stated that many factors worked against the auto policy introduced by the government to revive the sector.
According to him, the stakeholders were not properly engaged by the government before coming up with the policy. Apart from that, the local content suppliers, that ought to have been the bedrock of the policy, were not taken into consideration.
In his review of the industry, Mr. Taiwo Shittu, Executive Director, Lanre Shittu Motors, supported the position of Mr. Onajide that content manufacturers should be given serious consideration if the assembly of local vehicles is to thrive.
He called on the government to activate the relevant parts of the National Automotive Industrial Development Plan, NAIDP, which provides for the encouragement of auto parts manufacturers to set up production facilities in Nigeria to feed the local assembly plants with input, adding: "The government must provide policies to make the content manufacturers come to Nigeria and build factories because there is a big market for them here. But there is no policy yet to make them come."
According to Mr. Shittu, "We can get glasses, tyres, batteries, etc, locally. No manufacturer will tell you to use this tyre or battery because they too source them from other manufacturers of these products. If government places 100 per cent duty on imported versions of these products when we started making them in Nigeria, nobody will buy imported ones when the locally-made ones are cheaper and of the same quality."