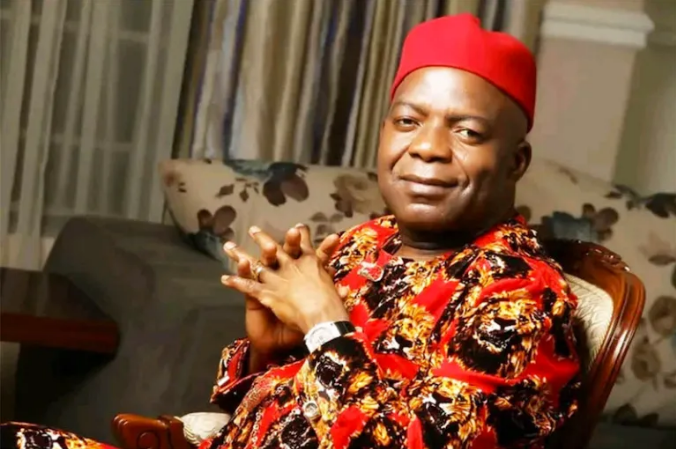 Abia State Governor-Elect, Dr. Alex Otti, has commended the Independent National Electoral Commission, INEC, for its handling of the March 18 governorship election in the state.
Otti spoke as Festus Okoye, INEC National Commissioner for Voter Education, congratulated the Abia people for defending democracy and the institution of democracy in Nigeria.
Dr. Otti also praised the Returning Officer (RO) for the election, Professor Nnenna Oti, who is also the Vice Chancellor, of the Federal University of Technology Owerri (FUTO), for standing firm and refusing to be compromised to work against the will of the people.
Prof Oti had revealed that there was an attempt to induce her financially and through intimidation by desperate politicians in Abia State to accept cooked-up figures from Obingwa Local Government Area to give one of the political parties an unearned advantage.
The Labour Party ,LP, which was leading by a wide margin after results from 16 local government areas had been collated, had accused the ruling Peoples Democratic Party, PDP, in the state of distorting the figures from Obingwa to rig the election.
The INEC had also alerted the nation in an official statement that its office within the Obingwa LGA headquarters had been evaded by thugs and its staff held hostage. It was later discovered that the so-called thugs were members of the PDP. Governor Okezie Ikpeazu himself had earlier been reported as storming the INEC collation centre in Obingwa in the company of his security details.
"Once again, let me thank INEC for the fantastic work that was done. Let me put on record, my thanks to the Returning Officer, Prof Nnenna Oti, who by no means is related to me. I've read a few things, saying that she is my sister. I've never met her. From the available record, she is from Ebonyi State.
"Be that as it may, we must put on record her forthrightness. She has shown that with people like her, there's a lot of hope for Nigeria," Dr. Otti declared.
The Abia Governor-Elect spoke yesterday in Umuahia, the state capital when he was officially presented with his Certificate of Return (CoR) alongside his deputy Governor-Elect, Ikechukwu Emetu, at the INEC state headquarters.
Otti thanked the Abia people for voting Labour Party, saying the joy and excitement that followed his declaration as governor-elect "put a huge responsibility on all of us". He added that the responsibility will not be taken for granted.
"There's no doubt in my mind that Abians have waited for an opportunity like this and God in his infinite wisdom has decided that this year 2023 will mark a new song for the Abia people.
"We, therefore want to assure you that the trust that you have bestowed to us party leaders, as governorship candidate and now as Governor-Elect will not be betrayed. You will not be disappointed," the renowned economist and top banker assured.