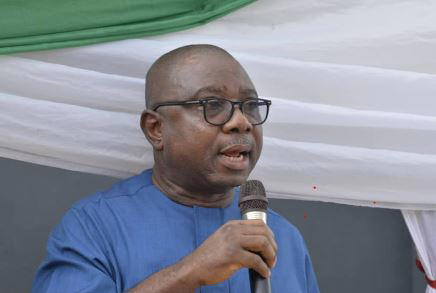 By Ugochukwu Alaribe
Governorship candidate of the Peoples Democratic Party, PDP, in Abia State, Chief Okey Ahiwe has said he knows the challenges bedeviling the state and will hit the ground running, if elected Governor during the March 11 governorship and state Assembly polls.
The PDP candidate who stated this in a letter signed by him titled, 'my Covenant with Ndi Abia', pledged to do a new thing and turn things around and pay off pensions, salary arrears and leave allowances owed workers and pensioners.
He promised to build additional infrastructure to support and boost the economy of the state through programmes, policies and projects that will enable prosperity and faster growth of all sectors of the state.
Stressing that he will run an inclusive government where the peace, unity and safety of Abia people would be guaranteed, Ahiwe further urged the electorate to vote for him and other PDP candidates in the March 11 elections.
He said; "Please vote for me and all PDP House of Assembly candidates. I will do completely new things in Abia. I know the issues and challenges, so I will hit the ground running. I will pay pensions and the salary arrears of our workers in the parastatals and offset leave allowances.
"I will build additional infrastructure to support and boost the Abia State economy. Our programmes, policies, projects and the politics of Abia State will be enablers for even faster growth of our education, health, agriculture, manufacturing and entrepreneurship. Youths, women, and the aged will experience hope and prosperity."
"I promise to create the Abia of our dreams that is peaceful, prosperous and progressive for the benefit of our people. My reputation as a simple man is well known across party lines. My offer and subsequent Covenant with Ndi Abia is to serve you diligently and make Abia State work for all stakeholders. Under my watch, the resources of Abia State will yield dividends. I will run an inclusive government with programmes and policies focused on growth and development of Ndi Abia.
"I know the issues, the challenges, and the roadmap to their solution. These and other key issues will be targets for immediate and special attention. God help me, and with your cooperation, I will achieve them and more for Abia State. I will grow Abia to be the envy of other states."