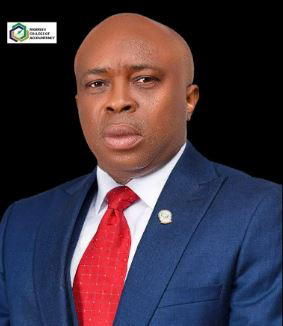 By Marie-Therese Nanlong
The Director General of the Nigerian College of Accountancy, NCA, Kwall, Plateau State, Dr. Friday Akpan has attributed the success story recorded within his four-month tenure in office to the determination to change the narrative and ensure professionalism in the College.
The DG who was recently awarded by the Rotary Club of Jos Central for his giant strides in human capital development as an administrator said giving leadership and coordination to the different departments in the College has seen the College witness a positive change within a short time.
Dr. Akpan spoke with Vanguard in Jos and reiterated his commitment to restoring the integrity of the College which is the training arm of the Association of National Accountants of Nigeria.
He said, "Since I came on board as the DG of the College, this is about the fourth month. Having been in the system, I tried to see what can be done to change the narrative especially in restoring the integrity and proficiency of the training arm of the Association.
"Students who registered for full-time programmes are supposed to be known and seen as full-time students but over the years, that was not professionally followed so one of the things that we did was to ensure that the biometric attendance was upheld so many of them who did not meet the statutory attendance policy of 75% attendance in the College were asked to drop from the full time so that they can have their time to run the programme on a part-time basis.
"This extends to two years while the full-time programme takes between eight to nine months to complete. We insisted that the students follow due process and fully integrate into the system to acquire their professional qualifications. It is important to also mention that in record time, the Professional Examination A was successfully handled within a week and we were able to assemble about 1,600 students who were in the College to write the exams by the grace of God, it went well."
He attributed his success story to "determination and ability to coordinate the different components and departments, leadership is about coordination," and advised stakeholders and the public to do the right things saying, "it is always good to do the right things and for you to achieve success, you have to pay the price and think about what and how you would be remembered."
Speaking on the challenge being faced, he noted, "there is a lot of interest, especially from students who want to take the shortcut and maintain the old order, and by the time you want to change the narrative, it is contested but determination is the key in restoring the integrity of the College."