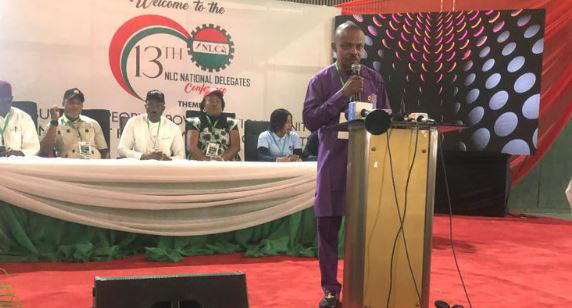 *As Labour issues one week ultimatum over scarcity of fuel, cash
By Victor Ahiuma-Young & Favour Ulebor
A former Assistant News Editor of Vanguard Newspapers, and General Secretary of the National Union of Electricity Employees, NUEE, Joe Ajaero, has been sworn-in as the sixth president of the Nigeria Labour Congress, NLC.
Ajaero succeeds Ayuba Wabba, of the Medical and Health Workers Union of Nigeria, MHWUN, who yesterday ended eight years tenure as President of NLC.
This came as the new leadership of NLC yesterday issued a one- week ultimatum to the federal government to address the protracted fuel scarcity and cash or risk nationwide mass protest.
The new president of NLC
was earlier elected un-opposed alongside 12 other members of the National Administrative Council, NAC.
Until his election, Ajaero who was a a Deputy President of NLC, had worked as a reporter, Correspondent and Assistant News Editor at the nation's leading Labour Reporting Newspapers, Vanguard Newspapers from 1992 – 2001 before joining NUEE as the Head Training/Information.
He later became the General Secretary of the Union from 2006 to date.
Incidentally, Ajaero started his Unionism career in Vanguard Newspapers where he was Secretary/Chairman Nigeria Union of Journalists NUJ Vanguard Chapter, National Ex-Officio NUJ from 1996 – 1999.
He was also a Member Central Working Committee and National Executive Council NUJ, from 1996 – 1999.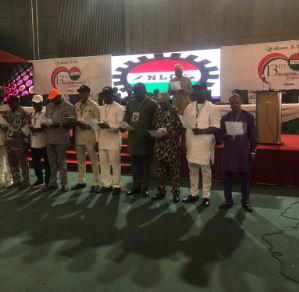 Deputy Presidents, Prince Adewale Adeyanju, Maritime Workers Union of Nigeria, MWUN, (Deputy President), Audu Amba, Nigeria Union of Teachers, NUT, (Deputy President) and Kabiru Sani, Medical and Health Workers Union of Nigeria, MHWUN, (Deputy President).
Others include Ambali Olatunji, Nigeria Union of Local Government Employees, NULGE, (National Treasurer), Benjamin Anthony, Amalgamated Union of Public Corporation, Civil Service Technical and Recreational Services Employees, AUPCRE, (Vice President), Stephen Okoro, National Union of Civil Engineering, Construction, Furniture and Wood Workers, NUCECFWW, (Vice President), Michael Akuma Nnachi, National Association of Nigeria Nurses and Midwives, NANNM, (Vice President) and Marwan Mustapha Adamu, Judiciary Staff Union of Nigeria, JUSUN, (Financial Secretary).
Among the leaders are also Prince Williams Akporeha, Nigeria Union of Petroleum and Natural Gas Workers, NUPENG, (National Trustee), Babatunde Goke Olatunji, National Union of Chemical Footwear Rubber Leather and Non-Metallic Products Employees, NUCFRLANMPE), (Internal Auditor), Mohammed Ibrahim, Senior Staff of Association of Nigerian Universities, SSANU, (Internal Auditor), Garba Ibrahim, National Union of Food Beverages and Tobacco Employees, NUFBTE, (Internal Auditor), Roselyn Uba-Anarah, Nigeria Union of Public Service Reportorial Secretarial, Data Processors and Allied Workers, NUPSRAW, ( Ex-Officio), and Prof Member George-Genyi, Academic Staff Union of Universities, ASUU, (Ex-Officio).