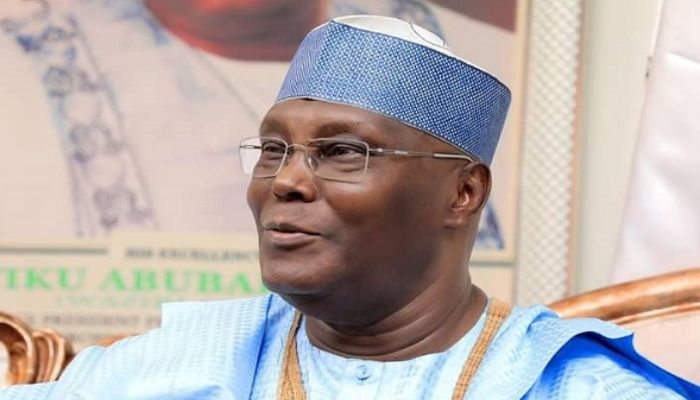 …As PDP-PCC urges FG to declare public holidays for collection of PVC
By Johnbosco Agbakwuru, Abuja
Ahead of the February 25 presidential election in the country, Civil Society Organisations, CSOs, have commended the Presidential candidate of the Peoples Democratic Party, PDP, Atiku Abubakar for presenting a manifesto that takes care of all the issues that will lift Nigeria out of its present economic quagmire
The CSOs said that the manifesto of the PDP Presidential candidate takes care of all 17 key things in the Millennium Develoment Goals, MDGs.
This is as the PDP Presidential Campaign Council has called on Federal Government to declare holidays to enable eligible Nigerians to collect their Permanent Voter Cards (PVCs) across the country,.
These were among the things contained in a communiqué issued at the end of the strategic meeting of leaderships of CSOs, Community Based Organisations (CBOs) and CDC, with the theme: National Social Political Economic Development, Atiku Manifestos: A Case Study', which was signed by Assistant Director, Civil Society Organizations (CSOs) for Atiku Presidential Campaign Council (PCC), Hon. Kunle Yusuf
While presenting Atiku Abubakar's manifesto to the CSOs and CBOs, Hon. Yusuf said Nigerians voted for President Muhammadu Buhari based on emotion and sentiment, but failed to look at the development apparatus.
He assured that the PDP Presidential Candidate will deliver on the campaign promises, adding that all the 17 SDGs targets are already encapsulated in the Atiku's manifesto.
He contended that the CSOs play critical role in monitoring government policies, actions and hold government accountable, as well as check the excesses of state and political leaders.
Accordingly, he stressed the need for the CSOs and CBOs to actively participate in politics by mobilising citizens through voter's education, pursue fundamental human rights for fellow Nigerians and the need to vote rightly.
According to him, if the CSOs and CBOs lay back in playing politics, then nonentities will rule the nation.
He also assured that Atiku's administration would break governments monopoly in all infrastructural sectors including refineries, rail transportation and power transmission and give private sector a larger role in funding and managing the sectors, thus emulating the benefits accrued in the oil & gas and telecoms sectors.
On his part, a frontline member of PDP PCC, Dr. Kayode Adaramodu who described the PDP Presidential Candidate as "a prepared President", averred that: "Our President to be has been a misunderstood politician in Nigeria. When you talk to young people, I was talking to some of them last week, they said no, he will come and sell our stuff. All the younger ones need is knowledge."
He also assured to the CSOs saying: "when our President succeeds in this coming election, this assignment must not be left for him to do all alone.
"The CSOs must rise up to the occasion. I've listened to some of you during the introduction, please go and get prepared. I know the government of his Excellency, Atiku Abubakar, the CSOs will be encouraged to contribute to national development. I am close enough to the system to understand this. I am close enough to have helped our Mr. President to be and his mindset about the role that individuals particularly the CSOs will play in his government," he noted.
In a presentation made at the event, another PDP PCC member, Dr. Onuoha Nnachi urged the CSOs and Party members to take the manifesto of the PDP Presidential Campaign to the electorate.
"At this stage, we are for this election, we have barely 3 weeks to go. Please I want to call on the CSOs and my Party members, there be no other time better than this to discuss these policies and social relationship and how we interface.
"It is no longer time to say what Tinubu is not doing, what APC has done wring. It is time to tell them what we are going to do. The message should be different now, we've gotten to the point wof what we are going to do," he urged.
According to him, Atiku's manifesto is categorised into three parts, namely Economy, Human Capital Development and Governance and Devolution of Power.
While assuring that the CSOs and Private Sector would be protected under the Atiku's administration, Dr. Nnachi who reiterated Atiku's commitment towards devolution of power, said: "there are certain things that are contained in the Exclusive List that are not suppose to be there. So, that's where the devolution of power come in.
"I give you a typical example, from the Exclusive List there's no State that is allowed to own the power plant – power generation, why? So, under Atiku, devolution of power, these things will be transferred up to individuals. If you want to build your power plant, build it, we cannot restrain you.
"If the Local Government wants to build power plant, build it, if a State wants to build power plant, build it. When you begin to have out of 774 Local Government Areas we have, if every Local Government b gins to build 100MW power plant, 300MW power plant, when you add it together it becomes a sustainable power for economic development. That is devolution of power.
"Another devolution of power is when you talk about Tertiary Institutions. These Institutions what has Federal Government to do holding these Institutions? Holding primary healthcare, how does Federal Government get to know that my village requires a healthcare center? It's absolutely not working.
"You know what we are going to do? We will authorise Local Government to do primary healthcare. That by giving them that power, then we will also give them the resources to do it.
"This also goes further to State Policing. We are willing and ready, we are not hiding about it. State Police must come to stay. But it must be sequential according to how ready each State is and their crime nature. If you are ready to have State Police in your State, you apply. But Government must put a caveat that will make the governors not to abuse it," he said.