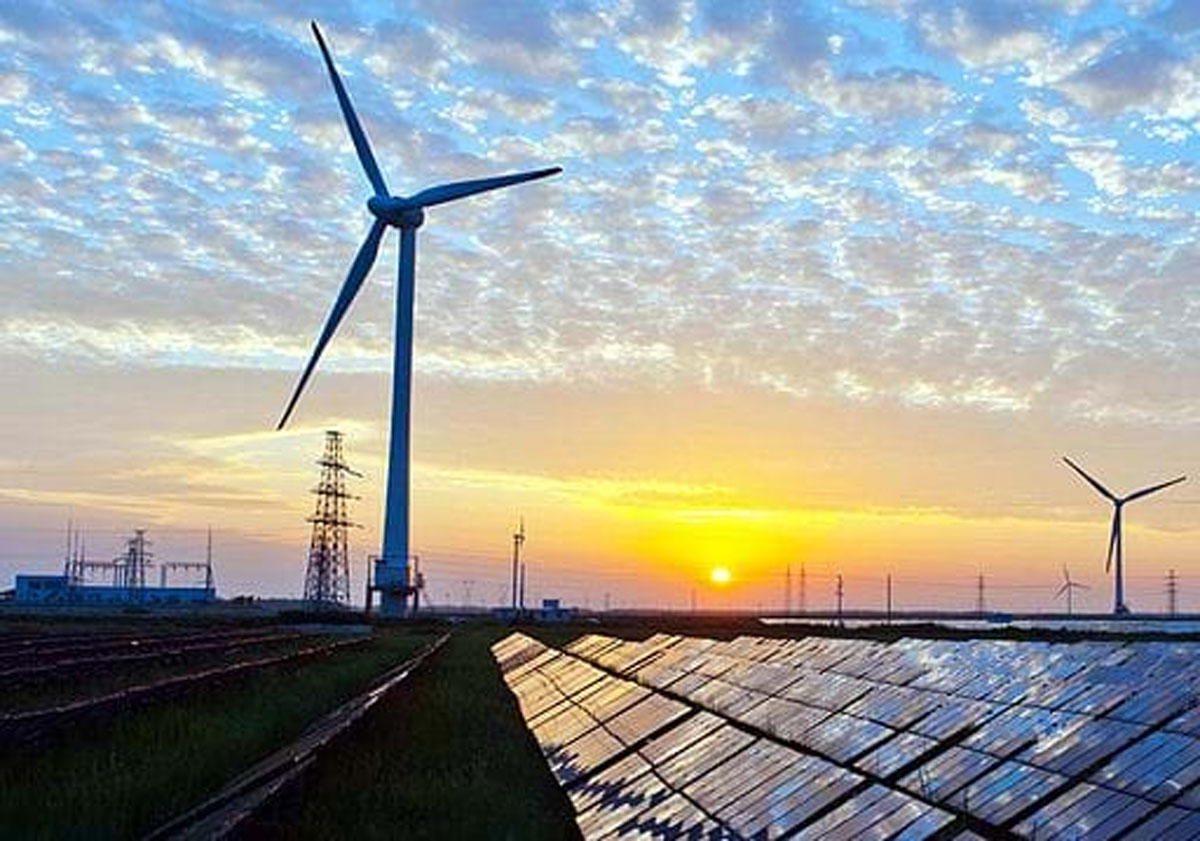 By NZAN OGBE 
OVER the past three decades, there have been rising concerns about the environmental impact of climate change, as well as the economic implications of burning carbon-based fuels. These concerns have inspired innovation in the field of renewable energy for mass consumption. The Climate Change 2022: Impacts, Adaptation, and Vulnerability report released by the Intergovernmental Panel on Climate Change, IPCC, reveals that over 40 per cent of the global population is being pushed beyond its limits to adapt to climate change.
As part of the United Nations continued efforts to ensure that global warming doesn't exceed the 1.5°C mark, a reduction in greenhouse gas emissions was echoed throughout the annual UN meeting on climate, the Conference of Parties, COPs, that was held late last year in Egypt, to deliberate on sustainability strategies to mitigate global warming. With over 200 government representatives, the conference served as a melting pot of strategies for reducing emissions, including helping countries prepare for and deal with climate change and securing technical support and funding for developing countries that lacked supporting infrastructure.
To be sure, the cumulative climb in global temperature is solely a human factor contributed by the burning of fossil fuels, which include oil, gas, and coal. While it makes sense on paper to shun the burning of fossil fuels to lower emissions, it is worth noting the economic impact. The oil and gas sector provides 85 per cent of global energy needs, so a drastic shift might prove counterproductive. For instance, a 2022 report by Reuters elaborated on how the festering Russia-Ukraine war is disrupting the gas supply to the European Union, EU, – clearly demonstrating how economies are hooked on crude oil.
This dependency on crude oil can be elucidated by its contributions to the gross domestic product, GDP, of oil-producing countries, its role in facilitating industrial processes, and its influence on lifestyle. A total removal would only harshly remind the world of its heavy reliance on crude oil, thus posing a dilemma. Through sustainability strategies, the oil and gas industry can better adhere to health, safety, and environmental regulations to positively impact their immediate environment. These strategies buy time to shift to more sustainable energy sources.
By 2030, renewable energy sources will account for 65 per cent of global electricity and could decarbonize 90 per cent of the power sector (Renewable Energy: Powering a Safer Future, a UN report projects). Currently, the oil and gas sector is inching towards investing in energy-efficient solutions. Since the 1980s, renewable energy projects such as wind and solar have been introduced to methodically lessen fossil fuel reliance, and over time, the technology behind harnessing these renewable energies has significantly improved from the first-generation models that generated meagre energy.
With technological advancements in the development of cheap, renewable energy, more and more oil and gas companies or energy companies are in the process of transitioning from fossil fuel combustion. Nigerian energy solution providers like Levene Energy are at the forefront of building this new frontier. From its inception, Levene Energy has continued to make significant strides in the upstream, midstream, and downstream sectors via a series of group diversification efforts that introduced subsidiaries positioned to offer sustainable energy solutions at all levels of the oil and gas value chain.
Guided by the United Nations Development Programme's, UNDP, Sustainable Development Goals, SDGs, to attain a low-carbon future through carbon reduction projects, Levene Energy entered into a strategic partnership with a pioneering renewable and sustainable energy company to birth a joint venture enterprise known as LPV Technologies, LPV. In September 2021, LPV embarked on a historical project of retrofitting a 17-storey building with building-integrated photovoltaics, BIPV, earning it the bragging rights of executing the largest installation of BIPV in Africa.
The solar power generating system, composed of 955 KWp of BIPV and a 2.0 MWh storage unit, produces 1.0 MWp of clean energy that is sufficient for the building's daily energy needs, thus decreasing emissions and strain on the power grid.
Climate change is a global emergency that requires proactive steps that introduce green energy solutions. But where this isn't attainable due to economic restraint or technology, transitioning to low-carbon fuel alternatives is the best bet. Natural gas is a low-carbon fuel juxtaposed with high-content fossil fuels like coal and oil. The adoption of gas will help reduce carbon emissions.
Through another one of its component entities called Aegon Distribution Limited (which is a midstream-focused offshoot), Levene Energy has joined the leading global energy solutions companies in providing the infrastructure needed to transition from diesel to gas. Signing an unincorporated joint venture, UJV, with NNPC Gas Marketing Limited, NGML, it has commenced building and operating gas pipelines to locations where the low carbon fossil fuel is needed.
In other cases, when renewable energy or low-carbon fuel is not an alternative, the entire oil and gas value chain can be optimized, not for the production of greener fuels, but to ensure that technologies help in making better operational choices in the upstream sector, and do not negatively impact the environment.
Traditional exploration and production, E&P, methods are crude and contribute significantly to the carbon footprint by emitting gases like methane. Clean technology solutions adopted by She-Val Engineering (another component entity within the Group) promote the sustainability of other resources, such as by decreasing the volume of freshwater used in the extraction of crude oil. This is a significant intervention because Nigeria is the largest oil producer in Africa.
The race to reverse climate change's impact, evident in melting ice caps in the northern hemisphere, rising sea levels, food shortages, and extreme weather, is gaining momentum. Many of the set goals will certainly be attained through the innovation of tech-forward firms like Levene Energy Group in the coming years. By and large, innovative technology will catch up with climate change and stop it in its tracks. 
Ogbe, Group Chief Executive Officer, Levene Energy Holdings, wrote from Lagos.