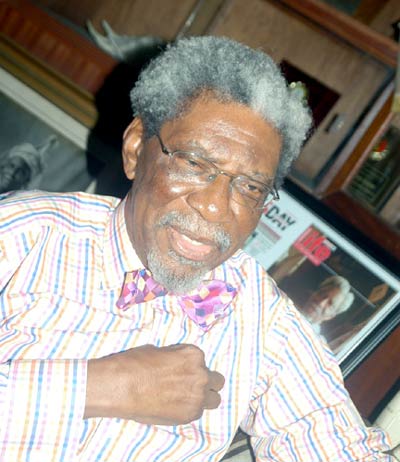 *Okunnu
By Dapo Akinrefon
HIS name, Olufemi, means "God loves me" in Yoruba. Chief Olufemi Okunnu is passionate about Nigeria, as his lifelong ambition is for a better Nigeria. Okunnu, who has consistently lamented the lack of patriotism in Nigeria, insists that Nigerians must put the country before any ethnic identity. When asked in a recent interview where Nigeria went wrong, Okunnu responded in a recent interview, "How can such a country build a nation where everybody regards himself as either a Yoruba, Igbo, Hausa, Fulani, Tiv, Ijaw, or any ethnic identity but nobody is proud to call himself a Nigerian? Nobody is thinking of Nigeria as a nation, let alone putting it into action."
Apart from being passionate about patriotism, the elder statesman has been at the forefront of restructuring. Okunnu believes there is a need for a return to the 1963 Constitution, as it has been canvassed in various fora. Baring his mind on restructuring, Alhaji Okunnu posits that "we should go back to the 1963 Constitution," adding that "over the years, the Federal Government has stolen some powers from the state, and that is now one big problem. We should go back to what it was in 1963. Gowon followed the 1963 Constitution, though that was a military government."
Read Also: Vanguard Personality of the Year: Aliko Dangote, self-effacing representative of Africa
Also, he said that "… the Murtala/Obasanjo regime also followed the 1963 Constitution until 1979. One of the pitfalls in the 1979 Constitution was to remove the revenue allocation system of 1963, which ensured that 50 per cent of the profit from the sale of any commodity, whether mineral or agricultural, went to the states of origin. The Federal Government took only 20 per cent while the remaining 30 per cent was in the distributive pool, shared by the region or states when they were created. But under the 1979 Constitution, the states of origin had zero, and it was left to the National Assembly to decide what percentage goes to the states of origin. That is why you still have unrest in oil-producing states in the country. We need to correct that."
Where Nigeria got it wrong: The former Federal Commissioner has consistently submitted that most Nigerians are selfish as far as patriotism is concerned. Hear him: "Nobody is thinking of Nigeria as a nation, let alone putting it into action. We can never be great until we have great people with the vision that they are Nigerian first, Nigerian second, and Nigerian third, and not Yoruba, Hausa, Ijaw, or Fulani. That is one big problem we have in this country. The Indians, with a 1.3 billion population, would say, 'I am from Madras Local Government or so'. Also, I have never heard a Chinese say he was from an ethnic group. But in Nigeria, we will state our identity up to the local government area and even the ward. How many Nigerians are proud to say they are Nigerian?
The octogenarian was born on February 19, 1933, in Lagos State. Okunnu had his primary education at Ansar-U-Deen School, Alakoro, between 1938 and 1947, after which he attended King's College, in Lagos State, from 1948-1953. In his quest for more knowledge, the young Femi, in 1956, proceeded to the University of London, where he obtained a first degree in law. He was called to the Nigerian Bar in 1960, and, from there, began his career as a legal practitioner in the same year. He was appointed Federal Commissioner for Works and Housing in 1967 by the General Yakubu Gowon military government.
He served meritoriously in that capacity for seven years in 1974. In 1981, Okunnu was appointed as Deputy Legal Adviser to the National Party of Nigeria, NPN. He was appointed Leader of the Federal Government Delegation to the Organisation of African Unity Consultative Committee on Nigeria Peace Talks to end the Civil War in 1968, and by 1969, he was appointed Leader of the Nigerian Delegation to the OAU Ministerial Conference. In 1980, he was a member of the Nigerian Delegation to the General Assembly of the United Nations Organisation. He was later appointed pro-chancellor of the University of Agriculture, Makurdi in 1982.
Apart from being a Senior Advocate of Nigeria, SAN, Alhaji Okunnu is also Commander of the Order of the Republic of Niger, CON. He is also a commander of the Ordre National du Dahomey and the National Order of Togo. He was awarded an honorary doctorate during the 50th convocation ceremony of the University of Lagos.