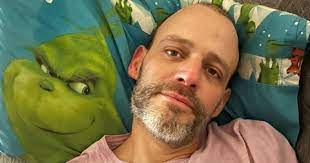 By Biodun Busari
An army warrant officer, Gavin Brooks, has had half of his penis removed after doctors misdiagnosed his cancer three times, Metro reports on Tuesday.
The 45-year-old who served the United Kingdom for 24 years has been condemned to use a wheelchair to move around.
Brooks also said he has been left with a "Frankenweiner" after undergoing an operation to have a cancerous tumour removed.
Read also: Military airstrikes kill 3 Boko Haram commanders, 30 terrorists in Sambisa forest
He said, "I hope I can get some sort of treatment abroad that can help make the cancer smaller and make my lifespan longer so I can stay around as long as possible.
"My son Jorge says he is going to lift the World Cup one day and I want to be around for that."
Brooks, a resident of Crewe in Cheshire, went to army doctors three times in 2021 after he experienced a tight ring of skin around his foreskin and later a lesion on the tip of his penis.
"The best way I can describe it is like a ring of tissue or hard skin within the foreskin. When I would retract the foreskin, I would have to pull it over the head of the penis," he added.
"The skin that connects the foreskin to the penis broke and would bleed and cause pain when I would go for a wee, I knew this wasn't normal and that I had to get it checked out."
Initially, army doctors believed Brooks was suffering from genital warts, but he had been married for 20 years and without infidelity.
The report said four weeks later when it had not cleared, he went back to the same doctor who still believed it to be a wart. After seeing a different General Practitioner, he was prescribed a cream after being told it was thrush.
He then referred himself to a sexual health clinic, which referred him to a dermatologist, who took a biopsy of the penis. When the result came back, he was given the devastating news he had penile cancer.
In January, Brooks went for an operation where he had part of his penis removed.
He said, "They lifted my penis up and cut it in half and took a skin graft from my leg to make a penis head, but it is flat with a hole in.
"I've nicknamed it the "Frankenweiner". When I woke up in hospital I was so scared at how much of my penis looked to have been removed as it had a dressing on it and a catheter fitted."
Despite the operation, the cancer had spread and he needed further surgery in April to remove lymph nodes in his groin and intense chemotherapy in June.
Devastatingly, the first round of chemotherapy has not worked, and the cancer has spread to other parts of his body.