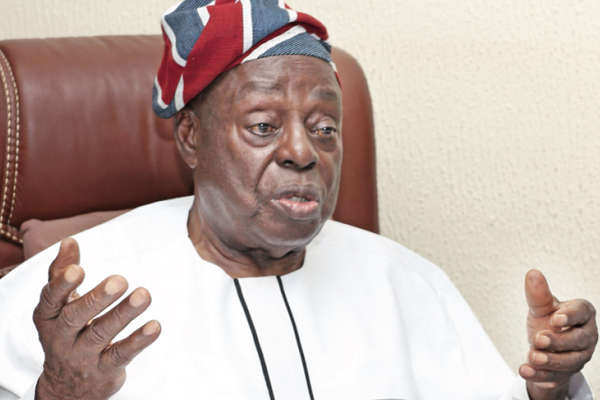 Chief Afe Babalola(SAN)
….Restates position on new constitution
By Rotimi Ojomoyela
Founder of Afe Babalola University, Ado-Ekiti, ABUAD, Aare Afe Babalola, yesterday, said he has no sympathy for anyone aspiring for elective position in the coming general elections.
The legal luminary maintained that any election conducted under the 1999 Constitution will merely result to the recycling of the same leaders.
Babalola, who spoke at a press conference in Ado-Ekiti, reiterated his position that no candidate can save the country from total collapse, unless a new constitution is put in place.
His words: "I still stand by my suggestion that any election conducted under the 1999 Constitution cannot and will not produce new leaders with new ideas. Rather, any election conducted under the 1999 Constitution will merely result in recycling the same people who have brought Nigeria to grinding poverty, unemployment, underfunded education, insecurity and huge external debt.
"I have no sympathy for any Nigerian who is aspiring to rule in any form whether as Legislator, Governor or President. However, the fact remains that the 1999 Constitution, in large measure, is the root cause of the economic, social, political and religious problems in the country today.
"I must reiterate my position that the huge external debt of N24.84 trillion, increasing cases of killings, kidnapping, mismanagement of public funds, unemployment, strikes, poor allocation of funds for education in Federal institutions and double digits inflation, etc are fall-outs from the inappropriate 1999 Constitution which was put in place by the Military.
"Experience is the best teacher. Our bitter experience since 1999 has taught us that we are in urgent need of a new constitution which should provide for stringent conditions in respect of age, academic qualifications, character and personality, contribution to the community at local, state and federal levels as well as the family background of candidates for Presidency and National Assembly.
"All that the National Assembly needs to do is to propose an Act to amend the present Constitution by substituting the 1960/63 Constitution for the 1999 Constitution and also establish an Interim National Government pending the making of a new constitution.
"In the process, the National Assembly must however comply with the requirements of section 9 (2) of the Constitution on the conditions that must be met by the National Assembly and the State Assemblies when the Constitution is being amended that such proposal may be required to have the support of 2/3 of the members of the House.
"Unless, a new constitution similar to the 1960 and 1963 Constitutions, with necessary amendments, is put in place, none of the Aspirants and indeed no angel can save the country from total collapse."