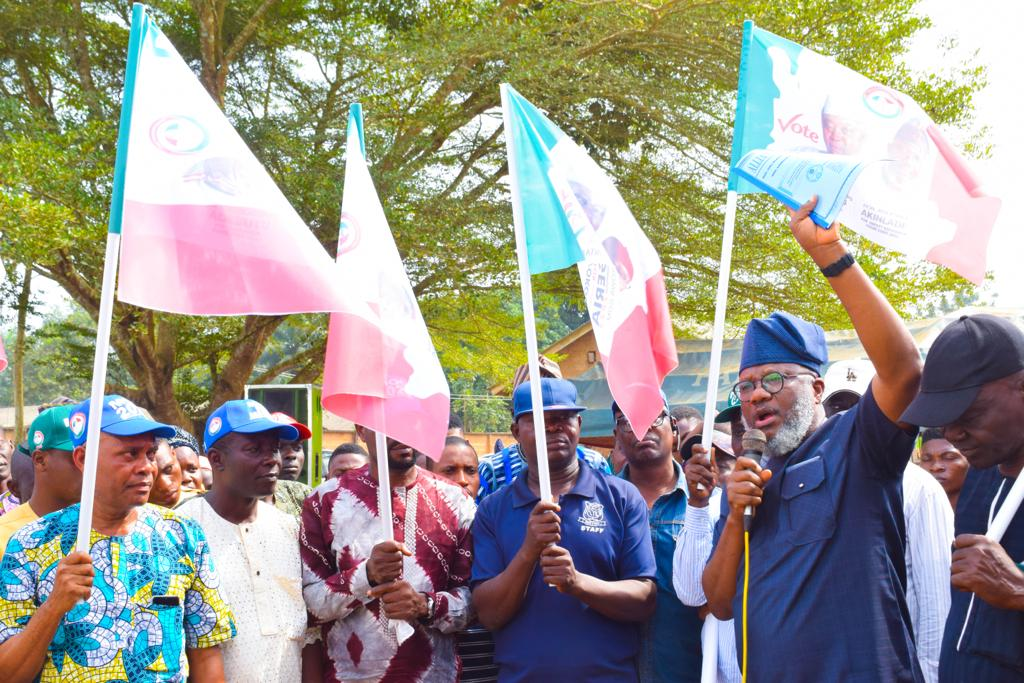 …hands over alliance pact with PDP, assures equality 
The Deputy Governorship Candidate of the Peoples Democratic Party, PDP in Ogun State, Hon. Adekunle Akinlade has received hundreds of defectors from the African Democratic Congress ADC and ruling All Progressives Congress, APC in Ipokia.
Akinlade, according to a statement, signed by his media aide, Adelani Azeez, on Thursday, handed the defectors a copy of the alliance pact he signed with PDP, and assured them of equality.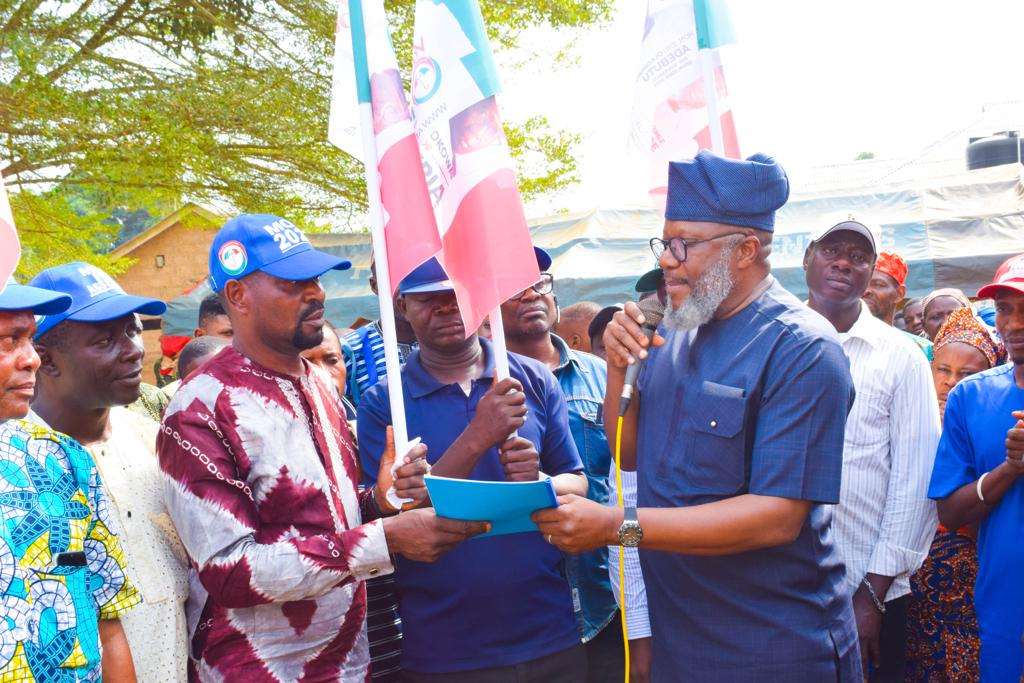 Recall that Akinlade had earlier said that his intentions as regards moving to the PDP was selfless and noble, he once again displayed what he is truly made of today when he publicly handed over a copy of the agreement he entered with Hon. Oladipupo Adebutu and the PDP some few months ago.
He stated that the purpose of the Alliance Agreement with Hon. Ladi Adebutu and the PDP at inception were to allay the fears and concerns of his followers from the Ibikunle Amosun's faction of the All Progressives Congress when it comes to their stake in the PDP.
Read also: Adebutu promises agency for border communities if elected
He noted that his decision to team up with Adebutu and PDP was borne out of genuine concern about the state of our dear State, its people and not himself. 
The leadership of the defectors numbering over five hundred were received by Hon. Akinlade, alongside the PDP party Chairman in Ipokia local government, Hon. Alimi Orisadare, the State Deputy Chairman, Hon. Kayode Imisi at a well-attended reception ceremony held at the party's secretariat in Ipokia.
The defectors from ADC/APC were led by Hon. Michael Olalowo, a staunch loyalist of former governor Ibikunle Amosun. Olalowo was also the former chairman of APC, APM and until the defection, the leader of ADC in Ipokia local government.
Addressing the audience, Hon Micheal noted that it is a homecoming at last for them because they all started with Sen. Ibikunle Amosun in PDP as far back as 2002. They followed him from one political party to another, but today, it is 360 back to PDP. He further noted that with the likes of Hon. Adekunle Akinlade, Hon. Hosu and Hon. Mautin on the ballot in Ipokia, PDP is definitely the party to beat.
The leaders of the group also noted that apart from their love for Hon. Adekunle Akinlade whom they supported in the 2015 Reps aspiration which he won, the 2019 gubernatorial, want to support a party that is well prepared to deliver good governance, with an attractive blueprint to remodel Ogun State and facilitate grassroots development.
He also promised that the leaders present here today will return home and mobilize other potential voters in Ipokia to deliver unprecedented victory for PDP come February 25th and March 11th 2023.
Handing over the party's flags and copies of the alliance agreement with the PDP, Hon. Adekunle Akinlade commented; "our journey to PDP can be likened to that of John the Baptist and Jesus Christ in the Bible. You all know that I am a product of the Sen. Amosun's political structure. Thus my joining PDP is to "clear" the ground for you all".
He also said, "I can not be a commissioner, special adviser or SSA at the same time as the Deputy Governor, so this document is for all our people that will be joining us to send Gov. Dapo Abiodun back to his "corporate world" so we can collectively start the process of healing and rebuilding our dear State.
"It gives me great pleasure and honor to handover this signed and sealed alliance agreement to our Chairman from ADC/APC. We will be sharing copies of this agreement with our brothers and sisters that will be joining us from ADC/APC as I stated earlier, we have done the needful as responsible and responsive leaders, all you need to do is join this great party and deliver PDP all through", he stated.
The State Deputy Chairman of PDP, Hon. Kayode Bamgbose Imisi applauded the defectors for their courage and commitment to the growth of the state, by aligning with Akinlade and other leaders to hand over the party's flag as a symbol to mark their entrance into the PDP.
Party leaders at the reception ceremony included; Alhaji Jimoh Afose, Hon. Okeowo, Chief Adeoti, Chief Olumide Bankole, Hon. Elijah Ogunleye, Hon. Tayo Oyekanmi, Hon. Tawa Ojo, Hon. Kudirat Adeleye, Hon. Kuburat Adeyemi, Ganiu Musa, , Hon. Oluwatosin Mautin (House of Assembly Candidate, Ipokia State Constituency) and Hon. Adeniyi Hosu (Reps Candidate, Yewa South/Ipokia Federal Constituency) among others.
In his closing remarks, Triple A who doubles as the Director-General, Atiku/Okowa Presidential Campaign Council, Ogun State appealed to the electorate to endeavour to collect their PVC, keep it safe and use it to vote for the PDP across the board in the forthcoming general elections. He admonished the people not to be deterred by the jamboree of the ruling party but to remain violently free and rather vent their anger with votes for the party.