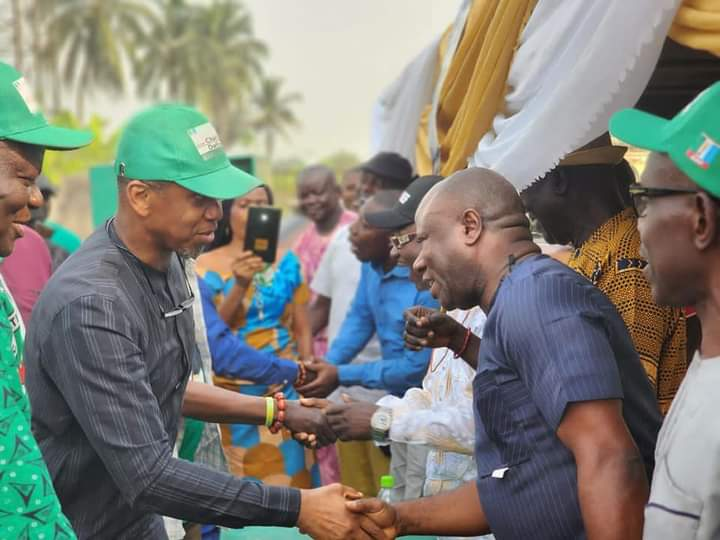 … as over 100 persons dump PDP for APC
Former Secretary General of the Nigerian Union of Petroleum and Natural Gas Workers, Chief Frank Kokori, Chieftain of the All Progressive Congress, APC in Ethiope East local government area, Chief Godwin Ogbetuo were part of those who threw their support behind the Delta Central Senatorial candidate of the APC, Chief Ede Dafinone's ambition on Tuesday.
The High Chiefs also endorsed the candidacy of Asiwaju Ahmed Bola Tinubu for President, Senator Ovie Omo-Agege for Governor, Hon Halims Agoda and other APC candidates.
The duo who spoke separately at Ward 5, Oviorie in Ethiope East LGA, during the visit of the Ede Dafinone Ward to Ward campaign, collectively sang praise of the Dafinone family adding that Senator David Dafinone has always made the Urhobo nation proud "We know what you can do, we knew what your father did for the Urhobo nation, a lion does not give birth to a sheep, so you shall emerge victorious in the Elections, You are the People's Choice We are solidly behind you, you have our Support. Go and emulate Senator Ovie Omo Agege by bringing attractive development to Delta Central" Kokori said.
Meanwhile on Wednesday
over 100 persons of the Peoples Democratic Party, PDP, dumped the party for the APC.
At Samagidi-Kokori in Ethiope West, the decampee said they were leaving the party to join the APC development train, insisting what the Deputy Senate President Ovie Omo-Agege was a thing of pride.
Mr Stephen Aghoghovia who spoke on behalf of the other decampees said "we have seen the light and we are leaving the darkness, all these years of working for the party and being an active member has brought nothing home for us, our roads are still bad, our land still underdeveloped so we are moving to APC so as to bring development to our people"
Chief Paulinus Akpeki, the chairman of APC in Delta Central while welcoming the decampees said they had taken the right decision, assuring them that they will not be treated differently.
At Ward 6, Kokori (Urhuokpe) part of where the Ede Dafinone visited, the chartered accountant
told the crowd gathered to vote for the APC from top to bottom, stating that the party has already won in Ethiope East with the caliber of supporters it has – mostly women and youths.
Speaking in Isiokolo, Ethiope East ward 11, Hon Halims Agoda, the APC House of Rep candidate who was represented by his campaign Director General, in his remarks, promised to reciprocate the ward support and drive towards developmental projects and programmes, if the party candidates gets their votes, adding that he was humbled by their support for the party.
Those who were present at the campaign ground include the Director General of the Ede Dafinone Campaign team, Barr. Adelabu Borjor, Chief Tuesday Onoge, Mrs Akpovwerha Iriri and a host of others.