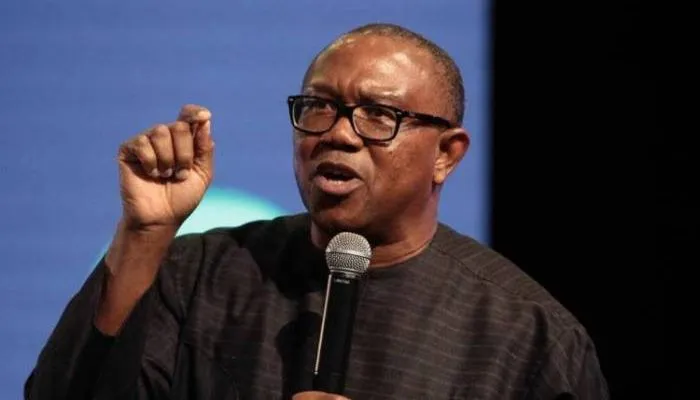 .
John Alechenu, Abuja
The Presidential candidate of the Labour Party, Mr Peter Obi, has given an insight into his plans for handling the epileptic power supply which has bedevilled the country for many decades if elected President come February 25.
Obi spoke who spoke during The Peoples Townhall, an event organised by Channels Television in conjunction with several of its partners in Abuja, on Sunday.
Starting with the issue of security under which separatist agitations fall, the LP candidate said his administration would adopt the carrot-and-stick approach.
He explained that by this, he means first using dialogue to win over the aggrieved and then applying the military option when necessary to ensure the protection of Nigerian lives and property.
Obi said, "We are in a democratic dispensation; you govern by discussing, you govern by consensus. So, I will sit down and discuss with every agitator without the exception of the name. We must use carrot and stick (approach).
"I will discuss with those who want to discuss. You have to look at what is causing agitations today; it is issues of injustice, issues where there is no fairness, issues to do with poverty, and unemployment.
"When you start to address these issues and you engage them in discussions and you start bringing them to the table, no agitator anywhere in the world will see the reason that things are going the way they ought to and will continue to agitate because they are agitating for something."
While defending his choice, of options, the LP candidate maintained that holding discussions with such people remains the best way to get to the root of such agitations in order to find lasting solutions to them.
He argued that no agitator anywhere in the world will continue with his/ her agitation when they see a clear commitment on the part of the government to do the right thing.
The LP standard bearer stressed that agitation in itself is not out of place in any democracy, noting that even at home, children agitate, but when their parents sit them down and explain things in a way they understand, they see reason and eventually agree with them.
He said that Nigeria will continue to be in crisis if the government continues on the path of what he described as injustice, unfairness, poverty, unemployment and young people not knowing where the next meal will come from.
Obi also spoke about dealing with the issue of corruption in the procurement process within the military.
In response to a question on the subject and the seeming lack of synergy within the various security agencies in Nigeria, he promised to bring them together.
He said, "We will bring them together and make sure there is clear authority and when there is any failure, I will deal with it decisively."
On the issue of procurement in the military, he said , "All procurements must be transparent. I assure you there will be nothing done under the table. "
Speaking about his plans to tackle the spate of kidnapping across the country, he said he would leverage on his experience as Anambra State Governor by involving community leaders at all levels in securing their environments in collaboration with regular security agencies.
According to him, "In Anambra, we had 180 communities, we set up security outfits in each of them, bought them vehicles and communications equipment.
When one thing happens in one community, other communities get information within minutes. I hold community leaders responsible for whatever happens in their domain and this worked."
On the national scale, he promised to improve the welfare of security personnel by properly motivating and supporting them and their families to enable them to take risks for the nation.
For the economy, he said under his watch, borrowing for consumption will be a thing of the past. He maintained that a nation like Japan is today one of the leading debtors in the world but its debt was healthy because its export and reserves are top-notch.
While responding to a question on the seemingly intractable problem of providing power for Nigeria's growing population, Obi said, " I don't think that power (problem) is stubborn, it is the people who are trying to solve it that is not doing the right thing. "
He reassured GENGOs and DISCOS that his administration would not cancel existing contracts but that it will ensure that the contracts were executed.
Obi also promised to unbundle the transmission lines and support Gencos in delivery. He promised to ensure that at least 40 megawatts of electricity was generated within four years. He said "if South Africa declared an emergency in power, we will declare war."
The LP candidate also noted that with Nigeria's population and land mass, we have no business being poor.
According to him, Vietnam with a population of 100 million last year made $350bn from exports of its products while Nigeria on the other hand with a 200 million population and despite its oil exports accounted for a miserly $30 billion.
He promised to lead by example, this way he said will set the pace for other government officials. Obi reasoned that when the head is not a thief, those beneath will take a cue from his steps and not steal because they know that if they do, there would be consequences.
In the area of health, he said health insurance would be strengthened to provide security for the people. He maintained that under a functional health insurance scheme the very poor pay next to morning while the rich pay according to their income.
He also promised an end to incessant strikes in the nation's public schools with reforms that will carry all stakeholders on board.