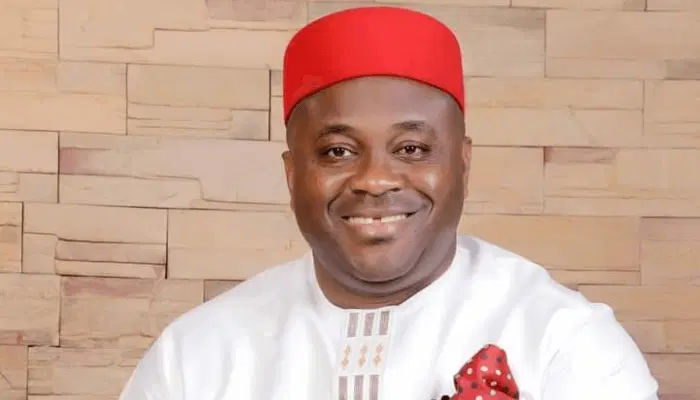 By Ise-Oluwa Ige
In this report, Vanguard Law and Human Rights examines the background facts surrounding the post-conviction bail granted to the jailed Senator Albert Akpan by a Federal High Court in Port-Harcourt, surveys lawyers' views on its appropriateness and its effect on the convict's ambition to contest the forthcoming gubernatorial election in Akwa Ibom State.
On December 22, 2022, an Abuja-based lawyer and rights activist, Mr. E. Oriere, sent a letter to the Chairman of the Independent National Electoral Commission, INEC, Prof. Mahmood Yakubu, requesting him to disqualify Senator Albert Akp an from participating in the forthcoming governorship election in Akwa Ibom State.
The lawyer predicated the request on the December 1, 2022 conviction of Senator Akpan by the Federal High Court sitting in Uyo for money laundering offences in FRN V. ALBERT BASSEY with Charge Number: FHC/UY/59C/2019).
He argued that by virtue of section 182 (1) (d) (e) of the 1999 Constitution of the Federal Republic of Nigeria (As amended), a convict is constitutionally barred from contesting any elective office in the country especially when the conviction is handed down in less than 10 years to the period of the election.
The said sections 182 (1) (d) and (e) specifically provide thus: No person shall be qualified for election to the office of Governor of a State if:
(d) he is under a sentence of death imposed by any competent court of law or tribunal in Nigeria or a sentence of imprisonment for any offence involving dishonesty or fraud (by whatever name called) or any other offence imposed on him by any court or tribunal or substituted by a competent authority for any other sentence imposed on him by such a court or tribunal;
Or (e) within a period of less than 10 years before the date of election to the office of Governor of a State he has been convicted and sentenced for an offence involving dishonesty or he has been found guilty of the contravention of the Code of Conduct.
Akpan is presently the governorship candidate of the Young Progressive Party, YPP, in the state.
Oriere argued that Akpan, being the gubernatorial candidate recognised by INEC for YPP for the forthcoming election was caught by the constitutional provision and that he should be removed from the ballot abinitio.
Indeed, Vanguard reports that on December 1, 2022, a Federal High Court sitting in Uyo, Akwa Ibom State sentenced the Senator representing Uyo Senatorial District, Senator Bassey Akpan, to 42 years in prison for corruption.
The trial high court presided over by Justice Agatha Okeke sentenced the lawmaker after convicting him on a six-count charge bordering on money laundering and receipt of exotic cars worth N204 million.
At the allocutus stage, the defense counsel, Solomon Effiong Umoh (SAN), had pleaded with the court for leniency on the account that the convict has a young wife and children to cater for.
He also pleaded with the court to temper justice with mercy by including an option of a fine in the sentence.
But the EFCC that prosecuted Akpan protested loudly to the court that it should reject the plea by Akpan's lawyer to include an option of fine in the sentence.
The anti-graft agency cited legal authorities to persuade the court against granting fine as an option, particularly in the light of the fact that the court has not opted for the maximum sentence.
The trial court had upheld EFCC's argument and sentenced Akpan to prison without an option of fine.
Akpan, popularly known as OBA, has since been taken to the Correctional Centre in Ikot Ekpene, Akwa Ibom State, where he has started to serve his jail term.
Who is Bassey Akpan
Born on October 28, 1972, Bassey Albert Akpan, CON is a Nigerian politician who has been a member of the Senate of Nigeria since June 2015.
Previously, he was Commissioner of Finance in Akwa Ibom State from 2007 to 2014.
He was first elected to the Senate in March 2015, to represent Akwa Ibom North-East Senatorial District and he won re-election for a second time in the February 2019 senatorial elections.
He started his professional career in 1997, when he joined the International Operations and Consumer Banking/Retail Banking Unit of the United Bank for Africa, UBA.
In 1999, he moved on to become Manager, Corporate Banking Group at the Continental Trust Bank at the bank's Victoria Island, Lagos, Head Office. He later joined First Inland Bank Plc in 2003 as the Uyo Branch Manager, where he won the bank's best performing branch manager award in the South-South region. He also won the award of the best performing branch manager nationwide in the bank's mid-year review of the 2004 financial year, among other awards.
In 2005, he joined First City Monument Bank as Assistant Vice President, where he was the General Manager in charge of Akwa Ibom and Cross River states. He was responsible for directing and overseeing the day-to-day running of over 15 branches spread across the zone and as the Zonal Head, he articulated and developed key market penetration strategies for the bank, for sustainable market share and growth.
In 2007, when the call to public service came through his nomination as a commissioner into the Executive Council of the Akwa Ibom State Government, he accepted and was handed the Finance Ministry to manage.
His journey to prison
Vanguard reports that 10 years after he joined politics, the Economic and Financial Crimes Commission detained Akpan over cars he (Akpan) had allegedly received as bribe from Jide Omokore while he (Akpan) was Akwa Ibom Finance Commissioner and Chairman of the State Inter-Ministerial Direct Labour Coordinating Committee.
He was arrested for the offence after he allegedly refused to honour the invitation by the EFCC to appear in its office for explanation.
According to available information, Omokore's companies – Bay Atlantic Energy and Sahel Energy – received contracts from the Direct Labour Coordinating Committee and the EFCC claimed the vehicles referred to were used to bribe him (Akpan).
But Akpan dismissed the allegation and described his detainment and investigation as politically motivated and claimed to have filed a suit against the EFCC for breaching his fundamental human rights.
Notwithstanding his claims, EFCC in August 2018 filed charges against Akpan and Omokore in the High Court of Lagos State for corruption and bribery.
While the case was on-going at Ikeja, Sen. Albert, through his lawyers, filed a preliminary objection to challenge the jurisdiction of the court.
They contended that there was nothing in the proof of evidence that suggested that any aspect of the alleged crime against the first defendant (Akpan) was committed outside Akwa-Ibom State.
They argued that the case should have been filed in Akwa Ibom State and not Lagos State.
The case was later tossed out by Justice O. Taiwo for want of territorial jurisdiction.
But thereafter, Akpan was again arraigned by the anti-graft agency on June 24, 2019, at the Federal High Court, Uyo for corruption charges.
Akpan, in the fresh charge, was said to have committed the crime in connivance with Jide Omokore, an oil marketer and known associate of former Petroleum Minister, Diezani Alison-Madueke.
Specifically, the charge claimed that in May 2010, Akpan, who was then the Commissioner for Finance, Akwa Ibom State, received from Omokore a BMW X5 (bullet-proof car) worth N50 million while he allegedly received another Infinity QX56 (bullet-proof) worth N45 million from the same source in December 2012.
The charge also said that he received another Toyota Landcruiser V8 (bullet-proof) valued at N40 million from Omokore in November 2013, while in March 2014, he allegedly collected a Range Rover valued at N40 million.
Besides, EFCC in the charge alleged that Akpan also received another Toyota Hiace High Roof bus valued at N27 million in September 2014, while he collected, at different times, between 2012 and 2014, Toyota Hiace High Roof buses valued at N16 million and six units of Toyota Hilux vehicles valued at N36 million.
The case went on full trial before the court delivered its well-considered judgment in the case, convicting Akpan and sentenced him to seven years imprisonment on each of the six-count charge, amounting to 42 years imprisonment.
The trial judge however ordered that the jail term should run concurrently.
Akpan's campaign organisation kicks
But soon after the verdict was handed down, the campaign organisation, Akpan Campaign Council, described the judgment as judicial absurdity in its rarest form.
In a statement by the Chairman of the Campaign Council, Sir Emem Akpabio, he said justice was turned on its head, just to please the powers-that-be in the state.
"That Justice Agatha Okeke of the Federal High Court, Uyo, Akwa Ibom State, could so decide to enter judgement against Senator Bassey Albert Akpan, in a suit where his innocence was glaringly obvious from day one that the Economic and Financial Crimes Commission, EFCC instituted it, is absolutely a travesty of justice.
"We, therefore, reject and condemn it in its entirety. The dust it has stirred against the judiciary would only be redeemable by a reversal," he said, adding that as a group of responsible persons fully guided by law, it has "resolved to follow up the outcome with philosophical calmness."
According to the statement, the party would take necessary steps to redress the judgment through appeal and "we are sure that the grievous wrong will be corrected."
Meanwhile, Senator Akpan has immediately appealed the judgment, saying the verdict would be upturned soon, even as he appealed to his supporters to remain calm.
A'Ibom League of Friends express support for Akpan
Notwithstanding his conviction and sentencing, the Akwa Ibom League of Professionals has expressed support for the governorship ambition of Senator Bassey Akpan, saying his recent conviction was politically motivated to stop him from winning the 2023 election.
Speaking in Lagos, the group, which comprises Akwa Ibom indigenes from different professions, said it was behind Akpan and that it was optimistic that the Court of Appeal would vindicate him.
President of the group, Clement Obot, said: "We are not deceived by the recent miscarriage of justice visited on our dear brother, Senator Bassey Akpan, and we urge all Akwa Ibom indigenes not to be deceived as the truth of evil plot will be revealed soon.
"We know his trial and conviction was politically motivated to decapitate his political ambition and annihilate credible opposition that would deliver Akwa Ibom citizens from tyranny and bad leadership.
"Bassey has distinguished himself as a selfless politician, whose driving force is the welfare of his people and the prosperity of Akwa Ibom State. He is a worthy ambassador of our state and we are behind him at this moment of travail, which we believe would soon pass."
Also, Secretary of the body, Imoh Ekwere, urged Akwa Ibom indigenes to go out en masse and vote for Akpan in the coming election, saying he would be among the few politicians that would win elections from the prison.
He said: "Akwa Ibom indigenes should not be deceived by this development, which is an attempt to silence the only hope of opposition to bad leadership and imposition in the state. Our people should not be deceived by this cleverly orchestrated judgment to entrench tyranny in Akwa Ibom State.
"Senator Akpan represents hope for the future of Akwa Ibom and we urge our people not to be discouraged by this setback, which will be set aside soon. We are hopeful Akpan will win the 2023 Akwa Ibom State governorship even if it has to be from the prison," the group added.
Shock as court frees Akwa Ibom YPP guber candidate, Sen. Albert
But in less than two weeks after he was jailed, Akpan's team of lawyers had approached the Court of Appeal for annulment of his conviction even as it requested a Federal High Court in Port Harcourtto grant Akpan bail pending appeal.
Although many had thought that the conviction would bring closure to the case and that Sen. Akpan would duly be committed to prison custody, the High Court, presided over by Justice S. I. Mark, in its decision on December 28, granted Senator Akpan bail in the sum of N50 million with two sureties in like sum, on account of ill health.
The Senator, it was understood, has since met the bail conditions and has been released, a development that has kept many wondering whether a person convicted by a Federal High Court can be granted bail by another High Court.
The question many have raised, among others, is: What could have warranted the grant of bail pending an appeal?
A question has also arisen with respect to how a High Court in Rivers could grant bail to a person convicted by another High Court in Uyo.
Prof. Odinkalu kicks
According to a former Chairman of the National Human Rights Commission, NHRC, Prof. Chidi Odinkalu: "Once upon a time many years ago, the Federal High Court was one division and we headed court processes "IN THE FEDERAL HIGH COURT OF NIGERIA HOLDEN AT ENUGU (for example).
"Divisions, later on, emerged, and even though the fiction still exists that the Federal High Court is only one division, if you file a matter in Port Harcourt Division over a subject matter in Enugu, the Administrative Judge in Port Harcourt simply transfers to Enugu.
In the last three months, I know of pre-election matters filed in Abuja Division over subject-matter in Enugu and Anambra states, which have been transferred to the appropriate divisions.
The Port Harcourt Division should have transferred the bail application back to Uyo unless, of course, the judge at Port Harcourt was the same who heard the case originally at Uyo, and has been issued with the Chief Judge's Fiat (often granted upon application by the parties or by the judge) to continue hearing it at his new posting in Port Harcourt.
Arguing further, Odinkalu said: "He will claim that he applied for bail pending appeal. But bail pending appeal is not brought before the trial court; it is brought before the Court of Appeal. Federal High Court in PH cannot sit on appeal against decision of Federal High Court in Uyo, can it? It is not granted ordinarily except under exceptional circumstances. *Munir v. FRN (2009) 16 NWLR (Pt. 1168) 481 at 497, paras A – C.
"May be, the law changed dramatically whilst I slept," he added.
Solomon Umoh (SAN) disagrees with Odinkalu.
According to Mr. Solomon Umor (SAN), who is the lead counsel to Senator Akpan, he argued that there was nothing strange in the post- conviction bail secured at the Federal High Court.
According to him, Bode George was given two years imprisonment when he asked for post-conviction bail and that he was granted and heavens did not fall.
"When a man is sick and is in jail and he has an appeal and the matter is presented before the court and the court examines his case and finds that he should be given bail pending his appeal, is there any problem with that?" he added even though he never clarified that Bode George was freed by an intermediate appellate court.
Also reacting, Mr. Anny Michaels, Special Assistant on Media to YPP gubernatorial candidate, Senator Bassey Akpan confirmed that it was the Federal High Court, in Rivers that granted the bail.
His words: "Ordinarily, the same Federal High Court that passed the judgment should have been approached to grant the bail application. So, it is only where the FHC refuses that the Court of Appeal could be approached. And because the courts were on vacation at the time, the Federal High Court in Port Harcourt was approached.
"There is nothing wrong about that. I am confirming that it was the FHC in Port Harcourt that granted the bail. If a judgement comes from a Federal High Court, that court is supposed to be approached in case you want a bail application.
"Courts were on vacation and given the urgency of the bail because of his health condition, the Federal High Court was approached in Port Harcourt, that Court did not go on vacation throughout the festive period. If the Federal High Court had refused, that is when the Appeal Court would have been approached. So, in this case, there was no need for it."
Bail pending appeal though not unknown to law, yet…—Dr Adeyemi
According to a law lecturer, Dr Babatunde Ajani Adeyemi, bail pending appeal is not unknown to law though, yet it is not ordinarily granted.
According to him: "Generally, bail in Nigeria is regulated by the provisions of the Criminal Procedure Act, CPA and Criminal Procedure Code, CPC, respectively.
"The applicable provisions under the Criminal Procedure Act, are sections 118, 119, 120, 123 and 125 while under the Criminal Procedure Code, Section 340, S. 341 and S. 342, are relevant.
"It is pertinent to note that where an accused person is convicted and sentenced, he automatically loses the veil of the constitutional guarantee of presumption of innocence.
"Our appellate courts and indeed the High Courts in their appellate jurisdiction, have in recent times, witnessed an increase in the volume of criminal appeals lodged before them by appellants, who have been convicted and given custodial sentences.
"The power of the courts to grant bail pending appeal, is statutory. It is pertinent to note that unlike bail pending trial, the courts have no inherent power to grant post-conviction bail.
"Where the CPC is the applicable law, however, an accused person charged with a capital offence cannot be released on bail.
"The application for bail by the accused charged with culpable homicide punishable with death, would be rejected and the court will order that the accused be remanded in prison custody pending the determination of the case.
"The same CPC further makes bail for person accused of an offence punishable with imprisonment for a term exceeding three years, not ordinarily releasable.
"In Nigeria, the statutory power is in most part, contained in the statute establishing the court. The Supreme Court Act, the Court of Appeal Act, the various High Court Laws of the states, and the Magistrate Court Laws, contain provisions enabling the respective courts to grant bail to deserving applicants. Thus S. 31(1) of the Supreme Court Act provides as follows: "The Supreme court may, if it thinks fit, on the application of an appellant, admit the appellant to bail pending the determination of his appeal.
The provision of S.29(1) of the Court of Appeal Act, is in pari materia with S. 31(1) of the Supreme Court Act.
"Like most discretionary powers, the statutes fail to provide the guiding principles upon which this discretion shall be exercised," he added.
Senator Akpan's conviction not a threat to his gubernatorial ambition—SAN
An Abuja-based respected silk, Mr Israel Okunade Olorundare, SAN, also agreed with Dr Adeyemi, saying there is nothing wrong with a Federal high court granting the post conviction bail even as he argued that the conviction of Senator Akpan is not a threat to his gubernatorial ambition.
His words: "There is nothing wrong with it. There is what is called Bail pending appeal. The court that convict a person or appellate court always has jurisdiction to grant it until the conviction is set aside or confirmed. It has no implication on his gubernatorial ambition. If he eventually becomes governor, it will be a moot point whether his newly acquired office will confer on him immunity from serving his jail sentence which he earned before becoming a governor.
Although Olorundare (SAN) argues that the conviction of Senator Akpan has no effect on his gubernatorial ambition, the provisions of section 182 (1) (d) and (e) are clear on the qualification of candidates for gubernatorial election in Nigeria.
It is expected that INEC would soon decide on what position to take on the Oriere's request on Senator Akpan based on the facts of the case and the clear provision of the constitution.