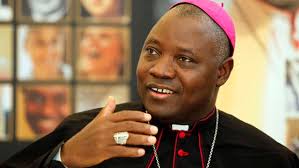 Ahead of the 2023 general elections, the Catholic Archbishop of Abuja, Most Rev Ignatius Ayau Kaigama, has urged Nigerians to be guided by their heads and hearts and not their stomachs and pockets.
Kaigama made this charge in his New Year 2023 message issued yesterday.
The cleric expressed hope that with prayers, citizens' expectations as individuals and as a nation would be met.
The statement reads in part: "Having faced multidimensional challenges, we in our nation in this time of democratic transition must all keep in mind the fact that our Lord makes demands of us to fulfil our civic responsibilities.
"We have a duty to come out, each one of us, with a Permanent Voter's Card (PVC), queue up at our polling units, conduct ourselves peacefully and orderly, get accredited and cast our votes during the 2023 general elections.
"In choosing who to vote, let your head and your heart guide you, not your stomach and your pocket."
Kaigam further said that it was in working together and in patient dialogue as Pope Francis urged in Fratelli Tutti (No 198) that Nigerians could "prevent predatory politicians from using religion, ethnicity and regions against them; pitching them against one another."
He said, "We have already seen that without solidarity we have no chance against poverty, diseases, natural disasters, unemployment, ignorance, terrorism, insurgency and other forms of insecurity.
"So, let us embrace sincere dialogue and work in solidarity with all people of goodwill for a better country," he added.