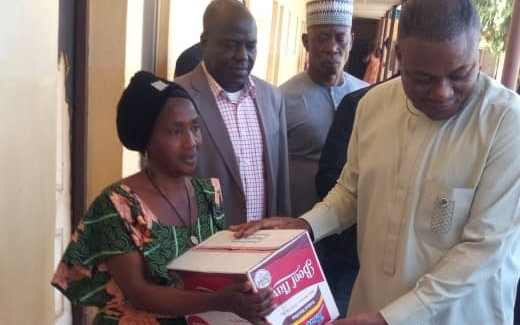 By Marie-Therese Nanlong
Jos – The Plateau State chapter of the People's Democratic Party, PDP on Thursday presented assorted relief materials worth millions of naira to some survivors of violent conflicts, victims of flood disaster, two orphanage homes as well as the Jos Correctional Centre.
The Party presented food items including bags of rice, bags of garri, bags of sugar, bags of salt, cartons of noodles, cartons of seasoning, and gallons of cooking oil.
The State Chairman of the Party, Chris Hassan alongside some members of his executive and other Party faithful took time to visit and donate the items to the Rikkos and Gangare communities of Jos North local government area who were affected by the flood, internally displaced persons at Miango, Bassa local government area where a courtesy call was paid to the palace of the Brra Ngwe Rigwe, Rev. Ronku Aka.
The delegation also visited the Aisha Mana Orphanage, the Jos Correctional Centre and the Our Lady of Apostles orphanage at Zawan, Jos South local government area to make donations.
At each point, the Chairman told the recipients that his Party saw the need to show solidarity with them and give them some support to cushion the effects of the current economic hardship in the country in line with the Party's idea of giving hope to the people.
To the flood victims, he stated, "PDP cares about the people at the grassroots," to the IDPs he said, "It is our prayer that God almighty will bring to an end this sad happening that has claimed the lives of many Nigerians. Apart from victims of attacks and floods, we have been to orphanages and homeless children's homes to show concern for our people…"
Responding to the gesture, a community member at Gangare, Ali Sa'at, that of Rikkos, Ibrahim Pam, that of Irigwe chiefdom, Gani Bitrus, the in charge of Aisha Mana Orphanage, Helen Itse, the representative of the Jos Correctional Centre, John Pam and these commended the gesture and prayed the gesture to continue to be extended to other people.
However, the Paramount Ruler of the Irigwe people, Rev Ronku Aka challenged the delegation which is made up of politicians to do what is right for the people saying, "As a traditional ruler I am a father to all, our doors are open to all political parties, our prayer and call to all Nigerians are to vote for credible leaders in 2023 that will end insecurity, our problem is insecurity, so we need leaders that will show love to all mankind, unite Nigerians, let our people be free from bandits attacks…"
Subscribe for latest Videos