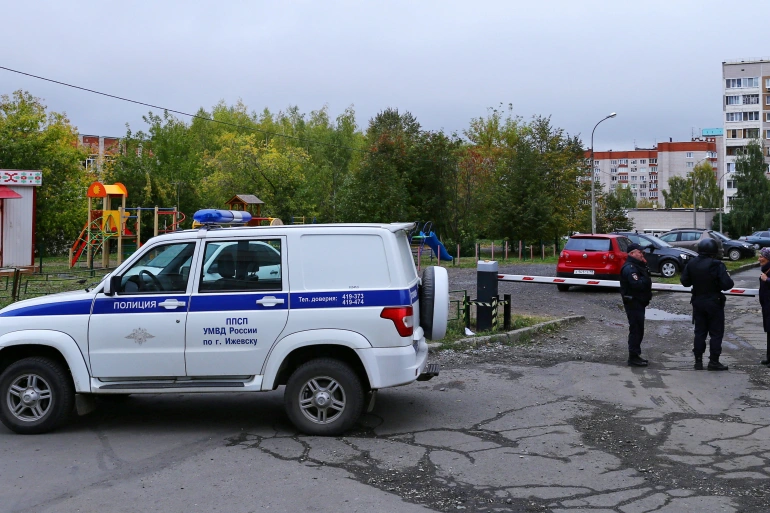 By Biodun Busari
No fewer than seven children were among 13 persons killed by a gunman at a school in Izhevsk, west of the Ural Mountains in the Udmurtia region, central Russia on Monday.
Russia's Investigative Committee revealed that 14 children and seven adults were also injured in the shooting.
Governor Alexander Brechalov said: "There are victims among the children, there are wounded too. The attacker later turned the gun on himself."
The Investigative Committee identified the gunman as 34-year-old Artyom Kazantsev, a graduate of the same school.
In a statement as reported by Al Jazeera, the gunman wore a black t-shirt with "Nazi symbols," the Committee added.
Russia's National Guard said Kazantsev used two non-lethal handguns modified to fire real bullets. The guns were not registered with the authorities.
A criminal investigation into the incident has been initiated on charges of multiple murder and illegal possession of firearms.
Izhevsk is a city of about 640,000 people about 960 kilometres (596 miles) east of Moscow.
The report also disclosed that the school, which teaches children aged six to 17, was evacuated and the area around it has been protected by law enforcement agencies.
The attack comes at a critical time for Russia, which has invaded Ukraine and waging war at the moment and has recently announced a partial mobilisation order to boost its forces.
Hours before the school shooting, a man opened fire and wounded a military recruitment officer at an enlistment centre in Siberia.
Reacting to the incident, Russian President Vladimir Putin on Monday denounced the Izhevsk attack as "inhuman".
"President Putin deeply mourns the deaths of people, children, at a school where there was a terrorist attack by a person, who apparently belongs to a neo-fascist group," Kremlin spokesman Dmitry Peskov told reporters.
"The president wishes for the recovery of those injured as a result of this inhuman terrorist attack," Peskov added.
Subscribe for latest Videos