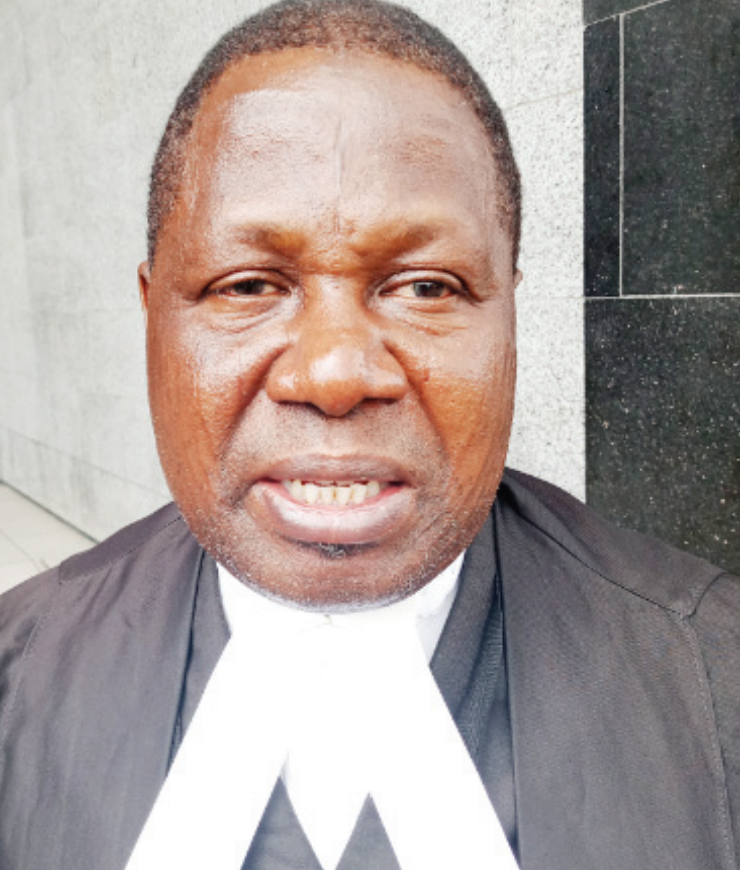 By By Davies Iheamnachor
Provost, College of Law, Kwara State University, Prof. Abiodun Amuda-Kannike, SAN, in this interview, spoke on the delay in the administration of criminal justice in the country, creation of speacialised court for the Economic and Financial Crimes Commission, EFCC and Independent Corrupt Practices Commission, ICPC, cases, among others.
Excerpt:
Despite serious advocacy, there are still delays in the administration of criminal justice in the country. What is the way out?

If we have been able to do front loading for civil matters, why don't we do same for criminal matters? Why should everybody come to give evidence verbatim when the whole world is changing and moving astronomically? At least all the evidence to be led should be in the judges and counsels computer system. All I need to do is press the computer and adopt, then cross examination flows. I think seriously that we need to do front loading in criminal trials. If it can work at least up to the extent it has worked for civil procedure, then it should also be applicable to criminal procedure.

Secondly, is the fact that the state should give adequate opportunities to those who are prosecuting expecially those from the Ministry of Justice, both federal and state. Most times, it is either they are unable to bring the accused person to court or the state counsel has not been mobilised for them to attend court proceedings. Eventually, when they come to court the matters will still not go on and when you look at the excuses, you cannot force them. You cannot imagine that some of them cannot even transport themselve to court.

The third part of it is that for criminal prosecution to succeed, we have to find a way of dividing the court and judges between those who sit on criminal cases and those on civil cases. When a judge has to sit in combination, civil and criminal cases, one must affect the other. I think there should be jurisdiction probably through our law and even the constitution, for us to have courts meant for criminal cases as it is done abroad. Let those judges handling, EFCC and ICPC cases be different from those handling different criminal cases.

What I mean is that, courts that are handling ICPC cases, should be specialized in ICPC matters, like it is in the Code of Conduct Cases. If you had added Code of Conduct cases to those we do here, you would imagine what bottlenecks we have in the system. But if they are able to create criminal jurisdictions in different places, judges would know that they are not handling civil or pre-election matters together with it. They just handle squarely criminal cases. You can also subdivide the criminal jurisdiction dealing with specialized courts for, ICPC and EFCC cases. If you allow ICPC and EFCC cases to remain in criminal jurisdiction, the problem you will have is that those ICPC cases and EFCC cases will delay most general criminal trials. So, we need specialized criminal jurisdiction and another specialized special criminal jurisdiction. This will water down the issues of delays in criminal prosecution.

I also believe that some of the Magistrate Courts can also be moved to prisons or Correctional Centres, either by the sides or inside the prison. That will also go well to assist in making sure that this problem is reduced. On our part as lawyers, we will continue to advise ourselves and our colleagues that once they are out for criminal prosecution they should actually be involved, conduct it from beginning to the end without unnecessary adjournment.
But this may require employment of more judges?
I agree with you because, it is necessary. There is no doubt about that. The judiciary as an arm of government is very important for the country. I have found out that we are not taking it as important as we ought to do. All the other arms of government should revolve around judiciary and so they should fund it. We have enough capability to do that instead of spending our money on all other areas that are not so important.
Are you aware of the recent trend of judicial politics and how can it be handled?
I have been hearing it as well. It is not fair for the judiciary. We need to curb it. On the part of the legal practitioners, especially, the Nigerian Bar Association, NBA and the disciplinary committee of NBA, including the disciplinary committee of the Bench, I am sure these are being handled. In terms of appointment of judges and the roles being played by them and with the seriousness attached to it now, it is being reduced compared to what we had before. Gradually, it will fade off.
Recently, cow scarcity in Port Harcourt , Rivers state was blamed on the Anti-Open Grazing Law. What is your reaction to this?

I don't think so, because the implementation of Anti-Open Grazing Law is general all over the country now. Nobody wants open grazing again and the activities of herdsmen have been curbed. The fundamental part of our problem with respect to cow on its cost has to do with the railway system, which is not working well. When we were younger, you can see a whole 15 trucks of train coaches filled with cows. They were not moved through the roads and it was safer. This continued from over time. When you look at that situation, the effect of it is greater and it goes into the cost that will be added to the sales of the cows. The other part of the problem is because of the insecurity in the country, which has generally affected everything. By the time they add the issue of insecurity to move the cow down here, including kidnappings on the way, even the security men trying of extort them, these are facts that are adding to the cost of cow and rams.
Do you think the Labour Party stands a good chance at next year's Presidential election?
I do agree that Labour Party stands a good chance in the coming election because of the emergence of Peter Obi as the flagbearer of the party. The Labour movement on its own has come out to say that its men should vote for the Labour Party. So, that part also is what created them as a force. Secondly, Peter Obi himself has gathered some popularity, regardless of whatever political leaning he belongs to. He has some force. There is no way you can just call him off and say that he is not a force. The other parties will have to work very hard because it could bring in the destructive factor.
Even if you feel that he will not win, though he is looking for away to succeed and win, but assuming he does not win, the truth of the matter is that they can become a poll factor for them to have the constitutional requirements to win the election outrightly. So, anything can happen. That is the reason you can't say he (Obi) is not a force to reckon with because each of the candidates requires a percentage constitutionally to sail through. That constitutional provision is still there. You must win 2:3 of the states. He is a serious contender and you know Nigerians; some people will tell you we are following this party or the other, during the election proper, anything can happen. You can't trust anybody, but with his (Obi) popularity, you know that he is a force to be reckoned with.
Some people have expressed concerns that despite the introduction of electronic voting, vote buying and rigging may still prevail in the 2023 polls. What is your view?

What I know is that once INEC has captured your data, if you press the button like we did before, it takes you to the system, captures your face and other identities, before you vote.
The vote is transmitted electronically immediately. It has electronic grade that will make it to work faster. Vote buying and rigging will be difficult, but anybody who wants to collect money may still do. But anybody who does not want to collect money will not be influenced because there is no opportunity to change it.
For me, those that collect money and vote for a candidate, only did what they had wanted to do. You can collect the money and not vote for the person who gave you money, because it is secretive enough. I don't believe anybody should be involved in vote buying.