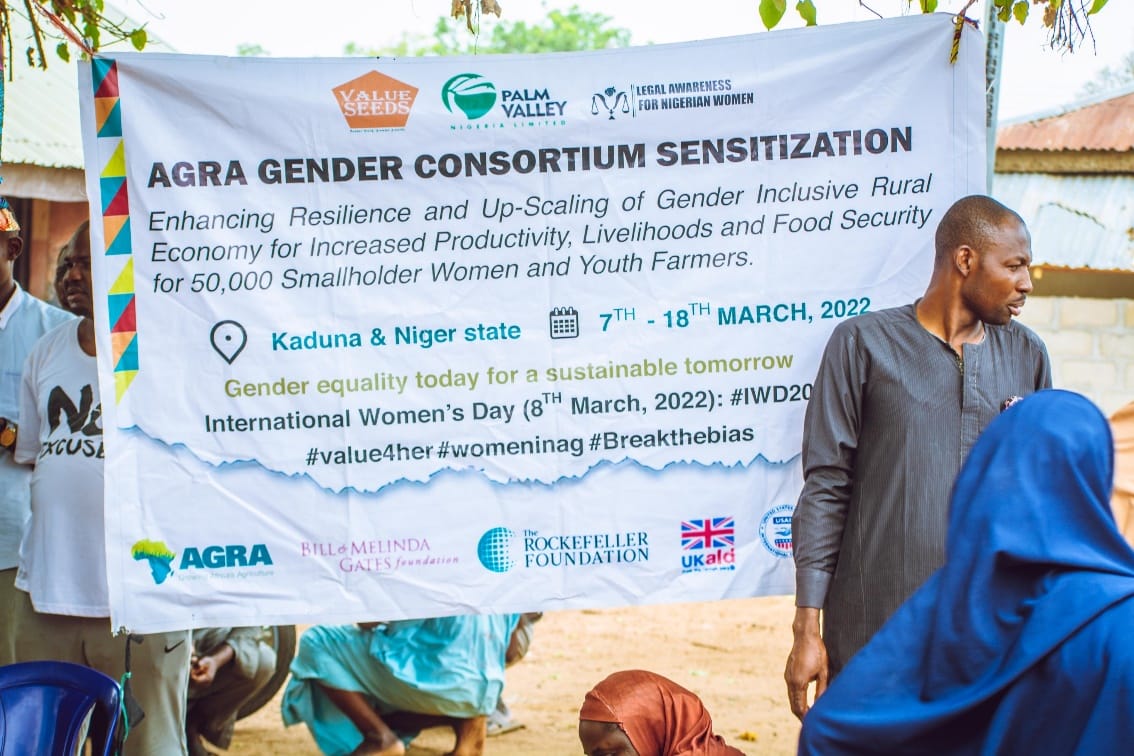 By Gabriel Ewepu – Abuja
As women remain powerhouse for food production in Nigeria, two major organizations in the agricultural sector, the Legal Awareness for Nigerian Women, LANW, and Alliance for a Green Revolution in Africa, AGRA, have partnered to change narrative women and youth farmers for greater productivity.
Speaking about the move by the two organizations, Programme Officer, AGRA Project, at Legal Awareness for Nigerian Women, Yusuf Kawo, said, is to empower women within target communities in order speak out against challenges that impede their development.
Kawo said: "It is a very good development for people especially at the rural area, people who don't understand their rights or can't fight for themselves.
Read Also:
Education panacea to herders, farmers conflict — Nomadic Commission
"Legal Awareness for Nigerian Women is a not-for-profit that stands for people's rights, not just women but women and youth because they suffer most.
"The consortium, especially the Gender Consortium is very important to us because it enables us to empower women within the target communities to stand up and speak out against the challenges that impede their development.
"There are some cultural issues where communities don't give women the chance to own land so they can neither farm nor use the land as collateral to take loans.
"The partners are coming in with seedlings to improve the livelihood of the community members and we are looking at the issues concerning policies and laws.
"There is a policy on gender in agriculture that should give opportunity to vulnerable people to give them the abilities to participate, and we are also fighting for a two per cent threshold of the state budget to be given to small women farmer groups to improve their livelihood and enable them live like any other person in the world."
He also explained that the awareness will take two years and that the project will be beneficial to the women and youth who are farmers as they will basically understand their rights.
"Understanding their rights, which will help them operate in a society full of challenges and difficulties for women, and we know that there are a lot of cultural norms that impede women, so this is something we need to do for everyone. The men will understand that the role of women is not to be subservient to their interests.
"We are saying no, we push for a fair society in which everyone should be able to live and express freely. We are saying that women should also be given the opportunity to provide for the livelihood and development of every part of the world", he said.
Meanwhile, he (Kawo) said community leaders are the first port of call to intimate them about essence of the project in their communities.
"Of course, you cannot work in any community without talking with the stakeholders and some of the beneficiaries. The essence is first, to take permission from the gatekeepers which are the traditional heads, and to give them proper information about it, what we would be doing, the timeline and everything.
"They are the people that will give you the opportunity to access the beneficiaries because without them, you won't be able to speak to the women as it is in some communities.
"We have to give them the background of the project, these are the benefits, tell them this is how we can work together, give them all that information. So, this is where we are", he added.
Subscribe for latest Videos