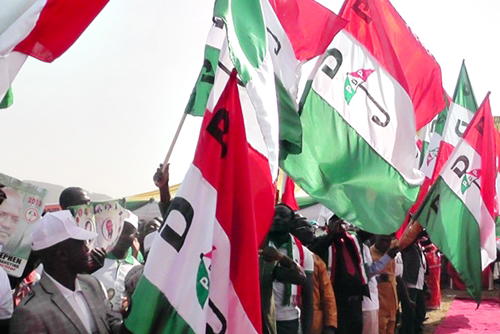 As the Peoples Democratic Congress (PDP) prepares to organise a critical presidential primary to choose its flag bearer in Abuja this weekend, all eyes are now fixed on who exactly among the contending candidates may clinch the party's ticket.
With the exit of former Anambra's governor, Peter Obi in PDP, there are still 14 aspirants working assiduously to emerge as the standard flag bearer of the PDP. However, it is crystal clear that the contest has been narrowed to a three-man race between heavyweight candidates, former Vice-President, Atiku Abubakar; Sokoto State Governor, Aminu Tambuwal, and his counterpart in Rivers, Governor Nyesom Wike.
Examining the intense intrigues trailing how 2, 340 delegates were trimmed to 811 persons following President Muhammadu Buhari's refusal to sign the amended Electoral Act, and the distribution of the same (delegates) across different geopolitical zones in the country throw light on who may be the real front-runner among the earlier mentioned trio.
Not to gloss over the relevance of some contenders who may drag votes and become spoilers for some of the heavyweights, names like that of former senate presidents, Bukola Saraki and Anyim Pius Anyim; governors, Bala Mohammed; Emmanuel Udom of Bauchi and Akwa Ibom states respectively will appear in the analysis of the outcome of PDP's presidential primary.
To start with, the obligation of choosing the right candidate lies with delegates, so it is crucial to understudy the 811 voting delegates expected at the PDP convention: 774 national delegates (1 Per LGA) and 37 special delegates (People with disability from each of the 36 states and FCT).
Let's analyse Nigeria's six geopolitical zones and see how tight the race is between Atiku who stands on a dwindling political weight; Wike who relies on a financial war chest despite the 'triumph' of the ideology of power returning to the north against southern presidency agenda and Tambuwal who enjoys true regional support in Northwest, where the number of delegates is highest.
North-West (Jigawa, Kaduna, Kano, Katsina, Kebbi, Sokoto, and Zamfara)
As a sitting governor in Northwest, where the number of delegates is highest, Tambuwal has an edge over majority of the contenders and this appears to be the ace of spades he may pull to get a surprise victory.
There is an aggregate of 186 national delegates in the Northwest and Tambuwal is the only candidate presented by the region. Firstly, there is no gainsaying that he (Tambuwal) will clear all the delegates' votes in Sokoto. In Kano, Tambuwal has also become a favourite leader following the exit of a former governor of the state, Rabiu Kwankwaso in PDP, but Saraki and Wike may get some remnant votes. Jigawa, is controlled by Tambuwal's ally, former governor, Sule Lamido who has seized the territory for his friend.
Tambuwal is also a force to reckon with in Katsina, although Wike's man, Senator Garba Lado is also doing his best to get some votes. Tambuwal's train is also strongly stationed in Kaduna and Kebbi but Atiku and Saraki will give him a fight here. In Zamafara, General Aliyu Gusau is supporting Saraki, however, Tambuwal and Atiku can't be written off in the state.
Despite, Wike's incursion into the Northwest, a PDP chieftain in the region disclosed that power brokers are tinkering a northern consensus candidate and Tambuwal, it was said stands a higher chance than Atiku as he is seen as very accessible and also enjoys the home advantage factor.
North-East (Adamawa, Bauchi, Borno, Gombe, Taraba, and Yobe)
Ordinarily, one would have expected Atiku to get a sigh of relief in Northeast, being his region, however, there are allegations that his formation suffered a setback after he abandoned his political structure following his defeat in the 2019 election. Besides, Atiku has lost plenty of his financial resources having contested for president several times and does not have the wherewithal needed to ignite the excitements desired by his supporters. As such, Northeast states can be marked as a battlefield.
More disturbing for Atiku in the Northeast, is that another aspirant from the region, Governor Bala Mohammed of Bauchi will be contesting the 118 votes allotted to the zone. Also, former governor of Gombe State, Alhaji Ibrahim Dankwambo is expected to secure the state for Wike; Tambuwal may get Taraba and Borno because of the established relationship he has with the leaders of the states. Nevertheless, Atiku will come out victorious in his home state, Adamawa, and may also extend his weight to get a lead in Yobe State.
North-Central (Benue, FCT, Kogi, Kwara, Nasarawa, Niger, Plateau)
The Northcentral is a battleground and the votes will be shared between Atiku, Saraki Tambuwal, and Wike. In Benue, Governor Samuel Ortom has reportedly given up on the southern president agenda and may support Saraki, who hails from North Central. Notwithstanding, Wike and Governor, Udom Emmanuel will share votes here, especially because Udom is close with Gabriel Suswam. In Kwara, it is an easy call, all the votes belong to Saraki. In Kogi State, Atiku, Wike, Saraki to share votes. In Nasarawa State, the votes will be shared between Atiku, Tambuwal, and Saraki, the same goes with Niger State. Saraki has an advantage in Plateau State, but Wike will get some votes too. In the Federal Capital Territory, Atiku will get votes but Wike is also on ground, he's connected with Senator Philip Adudah, representing the FCT.
South-East (Abia, Anambra, Ebonyi, Enugu, and Imo)
Wike has the biggest chance of securing votes in Southeast than any other aspirant, but Tambuwal will make a good outing in this region too. In Abia State, Governor Ikpeazu has openly declared his support for Wike while his counterpart, Ifeanyi Ugwuanyi of Enugu State is also moving in the same direction. In Anambra, Sen. Stella Odua and Chris Uba are working to ensure a win for Wike
In Imo, the immediate governor of Imo State, Emeka Ihedioha is firmly rooting for Tambuwal's candidacy while the National Secretary of the PDP, Samuel Anyanwu is backing Wike. In Ebonyi, former Senate President, Anyim Pius Anyim is contesting and will likely get all the delegates in the state on his side.
South-West (Ekiti, Ondo, Osun, Ogun, Oyo and Lagos)
Although Southwest is largely divided, Wike's alliance with Oyo State Governor, Seyi Makinde, ex-governor of Ekiti, Ayodele Fayose and the gubernatorial aspirant of PDP in Lagos, Olajide Adediran, popularly called 'Jandor' puts the Rivers governor on a tripod stand in the region which has 143 delegates, the second-largest bloc after the North-West. Wike will most likely be the preferred candidate of delegates in Ekiti, Lagos, Oyo.
Meanwhile, Saraki's romance with Senator Ademola Adeleke of Osun State, gives him an edge over Atiku who may also get some votes in the state. In Ondo, Atiku's man, Eyitayo Jegede will presumably influence higher proportion of delegates to do the bidding of his master while former Ondo state governor, Olusegun Mimiko will other side secure some votes for Wike.
South-South (Akwa Ibom, Bayelsa, Cross River, Delta, Edo, and Rivers)
Despite his bright sides in some regions, Wike like Atiku will not be enjoying an easy ride in his ward (South-South) which he calls home. As for Rivers State, all delegates' in the state will no doubt channel their votes to see a win for Wike; he might record this similar feat in Cross River.
In Akwa Ibom where the sitting governor, Emmanuel Udom is also contesting all votes will be wasted on Udom. Depending on the outcome of the legal tussle over control of Edo PDP, the coin may be tossed in favour of either Saraki who enjoys the support of Governor Godwin Obaseki, or the party's chairman Dan Orbih. Bayelsa is murky water for Wike as his political foe, Seriake Dickson is working against his candidacy while Governor Diri Diouye is also not on his (Wike) side. Votes here may be split between Saraki and Tambuwal. Delta, is a battleground, votes may be shared between Saraki and Atiku as Governor Ifeanyi Okowa and his predecessor, James Ibori now hold divergent views on the trajectory of who to support.
Emmanuel Adeniyi, writes from Lagos
Subscribe for latest Videos