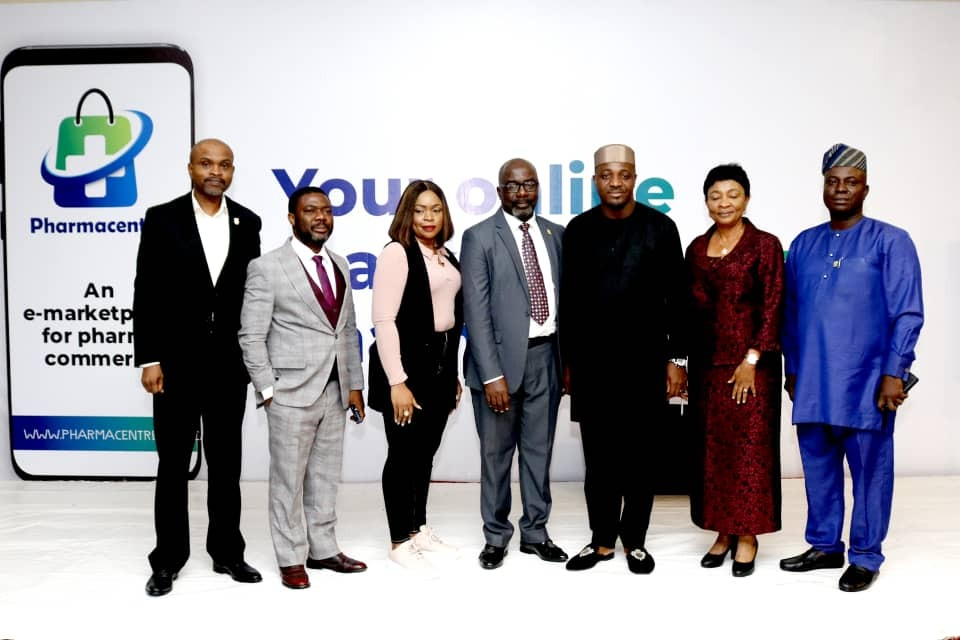 By Evelyn Usman
Wellness Healthcare Group has launched Pharmacentre , a software platform for sales of pharmaceutical products and laboratory test kits, to individuals ,wholesalers and distributors alike, with a view to bringing pharmaceutical products closer to the end users for enhanced healthcare service delivery..
In his keynote address titled ' Exploring the Digital Age Opportunities: the Future of healthcare in Africa, at the occasion of the launch of Pharmacentre, at Sheraton Hotel, Ikeja, Lagos, Co-Founder and Chief Operating Officer, Digital Encode Limited, Dr Obadare Peter, described the launch of Pharmacentre as apt.
Noting that technology had changed the landscape for every business in the world , he said with the launch of Pharmacentre, the Pharmacy profession had toed the path of digitalization
According to him : "Technology is a freight train that doesn't care who is standing on its track. We have reached the limit of how far we can automate our operational processes.Working as an integrated company will slow us down and tackle innovation . Becoming a digital marketer helps to strategize ourselves in the physical world and still be valuable in the digital economy
" Digitalization is actually changing everything that we are doing today. During covid, most industries were disrupted . Technology has displaced a lot of companies and individuals.
" With this launch, Pharmacentre is the biggest in the pharmaceutical industry in Nigeria at the moment".
Responding to questions on the possibility on the possibility of the platform to be hacked, Dr Peter said, "there is no doubt that technology is the elephant in the house . But its usage comes with a lot of risk .
"The reality is that if you do what is right in terms of due care and due-diligence, most of those inherent risks that can impact on customers and other people within the eco system will be minimized.
"Pharmacentre has therefore, put the mechanism in place to consider the issue of security and cybercrime . This is to ensure that everyone that comes on board are those validated. It is also to ensure that the right people are within that eco system to take care of all of those inherent concerns of people".
Corroborating his view, National president , Pharmaceutical Companies in Nigeria, Prof Cyril Usifo, described Pharmacentre initiative as a right step in the right direction, noting that one would be overtaken by technology if not embraced .
He said that the platform would not only create a common meeting place for Pharmacists and other stakeholders to get what they needed, but it would also facilitate tracking of adulterated drugs within the space. .
In her remarks, the Director in –charge of Pharmacist Council of Nigeria, Lagos Zonal Office, Dr Ukamaka Okafor, stated that Pharmacentre would absorb a lot of problems of community pharmacists.
She stated that recently, the council launched an online pharmacy regulations that would assist young pharmacists who could not afford the infrastructure needed to host online platforms.
But with Pharmacentre, she said, " it will assist committed pharmacists who want to do online pharmacy in their investment. All they need to do is to come under this platform and then practice the community pharmacy.
" We at Pharmacist Council of Nigeria are the regulators and our work is to ensure that all Pharmacentre is going to do wil be done in line with laid down standard. Any pharmacist that would have to come under Pharmacentre platform is supposed to be registered by the Council .
"Besides, Pharmacentre has a lot of channels in platform . They have the wholesale and retail pharmacy as well as the community pharmacy and the end users which is the last -mile distribution. For the last -mile distribution, it is expected that the community pharmacy interface with the patients . This way, the patient or the client is not allowed to access pharmaceutical products on that platform without interfacing with the pharmacist. So these are part of the things that we as Pharmacist Council of Nigeria are going to ensure happen".
Speaking with journalists, Managing Director/Chief Executive Officer, Wellness Distribution Limited, Pharm .Adetutu Afolabi, clarified that Pharmacentre was different from very other online trade of pharmaceutical products.
She explained that Pharmacentre "is a market place where all pharmacy stakeholders are enjoined to come onboard the platform and sell.
" It is an interactive platform where Individuals can access pharmaceutical products . Community pharmacy owners can be on that platform too as a business to sell to individuals and as a business to buy from wholesalers and distributors.
"It is simply a market place where everybody meets. We are bringing the market place that is physical into a virtual market place. It is the first in Nigeria and we are glad that we are driving it by pharmacists for pharmacists.
" It is aimed at easing the pains associated with the supply chain of drug distribution. That is why is different from others".
She noted that modalities had been put in place to check sales of fake drugs by pharmacists.
She informed that aside the fact that the company would ensure that only registered merchandise operated on the platform, the company was also collaborating with the Pharmacists Council of Nigeria to that effect.
She said: " We have already established that level of partnership with the Pharmacist Council of Nigeria . it is not about the profession but about the lives of Nigerians that we want to touch".
Afolabi disclosed that her company had the authority to shut any store on the Pharmacentre found to be engage in dealings contrary to the healthcare delivery company.
According to her : " There is an opportunity for people to review the service they receive. This is after they must have logged on to the pharmacentre platform on https://pharmacentre.africa/.
"If there are incessant complaints about the way a particular pharmacy on the platform deals with a customer, represent the product or the kind of product served to the populace, we have the authority and capacity to close any store on the Pharmacentre. That is, after reporting the pharmacy to officials of Pharmacist Council of Nigeria ".
Operation of Pharmacentre according to her was limited to Lagos State. She said as more Pharmacists come on platform, it would be spread across other states in Nigeria and Africa.