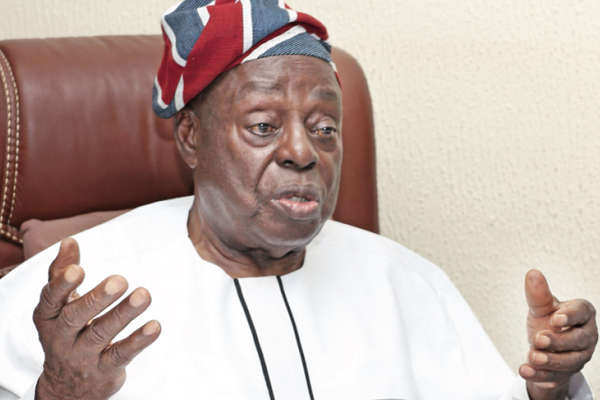 RESPECTED legal luminary, Chief Afe Babalola, SAN, recently called for the adoption of an Interim National Government at the end of the Muhammadu Buhari tenure as his idea for permanently curing Nigeria of its multifaceted system failures.
At a media conference in Ado Ekiti on Easter Monday (April 18, 2022), Babalola suggested that preparations for the 2023 elections should be suspended and an Interim Government, which should be charged with laying a new constitutional foundation for a more functional and progressive country, empanelled to complete its assignment within six months.   Without prejudice to the cerebral contents of Babalola's patriotic agenda and strategy to salvage Nigeria from the edge of the abyss after 23 years of military-decreed centralised and feeding-bottle federalism, we are afraid that an interim government will not work under our prevailing circumstances.
It is near impossible to institute an interim government because we are bound by the Constitution of the Federal Republic of Nigeria, 1999 as amended. Nobody elected under this Constitution can go outside it to impose an unconstitutional arrangement which an interim government represents. 
The first and only time we had an interim government came by a military imposition which was charged with completing General Ibrahim Babangida's truncated transition programme. The military members of that government eventually seized power and embarked on their own separate transition programme.
As citizens of a democratic Federal Republic, Nigerians must not allow the inadequacies of any incumbent government to tempt them to derail from the noble practice of transferring power democratically, constitutionally and creditably from one regime to another. If an out-going regime is bad, we must work harder to ensure that the in-coming one will be better.
Although we are beset by daunting economic, security and corruption-related challenges, we are convinced that a new patriotic and visionary leadership can quickly rally Nigerians towards overcoming these challenges. All it takes is one good person at the helm of affairs and the broken lines will begin to fall back into harmony.
Happily, this time, some very promising leadership materials have shown up in the major political parties jostling to replace President Buhari in May 2023. We also have full confidence in the Independent National Electoral Commission, INEC, led by Professor Mahmood Yakubu to conduct credible elections in spite of insecurity. The INEC has never failed to conduct elections in any major section of the country due to insecurity.
We do agree with Babalola that a new elected regime can pick up the gauntlet to push for a wholesale constitutional re-engineering to wean our country from its ugly military past.
But we must also warn that without a change of attitude by the practitioners, a new constitution will not be a magic wand.
Subscribe for latest Videos