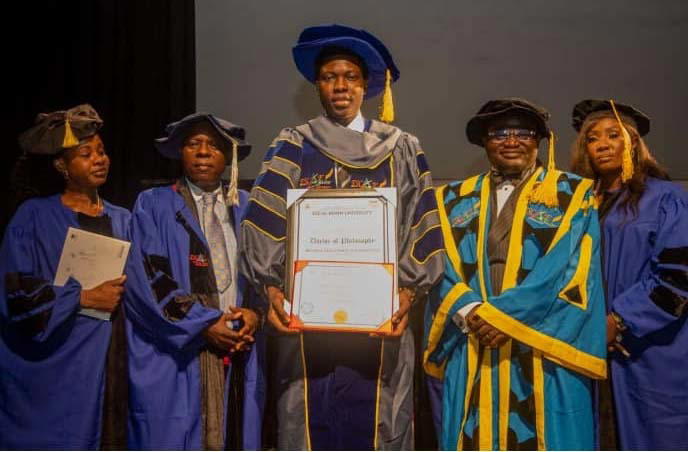 By Gabriel Olawale
Olusola Owonikoko has received an honorary doctorate degree from Escae-Benin University, Cotonou, Benin Republic. This was made public Saturday, October 23, 2021 during the conferment ceremony which took place at the Akpakpa campus of the University.
Escae-Benin University is a private university in Benin Republic committed to providing an educational experience of the highest quality. Established in October 2008, Escae Benin University was granted full accreditation by the Ministry of Higher Education and Scientific Research Republic of Benin (MESRS) and officially inaugurated in October 2012.
Olusola Owonikoko was awarded an honorary doctorate, honoris causa, in business development and technology. This is following the impact of his work at Project Enable Africa. Speaking at the conferment ceremony, the Registrar of the institution of learning, Dr. Matthew said that: today, we are glad to honor people who have been outstanding in their society. Those who have gone the extra mile to create impact and become exemplary models to young people."
During his speech at the ceremony, Olusola said "I am grateful to receive this honourary degree." Speaking to the graduating students of the institution he added that "everyone is a statistic until you hear their story. Everyone's story is valid, and deserves to be heard.
Use your voice, stand tall. Understand that success happens only when opportunities are met with preparations.
Other recipients of the honorary doctorate includes Olubunmi Talabi, the former Executive Council Chairperson of Women in Management, Business and Public Service (WIMBIZ); Bada Akintunde Johnson, Country Manager of ViaComCBS; Shola Animasaun, renowned storyteller through photography and cinematography; Unyime Ivy-King of Protection Plus Services; among others.
Olusola works at the intersection of business, development and inclusion. He is the founder and Executive Director of Project Enable Africa; an organisation that promotes digital inclusion, advocacy and access to assistive technologies for persons with disabilities, and set up the first-ever Inclusion Hub in Nigeria to train talents with disabilities and connect them to economic opportunities.
In 2015, following a question he asked President Barack Obama during a Presidential Town Hall meeting for young Africans, he was invited to the White House. He has since spoken at several international conferences, including the United Nations Conferences; African Eye Festival, UK; and International ICT4D Conference, Uganda. His public engagement goal is to promote African-led development, inclusion, and innovation; positioning the continent to harness its demographic dividends. Olusola is the current President of the Carringtong Fellowship Network of the U.S. Consulate General, Lagos.
He holds a Bachelors' degree in Microbiology from the University of Ilorin; Master's degree in Globalisation, Business & Development from the Institute of Development Studies (IDS), University of Sussex, UK; and Certificates in Social Epidemiology, Entrepreneurship, Civic Leadership from Harvard School of Public Health, University of Maryland, Wagner College, respectively.
He is also a 2021, UK Study Global Social Impact Award Finalist; 2020 Recipient of the Royal African Youth Leadership Award of the Ooni of Ife; 2020 & 2017 – winner of the U.S. State Department AEIFunds; 2019 IE University Social Innovator, Spain; 2018 winner of the Google Impact Challenge Funds; 2017 Scholar at the Institute of Development Studies, UK; 2016 Fellow of Tony Elumelu Entrepreneurship Program; 2016 Associate Fellow of Nigeria Leadership Initiative; 2015 distinguished Alumnus of the Year, University of Ilorin, Nigeria; 2015 recipient, U.S. Consul General's Award, Lagos; 2015 Fellow of Mandela Washington Fellowship; 2015 Fellow of the Civil Society Leadership Institute, Ghana; 2014 Fellow, Sexuality Leadership Development Fellowship; and 2014 Fellow of the Carrington Youth Fellowship, US Consulate, Lagos