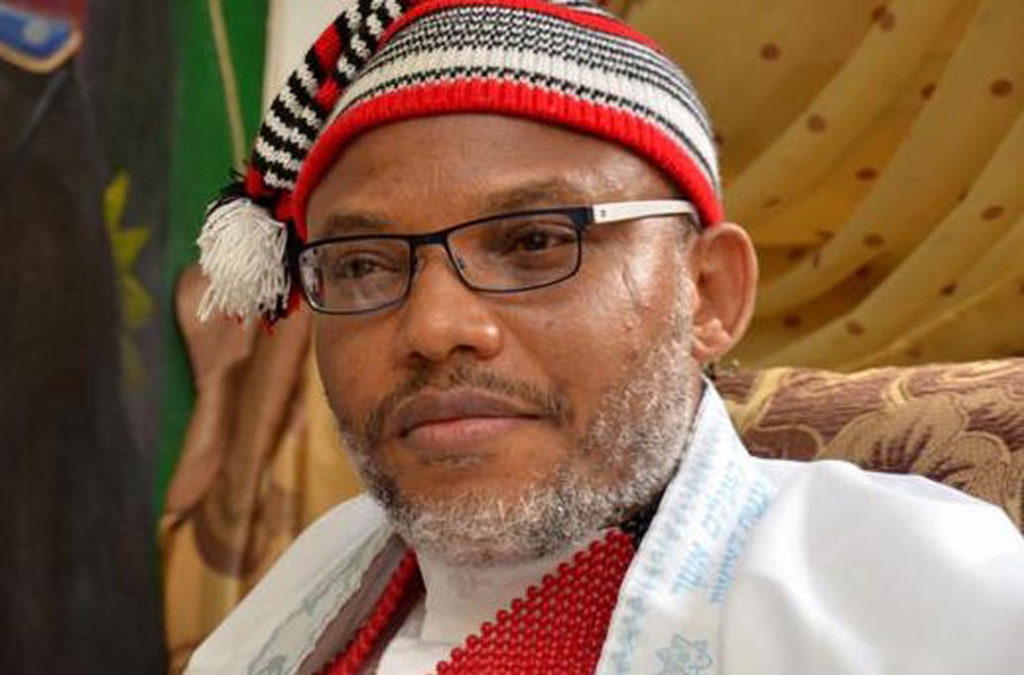 •Reveals security agents had been on Kanu's trail for over 2 years
•Says forensic investigation reveals trove of info on IPoB leader
•Pledges he'll get fair trial, treatment
•IPOB berates President Kenyatta for Kanu's abduction
•Directs Biafrans to shun Kenya airlines, products
•Mbaka breaks silence on arrest, says Nigeria may collapse
•Ohanaeze disowns statement saying Kanu refused to listen to Igbo leaders
•Free Nnamdi Kanu' protest begins in London
•Igbo–British lawyers give FG ultimatum to return Kanu to UK
•Kanu's ordeals 'll not affect Biafra struggle —MASSOB
•Lobby firm hired by Nnamdi Kanu engages US govt on his arrest —Report
By Soni Daniel, Editor, Northern Region, Vincent Ujumadu, Chimaobi Nwaiwu & Chinedu Adonu
The Federal Government, on Thursday, said the arrested leader of the Indigenous People of Biafra, IPOB, Nnamdi Kanu, caused the death of 60 persons in four months, but assured that he will get fair treatment and trial.
Nnamdi Kanu facing an 11-count charge bordering on treasonable felony, terrorism and illegal possession of firearms, pending before a Federal High Court in Abuja.
The Minister of Information and Culture, Alhaji Lai Mohammed, gave government's position at a media briefing in Abuja.
Like his Justice counterpart, Abubakar Malami, SAN,who unveiled Kanu's arrest and repatriation on Tuesday, Mohammed declined to say how and where the IPOB leader was arrested and brought to Nigeria.
The minister said: "It will interest Nigerians to know that for over two years, our security and intelligence agencies were on the trail of the proscribed IPOB leader as he lived a five-star life across several countries, travelling on chartered private jets, living in luxury apartments and turning out in designer clothes and shoes.
"Of course, as we all saw, he was wearing an attire made by Fendi, a luxury Italian fashion brand when he was arrested.
"The Federal Government wishes to commend the Nigerian security and intelligence agencies, which collaborated to re-arrest the proscribed IPOB leader in one of the most classic operations of its type in the world.
"We commend the professionalism, diligence, patriotism and painstaking efforts of our security and intelligence agencies.
"We also thank the sister international agencies that collaborated with us to pull off this arrest.We can tell you that the forensic investigation carried out so far has revealed a treasure trove of information on the proscribed IPOB leader and his collaborators.
"While the investigation continues, we assure you that none of the collaborators, irrespective of their standing in the society, will be spared.
"They will all face the full wrath of the law for their activities that challenge our nation's sovereignty and threaten its unity. No one, no matter how highly placed, is bigger than the country.
"It is interesting that many are suddenly calling for a fair trial for Kanu as if he didn't get one before he decided to jump bail and flee. However, I can assure you that the fair deal that Kanu denied many of the victims of the violence which he wilfully instigated through his broadcasts and tweets will not be denied him.
"Finally, there have been speculations on how this re-arrest was pulled off and in which country the hitherto fugitive leader of the proscribed IPOB was nabbed.
"What we can tell you, once again, is that the re-arrest was made possible by the diligent efforts of our security and intelligence agencies, in collaboration with countries with which we have obligations. We continue to respect and honour the obligations," Mohammed said.
Nnamdi Kanu caused death of 60 persons in 4 months —FG
The government equally listed the alleged sins of Kanu in a letter to the international community, alleging that the IPOB leader orchestrated the killing of 60 persons and destruction of property in 55 violent attacks across the South-East and South-South zones within four months.
The FG stated this in a letter dated April 26, 2021 to western diplomats, NAN reports.
In the letter, it listed the alleged atrocities committed by members of IPOB on the instruction of Kanu who was then in exile.
One of the attachments to the letter listed the attacks on lives and property by IPOB and its militia arm, Eastern Security Network, ESN, in some parts of the country between January and April 2021.
According to the letter from the Nigerian Ministry of Foreign Affairs to some western countries, the Federal Government objected to a statement by an agency of a western nation whose government had noted that ESN was created to combat insecurity.
The Federal Government, in its letter, considered the statement as "justifying the establishment of a militia by a non-state actor and glossing over the destructive and violent acts of IPOB and the ESN.
"In under four months this year, IPOB has carried out over fifty-five violent acts in various parts of South-East Nigeria killing scores of people and destroying many properties.
"Indeed, it would seem that the position of the (western nation) seems to have further emboldened Nnamdi Kanu, the self-confessed leader of IPOB.
"As recently as 22nd April, 2021, broadcasting online from his base in London, Mr Kanu issued a series of instructions to his militia and other members of the outlawed organisation, on acts of violence to be carried out within the territory of Nigeria."
The letter made copious references to some of the threats issued by Kanu thus: "Our madness has just begun.
"Every night, young men will not sleep, you will come out, at the starting of every road that leads to every populated area under human habitation to make sure that appropriate road blocks are put in place to slow them down so we can catch them (Fulanis) and kill them.
"That is what we want you to do. Obiano (Governor of Anambra State) from today onwards, anywhere you are seen in public you will be attacked …. Obiano, … you are a dead man walking.
"Any landlord that gives accommodation or rents his house or her house to a Fulani person, to an army personnel, to somebody who works for the police or Department of State Services (DSS).Kill them.
"If you see the army and the police in your place, kill all of them… Kill them.
"From today, I am announcing, there will be no election in Anambra State. Every edifice of election in Anambra State will be destroyed. I am warning you in advance. There will be no election. There will be no campaign in Anambra State.
"Any vehicle you see, from tonight (22nd April 2021), 12 midnight to 5, destroy it completely. That is the time they (referring to Fulanis) move about abducting people. And we keep quiet.
"What stops you young people from, once you see them coming around 4am in the morning, you will block all every exits, set it on fire?
"They will exhaust all the ammunition that they have, then we capture them alive and cut off their heads. All of them. Decapitate them," the Federal Government further quoted Kanu's alleged instructions to IPOB members.
The Federal Government noted that IPOB members, following these instructions, intensified their attacks on the specified targets.
According to the Federal Government, Kanu issued instructions from western capitals using Radio Biafra and IPOB members to carry them out in Nigeria.
"For example, a day after Governor Okezie Ikpeazu of Abia State confirmed to newsmen that Nnamdi Kanu has ordered members of the group to kill him and other South-East governors, which orders were repeated on Radio Biafra, the private residence of Imo State Governor, Hope Uzodimma, in his hometown in Omuma, Oru East Local Government Area of Imo State, was attacked and set ablaze and two of the security men attached to the house were killed."
The letter then listed the IPOB attacks in S-East, S-South zones:
Abia: Between January 26 and April 19, 2021, six policemen were killed while property worth huge sums were destroyed by IPOB members in coordinated attacks at Uratta junction, Aba North LGA; Omoba Police Station, Isiale-Ngwa South LGA; Abriba Community in Ohafia LGA, and Uzuakoli Police Station in Bende LGA.
Akwa Ibom: 25 persons, including security personnel were killed in deliberate attacks on different locations across the state, between January 27 and April 19, 2021.
Cross River: Seven police officers were killed at Calabar-Ikom highway in Obubra and Yakur LGAs on March 2, 2021, while a soldier was killed two days later on March 4 at a military checkpoint at Obubra Junction in Obubra LGA.
Delta: Between January 10 And April 14, IPOB members attacked and killed 11 persons including security personnel in Ughelli, Ndokwa East, Ezza South, Onicha, Ezza North, Ohaozara, Ohoukwu, LGAs.
Enugu: Three policemen were killed in attacks on different locations across the state between February 28 and April 18.
Imo: Between January 3 and April 24, 2021, IPOB members killed seven persons and injured many others in different attacks in Orlu, Obouo, Aboh Mbaise, Chitte Uboma, Isiala Mbano, Owerri, Njaba, Mbatoli, Oru East LGAs.
Rivers: On April 17, 2021, IPOB operatives killed an NSCDC operative on guard duty at Shell crude oil manifold in Elelewon village in Obio/Akpor LGA and injured many others.
The Federal Government also told the western nation that its position may seem to have further emboldened Kanu, adding that this may explain the increased tempo of attacks carried out by members of his group.
IPOB berates President Kenyatta for Kanu's abduction
But reacting Thursday, the IPOB accused President Uhuru Kenyatta of Kenya of stooping low to allegedly collude with the Federal Government to abduct its leader.
IPOB expressed disappointment with the Kenyan President for allegedly betraying Kanu, saying it would hold him accountable for his action.
It also alleged that President Kenyatta and his government planned the abduction immediately Kanu entered the country before alerting Nigeria of his presence in Kenya and subsequent abduction with the assistance of Nigerian security agents.
IPOB in a statement by its Media and Publicity Secretary, Emma Powerful, called on all Biafrans at home and in the Diaspora to boycott travels with Kenya Airways and stop patronising any product made in Kenya.
IPOB's statement read: "We, the global movement of the Indigenous People of Biafra, express our disappointment with President Uhuru Kenyatta of Kenya and his Government over his role in the abduction of our Leader, Mazi Nnamdi Kanu and his subsequent smuggling into Nigeria by the wicked Nigeria security agents.
"We are still at shock why a President like Uhuru Kenyatta would stoop so low to collude with a terror-friendly government like Nigeria under President Muhamadu Buhari to abduct and dehumanise our Leader for doing nothing other than demanding the freedom of Biafrans from Nigeria's bondage.
"Based on our preliminary findings, President Uhuru Kenyatta was very instrumental to the abduction of our Leader in Kenya. The treacherous action of Uhuru Kenyatta against Nnamdi Kanu and Biafrans at large is a clear violation of the 1949 Geneva Convention, and United Nations Code.
"We still don't understand why Uhuru Kenyatta and some corrupt officials of his government would prefer to betray Nnamdi Kanu and Biafrans.
"Is it because of Nigeria oil money? Is it because of the paltry N100 million bounty placed on Kanu's head by some Northern charlatans? Why would President Uhuru Kenyatta sell our leader, Mazi Nnamdi, to the evil hands of Nigerian government?"
Mbaka breaks silence on arrest, says Nigeria may collapse
In a related development, the spiritual Director of Adoration Ministries, Enugu, Fr Ejike Mbaka, said: "The God in me will be in the jail with him because he says when you are suffering, I am also suffering. He says when you are afflicted, God is also afflicted, a place where the state prisoners were confined, He was there in the prison.
"Lift your hands, we minister to all the prisons in the universe, especially in our country where our people are, we minister speedy release.
"Again, let our leaders do the needful because when the major catastrophe happens in the future, they will not be exempted. If they like, let them jail everybody, that is not the solution, let them feel the pains in the eyes of teeming Nigerians. Go to the North, people are suffering yet a few are millionaires in Dollars, the same with other parts of the country.
"Intimidation will not solve the problem. I know that the real people who should be in prison are those arresting people and locking them up. I know that after this message, they will invite me again.
"They are gradually succeeding in their gimmicks and tricks to make sure men of God are silent. Look at our medical experts, hot brains graduating from medical schools, where do they work?
Ohanaeze disowns statement saying Kanu refused to listen to Igbo leaders
In its reaction, Ohanaeze Ndigbo Worldwide, the apex Igbo socio-cultural organisation, disowned a statement credited to it on the re-arrest and arraignment of Nnamdi Kanu.
Chief Alex Ogbonnia, the National Publicity Secretary of Ohanaeze, said the group was yet to make known its position.
"The attention of Ohanaeze Ndigbo Worldwide has been drawn to a publication currently circulating in the media suggesting that Ohanaeze has issued a statement regarding the alleged re-arrest and re-arraignment of Mazi Nnamdi Kanu.
"Ordinarily, we would have ignored the said press release but silence in this circumstance would mean giving validity to such fallacy by the unsuspecting public.
"Ohanaeze Ndigbo led by Ambassador Professor George Obiozor has not issued any press statement on the matter. Ohanaeze Ndigbo as the apex Igbo cultural organisation does not issue public statements in a hurry,'' he said.
The Ohanaeze spokesman noted that in the event of further breach of this warning, "Ohanaeze Ndigbo will be compelled to invoke the full weight of the law to deal with the offenders.''
The group which issued the statement also called itself Ohanaeze Ndigbo Worldwide.
It said Kanu's arrest will avert another civil war and bring peace to the South-East.
Its secretary, Okechukwu Isiguzoro, said the development will bring violent agitations in the South-East to an end.
Nzuko Umunna insists on fair trial, safety, others
Igbo professional and intellectual think-tank group, Nzuko Ummuna, called on the Federal Government to ensure fair trial and fundamental human rights for Kanu.
Noting that the government is yet to provide details on the circumstances surrounding the "interception," the group hoped that "his arrest accords with international law and conventions to which Nigeria is obligated."
In a statement by Executive Secretary, Mr. Joe Odumuko; and Deputy Executive Secretary, Dr. Uju Agomoh, Nzuko Umunna asked "the Government to ensure that Mazi Nnamdi Kanu's fundamental rights are secured to the fullest extent possible.
"It is noteworthy that Section 31 of the Nigerian Constitution and Article 4 of the African Charter on Human and Peoples Rights obligates the Federal Government to ensure that Nnamdi Kanu does not suffer any bodily harm while in the custody of the state and its agencies.
"It bears repeating that it is the responsibility of the Federal Government to secure the bodily integrity and personal dignity of Mazi Nnamdi Kanu while in its custody.
"We shall hold the Nigerian Government and all state actors to account on this obligation under domestic and international laws to the fullest extent possible."
Free Nnamdi Kanu' protest begins in London
Meanwhile, Nigerians living in London, United Kingdom, have begun a protest to demand the release of Nnamdi Kanu.
Some of the protesters waved the Biafran flag in a video obtained by SaharaReporters as they chanted, "Free Nnamdi Kanu now."
Kanu is a British and a Nigerian citizen and it is believed that he had been staying in the UK.
Igbo-British Lawyers give FG ultimatum to return Kanu to UK
Also speaking, a group of Igbo lawyers resident in the United Kingdom, described as illegal, the arrest and detention of Nnamdi Kanu by the Nigerian government.
The legal practitioners under the auspices of the Coalition of Igbo-British Lawyers condemned the Kenyan Government for arresting Kanu, who is also a British citizen, and handing him over to the Nigerian government.
The group revealed this in a statement signed by Barrister Ebuka Okoroafor and made available to SaharaReporters on Wednesday.
According to the lawyers, the Kenyan government has violated the human rights of Kanu, who possesses both Nigerian and British passports.
It condemned "the illegal and archaic manner in which the Kenyan Government acted in the illegal detention of the leader of IPOB, Mazi Nnamdi Kanu, and the subsequent handing him over to the Nigerian Government without any due process.
"It is worthy of note to mention that Mazi Nnamdi Kanu entered Kenya with his British passport, and the Kenyan government is fully aware of his citizenship status but still went ahead to perpetrate their illegal act which does not only breach the personal human rights of Mazi Nnamdi Kanu but also undermine the sovereignty of the British government," the statement read in part.
The group also disclosed that the illegal action will be addressed at the International Criminal Court, in Hague, The Netherlands, while asking the Nigerian government to convey Kanu back to the United Kingdom before the expiration of 48 hours.
The Igbo British lawyers also stated that the failure of the Nigerian government to do so means it has declared war on Kanu, IPOB, and the entire Igbo.
"While this serves as a pre-action notice to the Kenyan Government as we shall be heading to the International Criminal Court to rectify the injustice done as it is trite law that injustice to one is injustice to all, we are also by this medium informing the Nigerian Government that they have 48 hours to return Mazi Nnamdi Kanu to the United Kingdom.
"And if he has any charges to answer to, they should as a nation that is governed by the constitution, pass through the legal means of filing an extradition notice as failure to do so, we shall not hesitate to term this a declaration of war on not only Mazi Nnamdi Kanu and IPOB but all Igbo generally, and this we shall vehemently resist with all apparatus of law available at our disposal.''
Kanu's ordeals 'll not affect Biafra struggle — MASSOB
The Movement for the Actualization of the Sovereign State of Biafra, MASSOB, said the current ordeals of Kanu in Nigeria would not in any way affect the struggle for the restoration of Biafra.
Although the MASSOB leader, Comrade Uchenna Madu in a statement condemned the re – arrest of Kanu by the Nigerian government and her foreign collaborators, he observed that the IPOB leader is merely a figurehead in championing the self determination struggle for the actualization and restoration of Biafra.
According to Madu, the re arrest of Kanu was inconsequential in the struggle.
He said: "Mazi Nnamdi Kanu and the activities of pro – Biafra agitators do not pose any danger to Nigeria's existence.
"What poses a dangerous problem to Nigeria's existence is the Fulani domination of Nigerian state against the general interest of other ethnic nationalities.
"As freedom can never be achieved on a platter of gold, Biafra revolutionary struggle for actualization and restoration can never be punctured or derailed because of Nnamdi Kanu's current ordeals in the hands of our oppressive enemy.
"Nigerian state will soon regret arresting him because he will become a thorn in their flesh.
"We shall never relent or be discomforted because of the sponsored genocidal operations in Biafra land which we in MASSOB always see as a sign of jittery and frustration by some people."
Lobby firm hired by Nnamdi Kanu engages US govt on his arrest —Report
Meantime, BW Global Group, the American lobby firm hired by Nnamdi Kanu has reportedly engaged the US government over the arrest of the activist.
Foreign Lobby, a Washington-based platform, quoted the firm as saying it "had been in touch with the State Department and Congress" about the arrest of Kanu.
The IPOB leader was said to have signed a contract with BW Global Group to help promote IPOB in a bid to achieve its Biafra secession objective.
The $1750,000 deal reportedly took effect from March 1, 2021, and is expected to last for a year.
A document relating to the contract had stated that, "BWGG shall provide IPOB with services relating to the promotion of human rights and democracy, and shall otherwise act as an advocate for the indigenous people of Biafra."
Jeffrey Birrel, the co-owner of BW Global Group, told Foreign Lobby that Kanu's arrest "could have grave consequences in terms of human life.
"We don't know all of the details surrounding the thuggish actions of the Nigerian Security Forces which acted in a third country, against Mr. Kanu, a British citizen," he reportedly said.
"We hope that the US will make its position clear regarding this unlawful abduction and assert support for Mr. Kanu's universal human rights."
The British High Commission in Abuja said on Wednesday that it is "currently in the process of seeking clarification from the Nigerian government about the circumstances of the arrest."