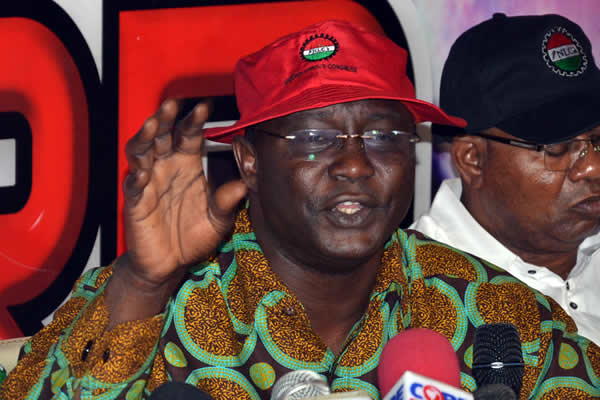 The Nigeria Labour Congress, NLC, has implored affiliates of the labour movement in Nigeria to make provisions for worker organising.
NLC President, Ayuba Wabba, made the plea at the opening session of NLC Organising Academy supported by the Solidarity Centre.
According to him, the provision is needed "because organising plays key role in protecting workers."
He noted that "tyrade union density is on the decline, organising pattern has changed due to current employment relationship," so there is need for organisers to be educated and innovative to confront the new challenges.
Ayuba, who was recently re-elected into the governing board of the International Labour Organisation, ILO, noted that "the first body of the worker is the union and as a matter of priority, the NLC Organising Academy forum has come to stay."
He said that the Academy shall be modelled along same lines as International Union Confederation, ITUC, who provides organising training for union organisers and Global Union Federations that are politically committed through their resources to prioritise organising as union agenda.
He assured participants that NLC shall equally adapt same.
Ayuba's call for organising comes at no better time than now that labour and pro-labour civil society groups recently met to explore challenges and opportunity for joint campaigns.
He referenced the "American Federation of Labour and Congress of Industrial Organisation, AFL-CIO, who has over the years demonstrated its ability to connect with workers organising and political rights.
He also noted that face-to-face worker organising is the foundation for protecting the right to organise and workers would like to sign up to the union if they are properly educated on its advantages.
Earlier, Solidarity Centre Country Programme Director for West Africa, Sonny Ogbuehi, pledged the Centre's sustained support to the project that is "expected to develop campaign plans and engage in long term mentorship of organizers."
Ogbuehi equally acknowledged the role Trade Union Strengthening, TUS, department of the Centre has played in compiling the training curriculum.
The academy was attended by NLC affiliate unions drawn from private and informal sectors with active participation of two Deputy General Secretaries of Congress— Ismail Bello and Chris Uyot.