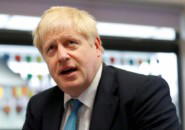 Relieved Spanish parents welcomed on Wednesday a decision allowing children out on short walks for the first time in more than a month as the government voted to extend Spain's lockdown until May 9.
With Europe's second highest death toll of 21,717 and the world's second most infections at 208,389, Spain's tough restrictions have included a controversial ban on children leaving their homes since mid-March.
However, on Tuesday night, the government bowed to public pressure – including pot-banging protests on balconies – and said those under 14 would be able to take short walks outside under supervision from the weekend.
Parents welcomed the concession, though it came late for some, after nearly six weeks cooped up at home.
"The escalation of anxiety, tantrums, irascible behaviour… have been in crescendo," said Dr Iban Onandia, 35, a neuropsychologist in the Basque province of Bizkaia.
Youngsters have paid an "indecent" price during the lockdown, added the father of two children, aged four and two.
Ramon Motta, a Madrid-based maitre d'hotel with two daughters Carla, 11 and Ariadna, 8, resorted to setting up a tent in their fifth-floor apartment to keep them entertained.
"We have Disney +, Netflix and videogames, but you don't want your kids spending five-six-seven hours in front of a screen, yet at the same time there's not much else to do," he said.
"After such a long time locked in, kids and parents start losing patience pretty quickly. A couple of times Carla went into a tantrum."
Children under 14 will be allowed outside between 8 a.m. and 10 p.m. for up to one hour a day and must be accompanied by an adult with whom they live, according to a provisional government document seen by La Sexta television.
British Prime Minister, Boris Johnson