Vows to remove civil service bureaucracy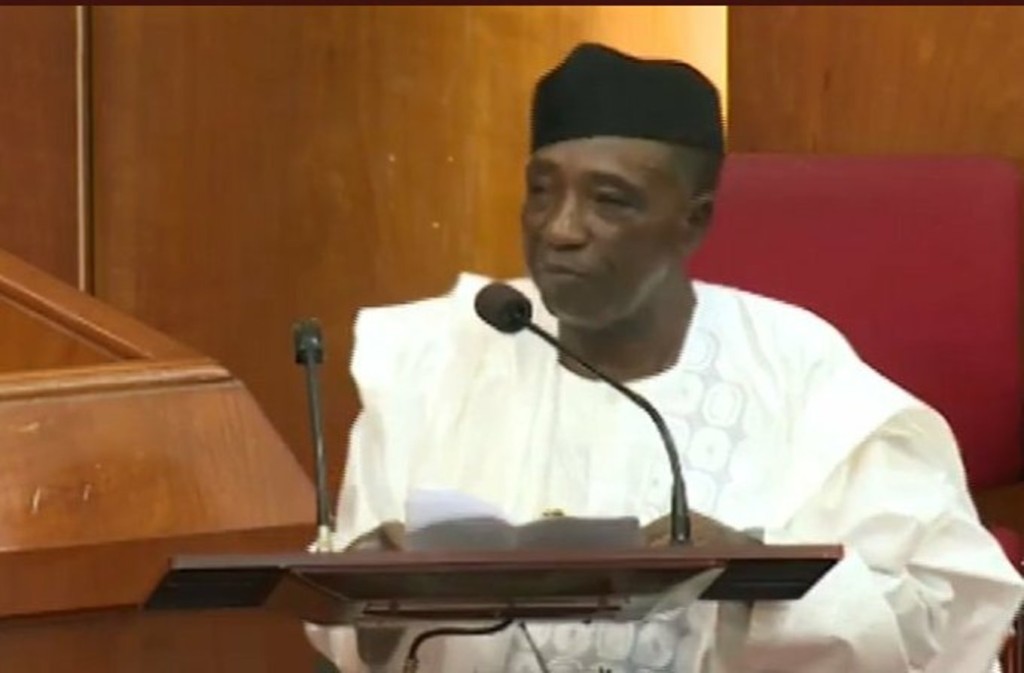 By Gabriel Ewepu – Abuja
The Minister of Agriculture and Rural Development, Mohmamed Nanono, Monday, lamented that Nigeria lack organization and focus in the agricultural sector.
Nanono stated this during the visit of the Agriculture Development Partners Working Group, ADPWG, led by the leader, Dr. Samba Kawa, at the Ministry's Headquarters in Abuja to present a policy brief.
According to the Minister, there is going to be a major change in the civil service bureaucracy in his ministry in order to take the opportunities that are coming up in the sector.
The Group is made up by international donors for the agricultural sector, which include International Fund for Agricultural Development, IFAD, World Food Programme, Department for International Development, DIFID, Food, and Agriculture Organisation, FAO, United States Embassy, United States Aid for International Development, USAID, Bill and Melinda Gate Foundation, Global Affairs Canada, Africa Rice, International Institute for Tropical Agriculture, IITA, and others.
H said: "There is some level of policy consistency. Probably up to the 90s, there was consistency in the policy of government in agriculture. But the major problem at that time it was running away with discriminatory policies rather than looking at it. We are trying to correct that and we are to look at agriculture as a wholesome gain, and I think we will be on the right course.
"The problem with this country is not a resource. I don't think there is any country as blessed as us, but where the problem is that we are just not organised and focused. Whether we like it or not if we want to move forward we have to reduce urban politics in our business, especially to agricultural businesses, if we can get ourselves organised and focused. The policy has been fractured, misdirected and it is now time to get these policies to become effective.
"If we organise ourselves and get focused people normally make mistakes. They take agriculture at the state level. I tend to disagree. States own the land and they are facilitators, but there are two instruments for public policy.
"I can tell you that in this country if you do not bring back the agro-allied industries you are not doing anything in terms of combating unemployment, creating meaningful wealth that will be well sustained and build a bright future.
"Unfortunately, we lost our bearing in 1986 when most of the agro-allied industries suffered. For two reasons; one, government neglect, and two, most of the owners of these industries were just reaping the dividends and sitting down, while the Asian countries were digitalizing theirs and were not sitting back. So that is one crucial aspect of it."
The Minister also expressed worry over the dearth of extension workers in the sector and said the abysmal number of extension workers is a threat to food production and processing in the country.
"Let us look at what is stake here in the agricultural sector. We have a farming population of 70 million we have nearly 40 per cent of arable land in the western region. We have over 30 trillion assets in terms of livestock and the population is increasing.
"We are faced with one clear problem that I want these donor agencies to note, which sometimes we are just scratching the surface, and to me I think directly or indirectly you would help.
"We have dare need of extension agents. I think my last check on extension agents in this was just was a mere of 14, 000 to 15, 000 extension workers against a farming population of 70 million.
"So that area is still there and that most of the problem I realized that area is not properly looked into. Some of the donor agencies are indirectly helping in this matter, but the intensity to which we require urgent intervention in this sector is very paramount.
"There are many examples to sight. Some of our export commodities are rejected not on the account of adulteration but the misapplication of our fertilizer and other related items", he said.
He called on donor agencies to focus on building human capacity in the sector in order to tackle most of the problems. He also solicited for their cooperation, which he appreciated for their role played in the sector.
Meanwhile, Director, Country Alignment, IITA, Dr. Kwesi Atta-krah, commended the federal government to maintaining policy consistency and urged the government to do more in coordination and organization between the states.
"On policy consistency and stability, I think for the Development Partners Working Group for this has been an area of challenge over the years, but we are very happy that the present administration all the way from the past government made sure that the word consistency in the policy framework, and we are very happy that even the policy growth was developed as part of the agriculture promotion policy lay very heavily on the agricultural transformation", Atta-Krah said.