By Evelyn Usman
Africans  from all walks of life who have stood out in their respective areas of  endeavours were honoured at the 16th Africa Security Watch conference/ award ,  in Dubai, the United Arab Emirates, in recognition of their dedication and commitment to service.
One of them was Vanguard's Assistant Crime Editor, Mrs Evelyn Usman,  who clinched the award of the Most Outstanding Crime Correspondent in Nigeria (Print).
Evelyn Usman, who  had her first degree in Modern languages from the Ambrose Alli University Ekpoma and  Masters in International Relations and Strategic Studies, from the University of Lagos, in years 1999 and 2009 respectively,  was also a recipient of the 15th edition of the Africa  Security Watch award held in Gambia, last year, as she won  the category of the  Best Investigative Journalist in West Africa
Other recipients( journalists)  of the award which held at the Radisson Blue hotel, Deira, were Mrs Mary Fatile of Radio Nigeria , who won the Best Crime and Defence Reporter in Nigeria  (Radio) and Miss Precious Igbowenlundu of the Nation who won the category of the Best Investigative Crime and Defence reporter in West and Central Africa.
The event which was graced by Africans across the globe also had recipients drawn from the security sector of the continent.
Nigeria's Inspector-General of Police, IGP Mohammed Abubakar, got the golden Star award for  Exemplary National Security Service in West and Central Africa. His Ghanian counterpart, IGP James Boamun, won the Most Innovative Community Police Service in West and Central Africa.
The Chief of Policy and Plans, Nigerian Army, Lieutenant General L.A Adeosun , won the golden star award for Exemplary leadership , Gallantry and Patriotism.
Other recipients from the security organisation, included : Major General S.A Adebayo, ( Chief of Military Intelligence, Nigerian Army) Golden Star Award for Exemplary Leadership and Patriotism in West and Central Afririca; DIG Taieo Lekanu, Golden Star Award for Distinguished Polis Service in West Africa.
Outgoing Commissioner of  Police, Lagos State Police Command, AIG Zubairu Muazu had the Golden Star Award for Urban Crime Control in West and Central Africa; Former CP Akwa-Ibom, AIG Zaki Ahmed clinched the Most Proactive Police Chief in West and Central Africa;  CP John Abang( Commissioner of Police , Anambra State Police Command) won the Best Crime Bursting  Police Chief in West Africa  category.
DCP Olatunji Disu, ( Commander RRS) won the Most Outstanding Anti-Crime Police Chief in West and Central Africa category, while the unit was awarded the Most Outstanding Urban Crime Control Police Command in West and Central Africa.
Other  included the Commander, Special Anti-Robbery Squad, Lagos State Command, CSP Peter Gana, who won the Best Human Rights Complaint Police Officer in Crime Fighting in Nigeria; CSP Oritomi Titilayo( Lagos State  Police Command Traffic Officer) won the Most Innovative Urban Traffic Management Police Officer in West and Central Africa;  CSP Taiwo Kasumu, Best Divisional Police Officer in Nigeria; Lagos State Police Public Relations Officer, DSP Elkana Bala, Best Public Relations Officer, West and Central Africa; SP Sheila Abaye ( Public Affairs Director, Ghana Police Service ) Most Outstanding Police PRO in West and Central Africa   SP Haruna Mohammed ( PPRO, Anambra Police Command ) , Most Outstanding Public Relations Officer in West Africa; late DCP Usman Umar, ( former Deputy Commissioner of Police FCT Command ) who was  allegedly dead on July  by members of Shiites in Abuja, was given a posthumous award, among others.
President/ Chief Executive Officer, Africa Security Watch Initiatives,  Mr Patrick Agbambu, explained that the idea  for  the initiative was borne out of the need to ensure security in the Africa continent and by extension, ensure its  developmental process .
The 16th edition , themed ' Global Security Outlook: Challenges , Impediments and Prospects for a Secured Africa' , according to him, would not have come at a better time that now, owing to the the threat of insecurity , both within the continent and other parts of the world.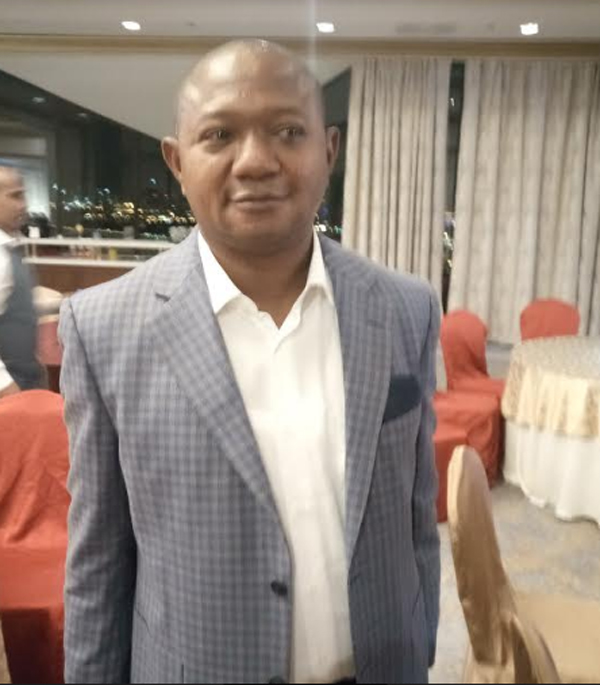 He said, "  Without security , there won't   be any development . So, we must try first to ensure we must have security so that we can aspire for development . If you are not secured you can't execute your plan. That is why I believe that security is the paramount  issue we must take care of , as individual, as government,  as society and as a nation.  That is why we have decided to spear head the campaign for security in the African continent.
"We can't say that the effect of insecurity that is spreading across the world does not affect us. That is why  we chose to build on the theme Global security outlook challenges,  impediments and prospects for a secured Africa continent.
How does it affect Africa and how can we take care of our challenges in the area of security . "So far, the conference sections and the articles that were presented were carefully selected. And from the presentation, we saw  that  we are not be there yet,
"The future for security watch Africa is that we  aspire that the whole Africa will be covered and in our security consciousness and awareness will improve .
The choice for this year's event in Dubai, was for us   to see what is on ground here and see how we can replicate same in our country.
Subscribe for latest Videos