(Updated)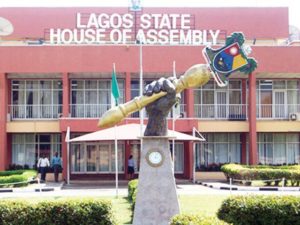 By Olasunkanmi Akoni and Ebun Sessou
Lagos State House of Assembly will today receive the N1trn Y2020 Budget to be presented by the state Governor, Mr Babajide Sanwo-Olu.
The proposed Budget would be Governor's inaugural budget presentation since assumption of Office in May 2019.
The current budget is higher than the previous year by 35 per cent.
Sanwo-Olu said by September the 2019 budget performance stood at 67 per cent.
Addressing the Assembly, Sanwo-Olu said,
"We have challenges of unemployment, climate change, urban migration.
"The target of the budget aims to attract foreign, local investments, human capital investment, improve capacity to collect revenues as much as possible, civil participants in government.
"Partner with FG, ensure improved quality of the environment."
VIDEO during the wait for the arrival of the governor, Babajide Sanwo-Olu:
Lagos commissioners, APC Chieftains, Party members, wives of state lawmakers, members of Governor's Advisory Council, GAC, Special Advisers and guests in the Chamber exchanging pleasantries, while awaiting the commencement of Lagos State's 2020 Budget Estimate presentation.
Notable points from the budget presentation so far;
Christened "Budget of awakening to a greater Lagos"
Lagos not immune to global economic factors
Prioritise Education sector
New minimum wage implementation included
Lagos ranked 7th largest economy in Africa
Prosperous Lagos Agenda on course.
Plans to increase internal borrowing
Keep zero tolerance on pot hopes
116 roads rehab ongoing across the state.
More details later…