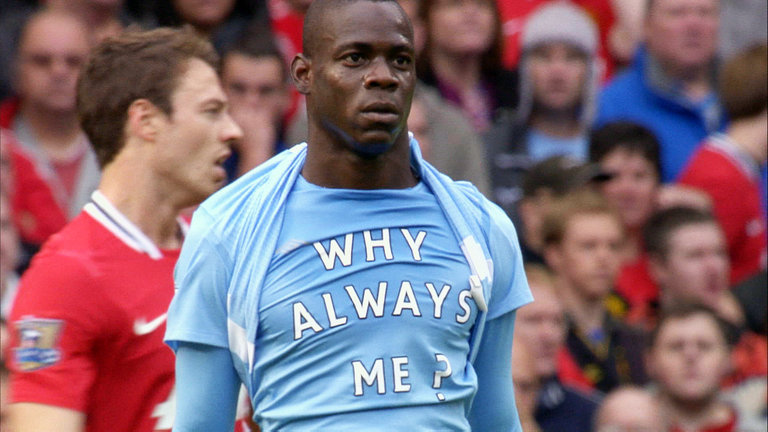 Former Manchester City defender Micah Richards has revealed Mario Balotelli regularly fell victim to the club's fine policy and was docked well over £100,000 (€116,000/$129,000) for his lateness.
Balotelli, who is currently playing for Serie A side Brescia, spent three seasons at the Etihad between 2010 and 2013. The now 29-year-old has regularly struggled with disciplinary issues throughout his career and that proved true at City too.
With the club implementing a fine system for players that fell foul of set rules, Richards conceded Balotelli inevitably became a massive contributor.
"Balotelli was always late so we used to give all our money [from fines] to charities, so by Christmas time we'd have £100,000 to £150,000 in there – just from Balotelli," Richards told BBC 5 Live Sport.
"He'd be in the building, so like we'd have a meeting upstairs, and he'd just be downstairs relaxing. So he'd be in the building. "Fines are a common part of most clubs and are usually enforced by the players themselves.
At City, Richards admitted he was often reluctant to dob teammates in but that Vincent Kompany was a stickler for the rules."It's difficult because you know Kompany, he's busy isn't he?" Richards said.
"He always kept track of the fines and because I was sort of like vice-captain, one of the leaders in the dressing room, he'd tell me to take charge of it but I'm not going to tell the manager a player was late today or a player didn't put their bib the washing bin – I'm not going to do that.
"So it was only if Vincent Kompany caught you. So the lads were avoiding him. I'm not a snitch! "You could appeal it [the fine]. You'd have to go with Kompany into the manager's office. He had a fine sheet logged of all the fines. He was like a school teacher, a headmaster, one of those guys when you see him you turn the other way.
"I tried to be friends with everyone. I told him [Balotelli] 'I'm going to let you off today', but with Balotelli, it was like every other week, I could only do so much."
Source: Goal.com