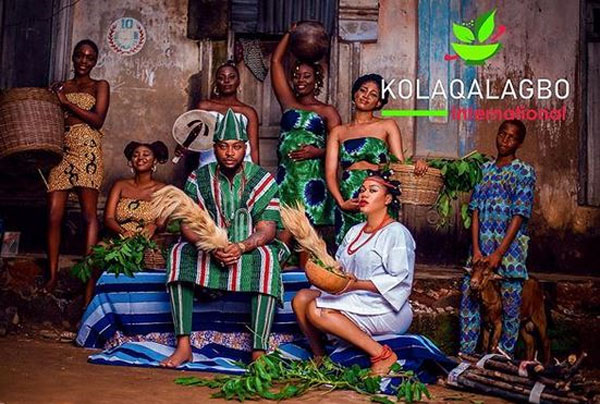 The herbal service market in Nigeria is a fast growing one with a lot of pretenders and genuine contenders.
Although gone are the days herbal mixtures are only procured from obscure sellers and street hawkers, the market has upgraded and is as easily accessible as any modern market and few are true contenders. Of course, one of such is Kolaqalabo, the acclaimed first herbal e-commerce platform in Nigeria.
According to available information, Kolaqalagbo through their Kolaqalagbo.com.ng is Nigeria's first herbal online retail market and e-commerce website. They are committed to delivering excellence and wellness in herbal practice in Nigeria.
"Given our forefathers medicinal innovations so also alternative ideas of healing in Nigeria, the necessary exposure to the world, we are truly the black man's hidden secret of healing. We specialize in the sale and consultancy of natural health care products made from the best natural ingredients produced in Nigeria and other global communities blessed with curative herbs.
Herbal products and remedies which are made from various blend of natural ingredients such as fruits , roots ,vegetables , and herbs are catching a lot of attention globally because of its efficiency and effectiveness with the unique attribute of stopping re-occurrence," says  Olayemi Omotolani Abeeb Lateef, the founder of the company.
Kolaqalagbo was established in 2012 as Kolaqalagbo Service Limited with a view to redefining excellence in herbal practice in Nigeria and global communities. Contrary to general notion that the company is into the aphrodisiac business, Kolaqalagbo proffers solution to many illnesses and ailments, including but not limited to venereal diseases, general infections, cardiovascular diseases, high blood sugar, malaria and many more.
Their hottest products which are being celebrated by the young and old are their alcoholic drinks brands;  Kolaqalagbo bitters, 4Ka X tea and Do D Do bitters.
Apart from changing the face of herbal business in Nigeria, Kolaqalagbo has offered employment opportunities to many in form of commission. There are many vendors who sell their products for commissions. Their factory boast of more than 100 workers including actual staff and contract staff.
"We will all agree Kolaqalagbo is the best  thing that has happened to herbal practice in the last 7-8 years, making specialization in business  more attractive. When we started a whole lot of influencers would tell you they could not be an ambassador to a herbal brand or something. Nobody believed one could sell alternative remedy online without proper consultation.
We are the first herbal brand online e-commerce in sales and services. People were used to the hawking and scruffy means of herbal practice. We have rebranded herbal practice and make it well known through social media. We started online then expansion brought us in touch with so many aspects of herbal practice," says the Founder.
Kolaqalagbo has had many notable brand influencers promote the brand over the years. Notable among them are Mr Jollof, Teddy A, Toyin Lawani and many others.